I love beets.
I'm still recovering from asparagus.
Despite my timidness toward asparagus, I was lured in by a $1.99 sale at Whole Foods.  Whole Foods is the source of all temptation for me.  Ok, ok… Whole Foods and whiskey.  And chocolate cake.  I'm weak.
Back to the topic at hand… asparagus and beets.  They are both normal, but you don't often see them paired.  It's a little strange to serve them together.  Which is exactly when I did in this very good Lemon-Garlic Asparagus and Beet dish.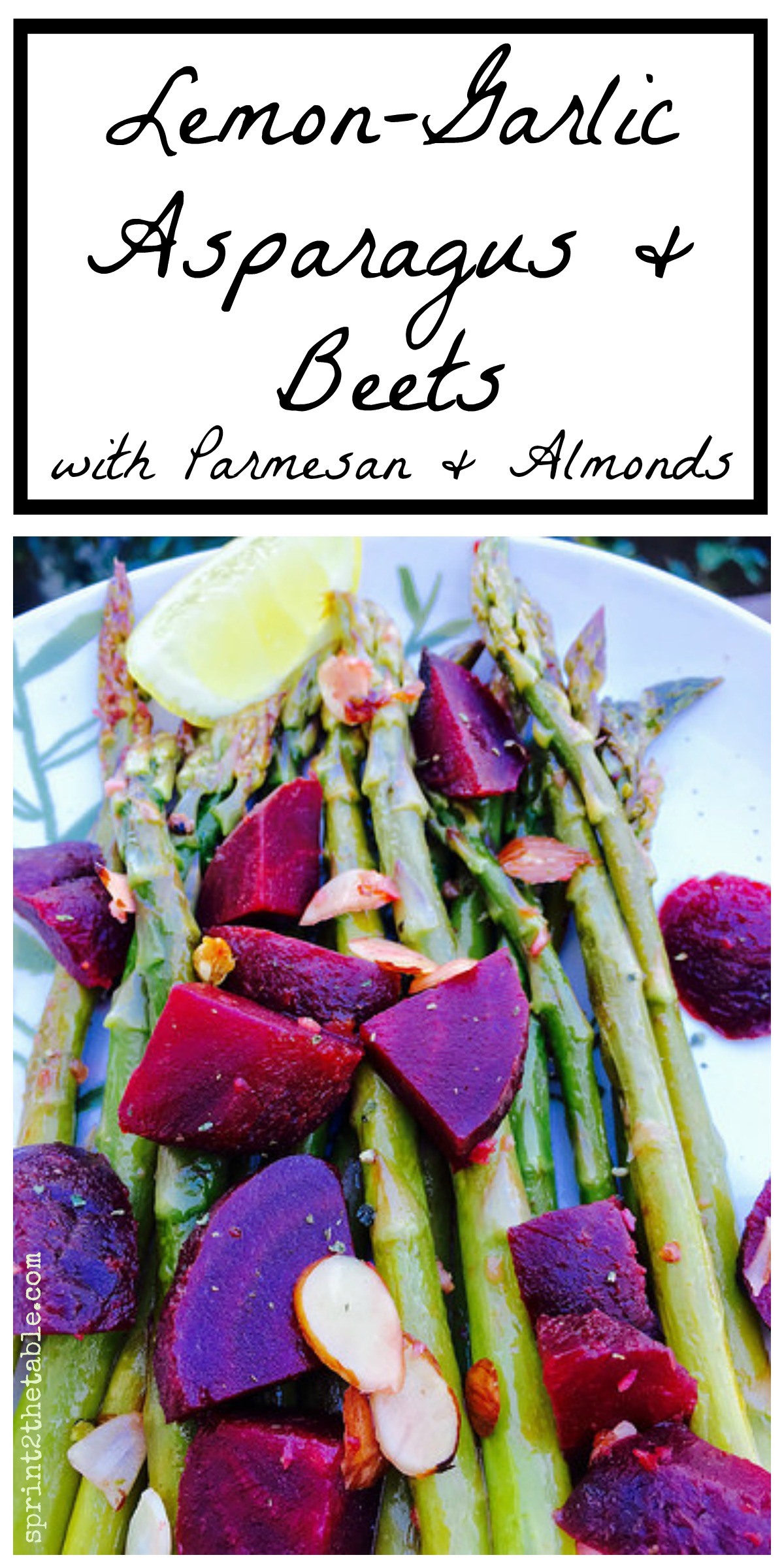 On the rare occasion that I eat asparagus, it's even more rare that I take the time to sauté it.  Once I started the process, it really wasn't that bad.  I built it up in my head… plus roasting lemon and garlic makes the kitchen smell amazing!
Lemon and garlic make everything taste like heaven.  It also helps that asparagus is just coming into season.  Spring asparagus is a little sweeter to me, which makes it 100x better.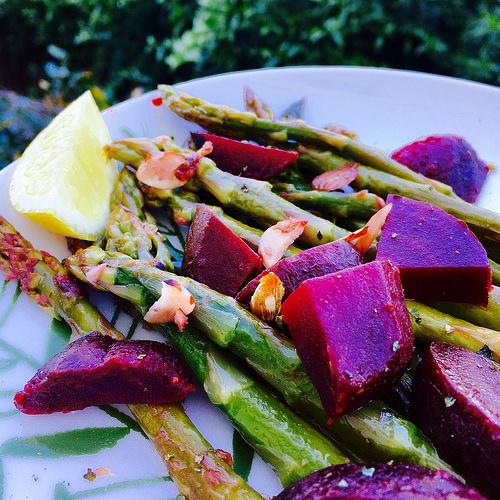 But I didn't stop there.  I added beets.  I bought them pre-roasted (I had a coupon) so all I needed to do was toss them in the pan with the asparagus at the very end, along with some almonds.  The earthiness of the beets and the crunchy almond slivers was fantastic with the garlicky asparagus.
I grated a little parm over the top at the end, but if you prefer to leave it dairy-free just omit it.  I served our asparagus with lemon caper chicken and this Lemon-Pepper Roasted Cauliflower.  Apparently there's a lemon theme…
---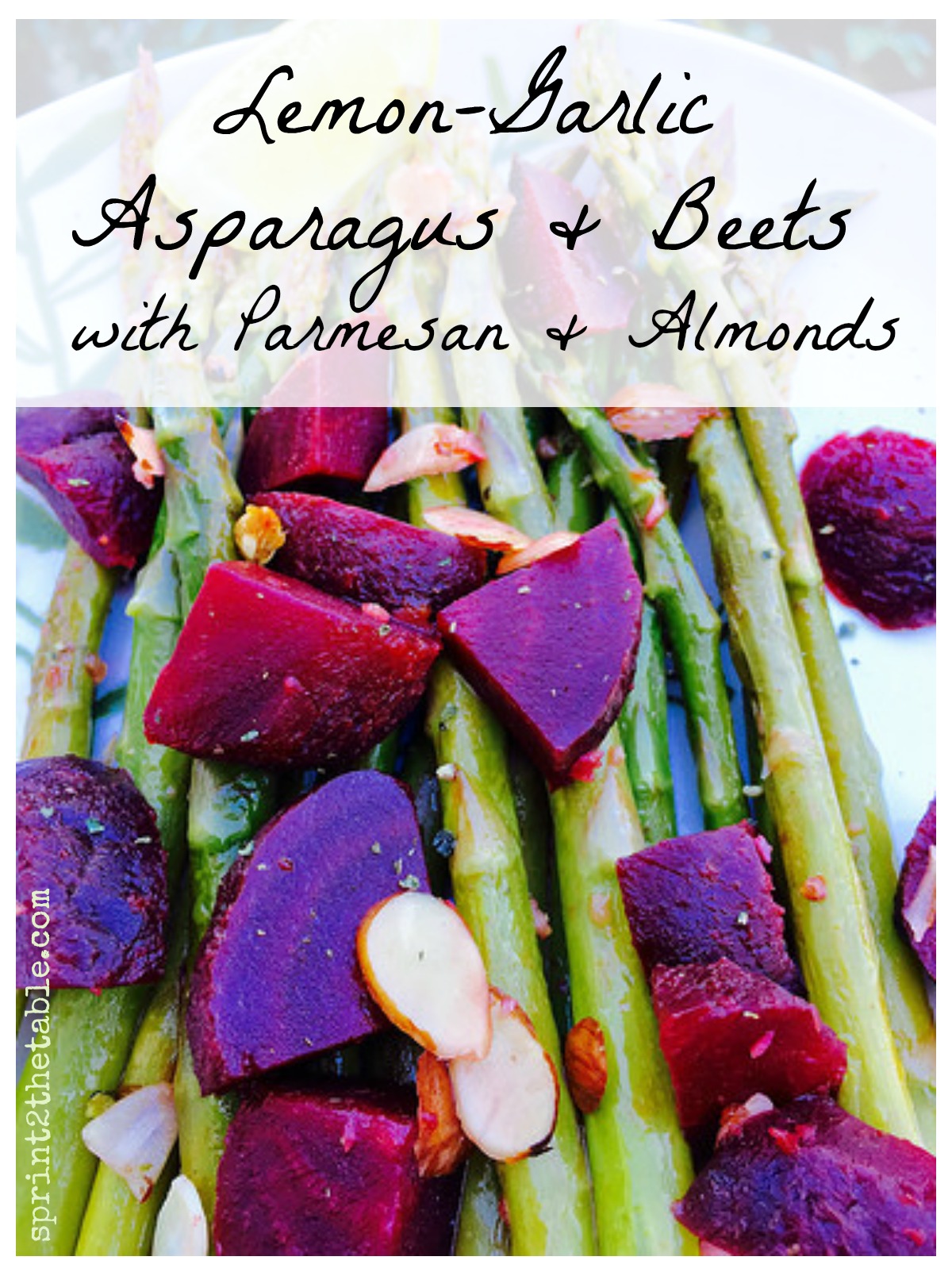 Lemon-Garlic Asparagus & Beets with Parmesan & Almonds
1 bunch of asparagus, trimmed
1 T macadamia oil
4 cloves garlic, minced
1/4 C water
Juice from 1/2 lemon
1 tsp pepper
1 8.8-ounce package pre-cooked beets (or 4 small), diced
1/4 C sliced almonds
1/4 C freshly grated parmesan (optional)
4 lemon wedges
In a large sauté pan, heat the oil over medium heat.
Add the asparagus and allow to cook for 2-3 mins, or until the color begins to deepen.
Add the garlic, water, and lemon juice.  Cook 2-3 mins, stirring occasionally.
Place a cover over the pan and cook for 5 mins more, until the liquid is absorbed and asparagus has reached desired done-ness.
Add the pepper, beets, and almonds, and cook just until the beets are warmed through (1-2 mins).
Plate the asparagus and beets.  Add cheese, if using, and lemon wedges.  Squeeze the lemon over the top and devour.
Makes 4 servings.
---
How have you enjoyed making co-workers, friends, or family stare with strange but good creations this week? The link up rules can be found here or by clicking on "Strange But Good" in the menu bar above. In short, I want to see what concoctions have earned you weird looks from co-workers, family and friends! Post your Strange But Good creations, grab the logo below for your blog, and link up here.
Remember to use #strangebutgood in any Tweets and Instagrams of your creations. 🙂



***
At least when it's cooked asparagus doesn't make my pee smell as bad.  TMI?
What's your favorite spring veggie?
Are you afflicted by asparagus pee?