The best part about this Lemon Blueberry Breakfast Quinoa is that it's easy. Make a giant pot of quinoa for the week and repurpose it as needed – in salads, breakfasts, or even in baked goods.

Vegas claims to not like quinoa.  She ate this bowl with no complaints.  Her gripe with quinoa is that it "tastes like dirt."  This is like asking for me to continually feed her quinoa until she likes it.  We couldn't go basic with quinoa… I had to sweeten the deal and make it a little strange to show her how good it is.
First it was Pumpkin Quinoa Chia Pudding; she ate it twice with no complaints!  Vegas loves oatmeal, so I took it  step further by making her quinoa like oats… but not.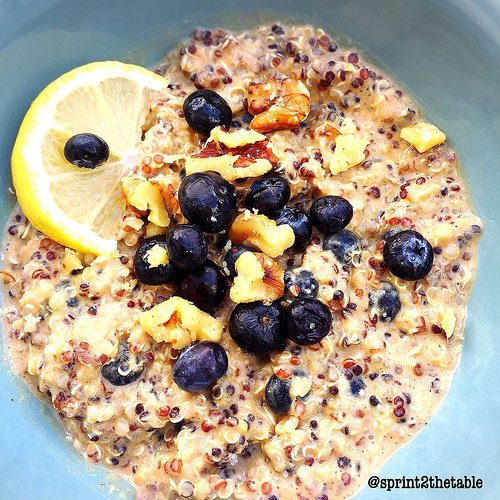 This breakfast quinoa is reminiscent of oatmeal, but I sweetened the deal by using my favorite vanilla rice protein powder, blueberries, and some Stevia.  Since lemon is such a bright, light flavor and it's a million degrees in San Diego, I added a twist.
There's something about lemons and berries that's incredibly refreshing, especially on a hot fall morning.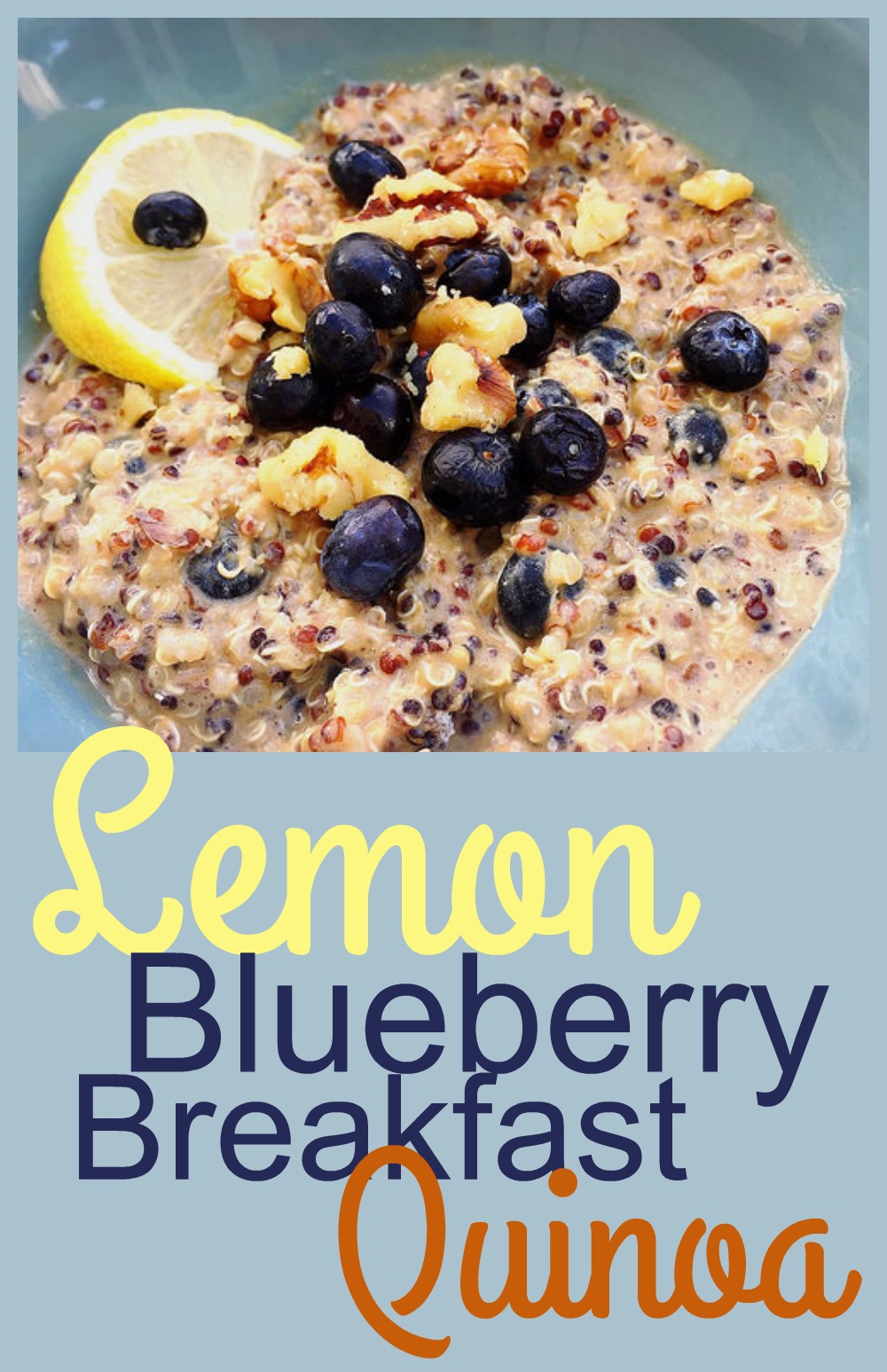 The very best part about this dish is that it's easy.  I make a giant pot of quinoa for the week and repurpose it as needed – in salads, breakfast meals, or even in baked goods like these fuel bars.
Cook your quinoa in plain water for a neutral flavor you can add to anything!
---
Lemon Blueberry Breakfast Quinoa
Prep Time: 5 mins
Keywords: boil breakfast brunch gluten-free soy-free vegan vegetarian sugar-free quinoa blueberries protein powder stevia spring summer
Ingredients (1 serving)
1/2 C cooked quinoa
1/4 C almond milk
1/4 C blueberries
Juice from a quarter of a lemon
1/3 scoop (10g) vanilla protein
1/2 tsp cinnamon
3-4 drops vanilla stevia (or other sweetener, to taste)
Instructions
Cook quinoa as instructed on the package (this can be done in advance and stored in the refrigerator).
Scoop 1/2 C of the cooked quinoa into a cereal bowl. Mix in remaining ingredients and top as desired (I used walnuts and more blueberries).
You can also warm this in the microwave for a hot breakfast.
---
How have you enjoyed making co-workers, friends, or family stare with strange but good creations this week? The link up rules can be found here or by clicking on "Strange But Good" in the menu bar above. In short, I want to see what concoctions have earned you weird looks from co-workers, family and friends! Post your Strange But Good creations, grab the logo below for your blog, and link up here.
Remember to use #strangebutgood in any Tweets and Instagrams of your creations. 🙂

***
We're off to Orlando for the next week to play in a softball tournament… so excited to have air-conditioning!
Have you ever eaten quinoa for breakfast?
What's the strangest thing you've eaten this week?