Working out in the heat is 100x harder.
Especially cardio and leg day.
I've actually gotten in a few good runs.  Maybe I'll one day earn the "sprint" back.  Until then, I'll be satisfied with my current summer heat pace.  It's definitely faster than I've been in a couple of years!
Since tearing my ACL a few months ago, this is the first time I've been able to do things without any pain or soreness.  Like leg day.  I did an hour of legs followed by cardio yesterday with basically no issues.
I say basically because I tried hack squats for the first time and that was a bit achey; however, it was achey in a "I haven't done this in a long time" way vs. a "stop before you re-injure yourself, you idiot" way.
After an intense two hour workout, I was a hot, sweaty mess.  I made sure to eat my vitafive Active gummies.  Let's just pause for a second to appreciate that they're personalized with my NAME!
---
Read on for my whole day of eats, and link up to Jenn's WIAW baby over at Arman's today!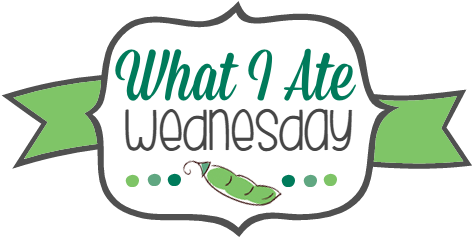 ---
Breakfast:
The usual morning cocktail followed by my new gummies.  I've been sharing with Vegas, who loves them too.  My Active blend has CoQ-10, D3, and Calcium.  A solid step up from Flintstones vitamins! 😉
You can choose the best pack for you – they offer Beauty, Active, Sleep, Brain, Active, Immune, Essential, or you can make your own custom blend.
If you have kids, they make Healthy Bones, Essential, and Immune.  You know they alllllll need the extra immunity going back to school!
AND they just offered a coupon code for you guys: sprint30 (all lowercase) will get you 30% off your first month!

For breakfast we had pancakes, which is a must on leg day.
I used the Flap Jacked Carrot Cake Protein Pancake mix and added an egg white.  I also made my own "syrup" with 1/4 scoop Chocolate Cake Batter protein thinned with milk.  Side of cherries.
Snack:
This is post-legs and cardio.  I was dying of heat.  Dying I tell you!
Smoothie bowl with NOW Fit and Tone Mocha Protein, spinach, cinnamon, a little sweet potato (makes it creamier), and enough ice/water to blend.  Topped with chia seeds.
It melted really fast.  That's how hot it is.
Lunch:
This happened less than an hour later (I remembered to take a pic half way through the bowl – oops!).  I needed to shower and cool down before I could have solids.  Leftover chicken, cauliflower, mushrooms, and hummus dip.
The dip is my recent go-to for everything – an equal mix of spicy hummus and Korean chili paste.
Snack:
I STILL couldn't get enough food (it was quite the workout), so snack was a mini-meal.  Sizzlefish shrimp sautéed with edamame.  I love how quickly Sizzlefish stuff thaws – they package it individually so it truly is a quick meal.
I sautéed with simply with a little coconut oil, lemon, and pepper.  Side of unpictured Plentil chips.
Dinner:
Vegas grilled, which was amazing because I was still tired and hungry.  Sizzlefish salmon, eggplant (which she hates – how weird is that?!), zucchini, mushrooms, onions, and red bell peppers.  Hit the spot!
Plus wine… it's good to relax the muscles…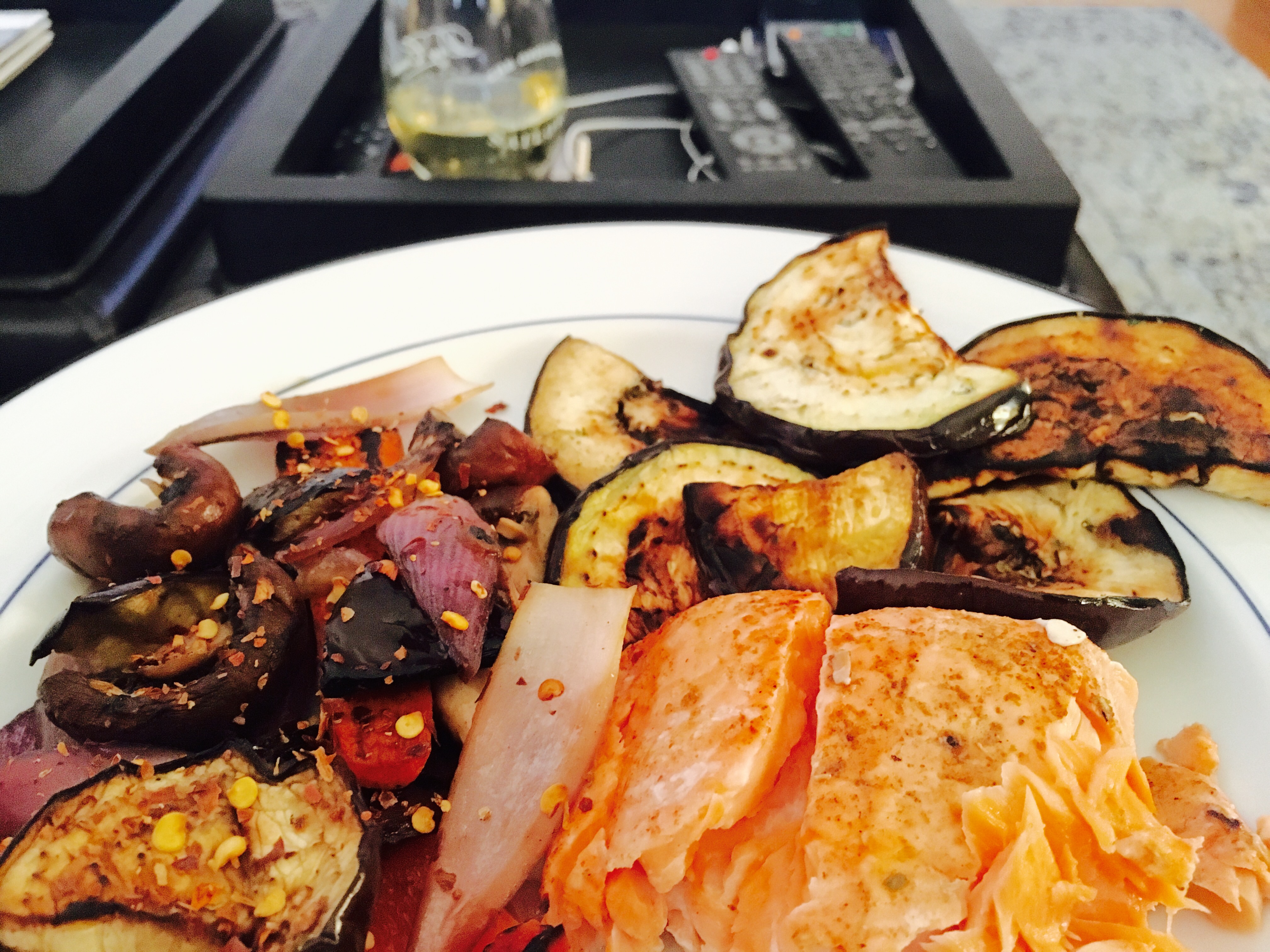 Dessert:
An old stand by: Zucchini Bread Protein Batter.  It's good, I swear.
Topped with hemp hearts, coconut fluff, and cocoa coconut fluff.  The fluff is just coconut flour and stevia with water to thin.  Add cocoa powder for the chocolate flavor.  And sprinkles.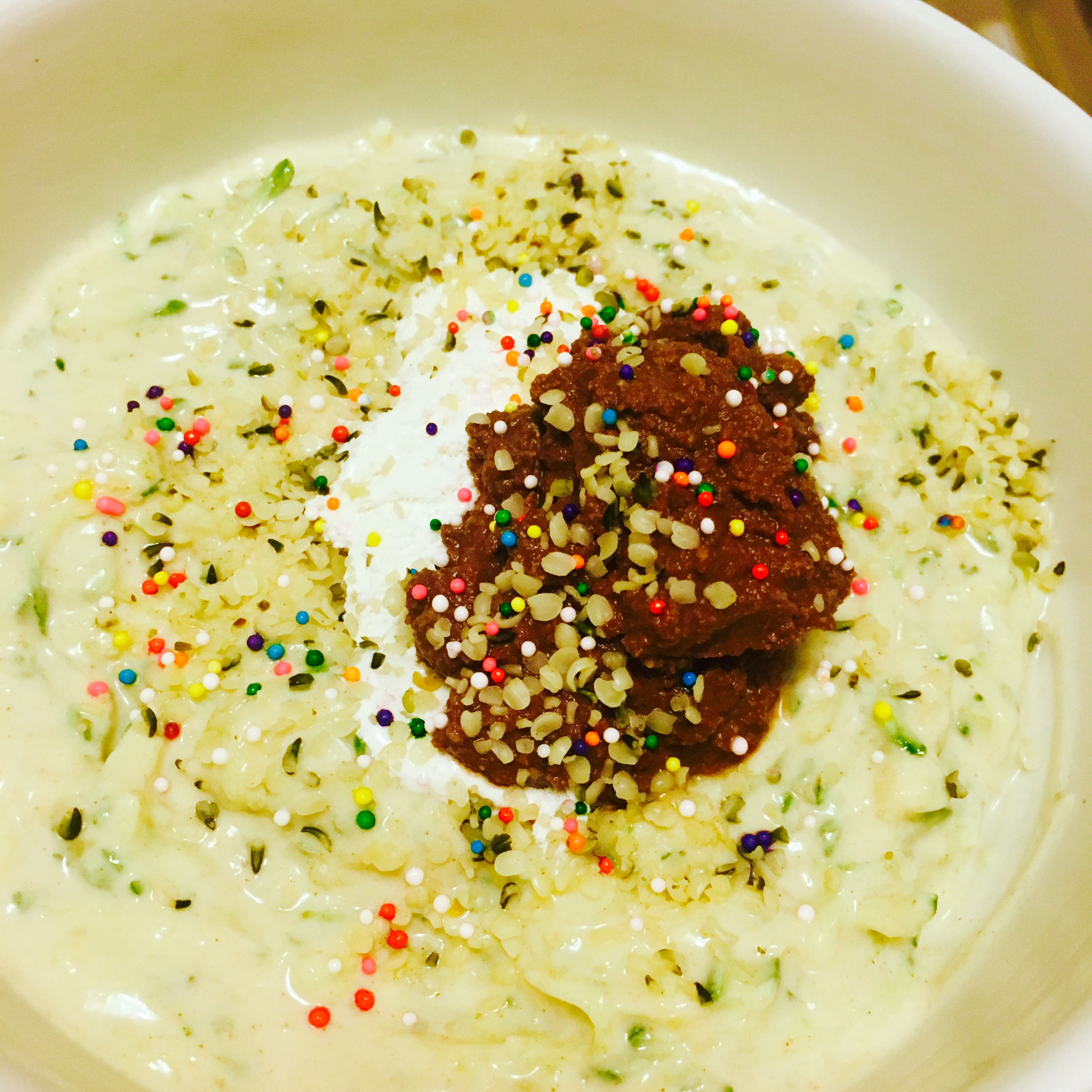 Disclaimer: This post contains affiliate links.
***
Now the real fun begins… my baby sister is moving in with us today.  2 weeks after visiting from ATL she couldn't stay away! 🙂 
Did you chew Flintstone vitamins as a kid?
What's the toughest workout for you?  Leg day gets me every time.