It takes a lot to shock me.
Even more than it takes to offend me.
When I wrote Monday's post, I fully expected to get some hater comments.  When the opposite thing happened… I was blown away.  Not only did people leave a ton of comments, but they said nice things or even agreed!  In fact, I think people were more offended by the fact that I don't like dogs than by my disinterest in children.
One of my philosophies is to not take myself too seriously.  I love to laugh at situations, stupid stuff other people do, stupid stuff I do (there's a lot)… anything.  I think it's important not to take yourself too seriously.  Robin Williams was a great example of that.  He'd battled demons for a long while, but spent his life making other people laugh.  I have battled with depression.  In fact, many people in my family have wrestled with it.  I bet a lot of you can identify.
It's okay to be sad.  It's okay to ask for help.  And it's okay to make light of the situation.  Laughter is good medicine.  And remember…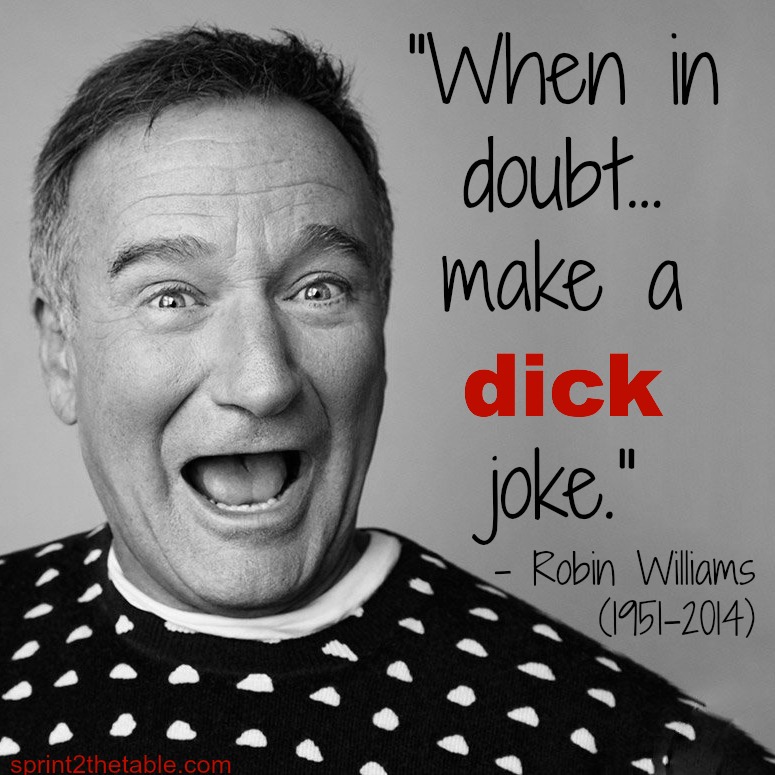 ________________________________________________________________________________________
This WIAW is sort of a mashup of 2 days of food.  I was too busy at work to take many pictures.  Shocking, I know.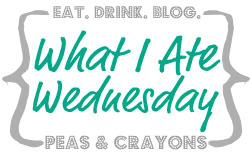 Read on for my eats, and then check out Jenn's blog for everyone else's delicious creations!
________________________________________________________________________________________
Breakfast:
My morning cocktail was followed by creamy egg white oats cooked slow with cinnamon, rum extract, and blueberries. Topped with the Drunk Monkey Jam (grocery store find involving bananas and rum), which I mixed with coconut flour and rum extract (the jam wasn't boozy enough) and more with blueberries.
Adding to the "words I hate" confession… I also really can't stand when people call blueberries "bloobs."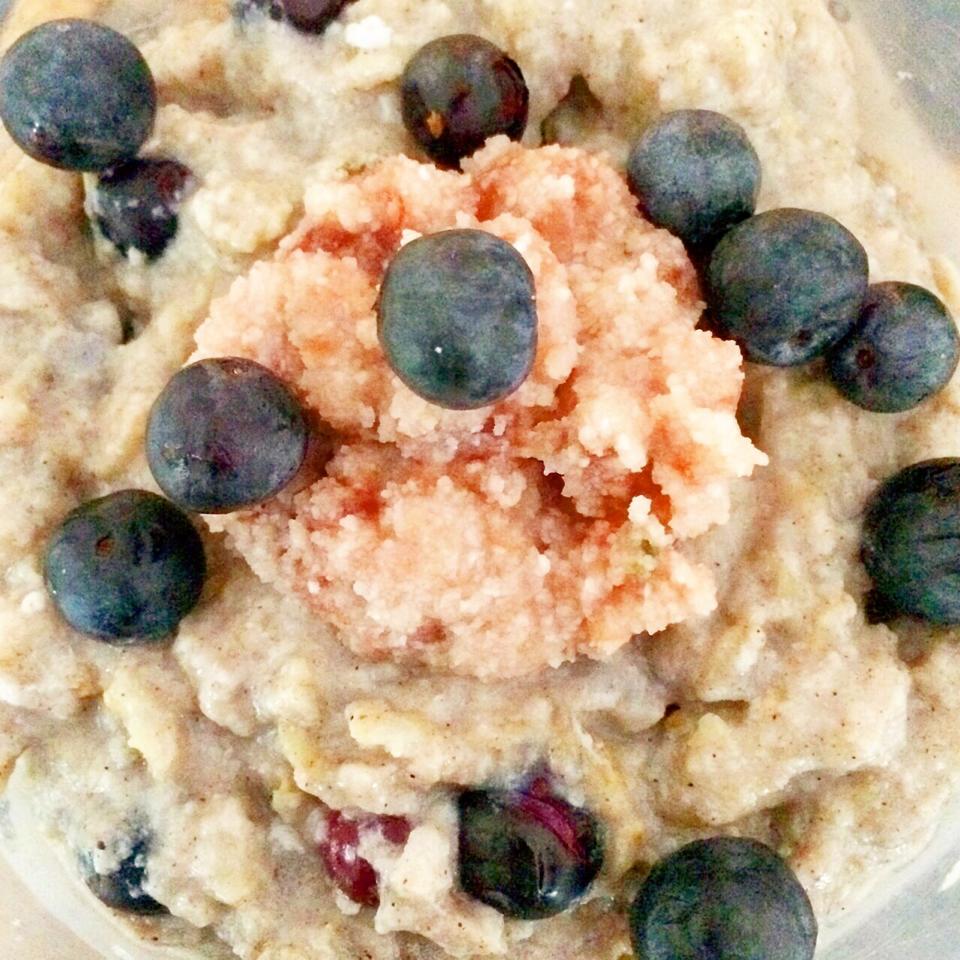 Mid-Morning Snack:
This is my favorite thing to bring to work lately.  Slightly-undercooked salmon (I hate fish well done, especially salmon), shredded and tossed with shiitake mushrooms, onion, basil, pepper, wasabi, and… Tessamae's raspberry vinaigrette.
I make it the night before so the 'shrooms soften up and the flavors infuse.  The sweet-ish dressing with the spicy wasabi and the rich salmon is incredible in a #strangebutgood way.
Our office maintenance guy came by and offered to share his gas station snackage. He couldn't decide on which of the new Twizzlers to try first, so he bought them all.  He also drinks that entire liter of Mountain Dew daily.  This man is 34 and skinny.  If I ate that, I'd be 300 lbs.  (Yes, I know there's a thing called skinny fat… but really though…)
Confession: I tried the Dr. Pepper flavor.  Still prefer cookies.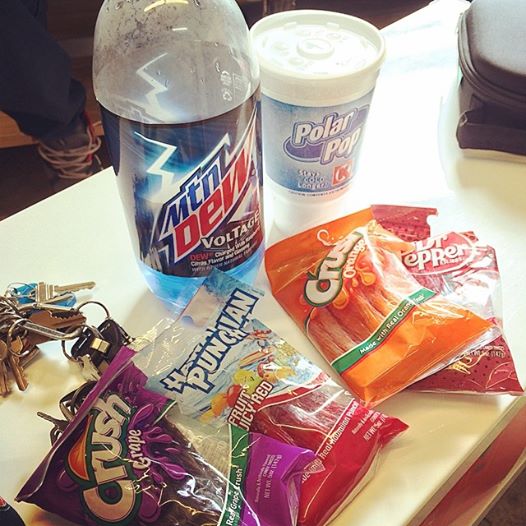 Lunch:
Baked chicken with with BBQ Cauliflower Bites over arugula.
Mid-Afternoon Snack:
This "snack" has become more like dinner.  Cod baked with tomatillo salsa and onion with a corn tortilla, snow peas, and red bell pepper slices.
Dinner:
What I really had was yet another Chocolate Beet Smoothie Bowl (minus the coffee) at about 10p after I worked out.  That's so much less interesting than the deliciousness I made on Sunday.
A portobello mushroom pizza topped with fire-roasted tomato sauce (no-salt fire roasted canned 'maters mixed with herbs, nutritional yeast and balsamic) and chicken. My side was sweet potato crinkle fries with a semi-homemade sweet beet-horseradish mustard. I just added beet powder, horseradish, a little water, and 3 drops of orange stevia to a half empty Dijon container and shook it up.  Baby.
Confession: I ate pizza and fries for lunch almost every day in high school.
Dessert:
I went for any oldie, but a goodie: Pumpkin-Chocolate Bread Pudding.
***
If you didn't read through the comments on Monday's post, I highly recommend it.  You guys are supportive AND hilarious.
When was the last time you laughed at yourself?  
Which Twizzler flavor would you try?  Any?