Certain meats are associated with major holidays.
Do we do this with veggies?  Other than pumpkin at Halloween?
Thanksgiving is turkey, Christmas is often ham, the 4th of July is for burgers… and Easter is all about the lamb.
I really, really love lamb.  It's probably my favorite meat.  Rich without being too fatty, it's more decadent than a steak to me.  It's especially delicious with paired with my favorite herb – rosemary.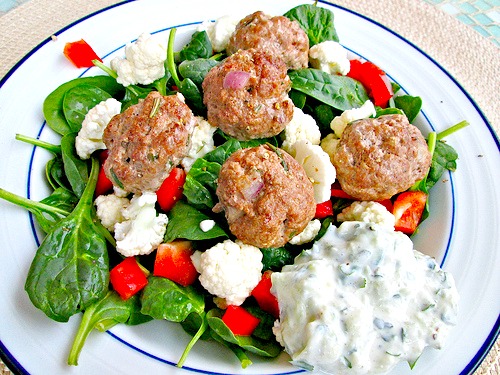 This year I decided to get with the theme and create a meatball with this Easter meat.  I used a blend of ground lamb and pork.  While I love lamb, it can be heavy.  Pork is often used in beef-based meatballs.  When I saw Gabby make her lamb balls, I couldn't believe I did think of it first!  (Thank you, Gabby!)  The addition of a little pork gave the flavor of the meatballs more dimension.
Another fun ingredient was ricotta cheese.  With this addition, it is almost impossible to dry the meatballs out during baking.  The ricotta gave the meatballs a perfectly tender, almost silky quality!
One other note: when you make these, be sure to mince/finely chop rosemary, onion, and garlic.  This way their flavor distributes evenly throughout.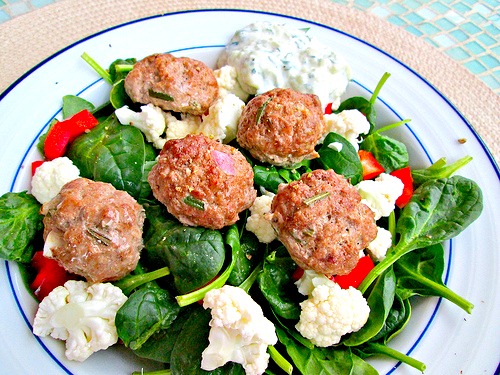 Finally, I needed a sauce!  Lamb always make me think Greek food, so I thought a Greek yogurt-based concoction was in order.  Fresh cilantro pairs with the classic Mediterranean flavors of lemon, garlic, and coriander to liven up the heavier lamb, and compliment the cumin and cinnamon used in the meatballs.
The dip can be made a day in advance and stored in the fridge.  It's also delicious as a veggie dip, or used in place of mayo in chicken or salmon salad.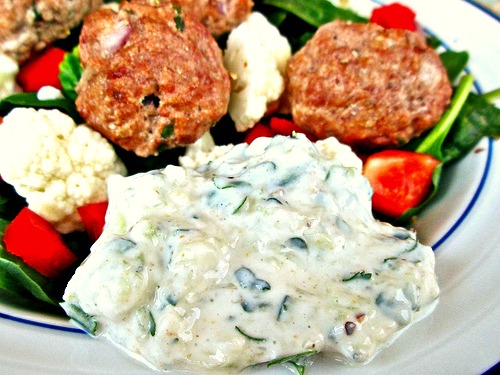 In conclusion, you should try my tasty (lamb) balls.
Did you really think I could get through a whole post without a ball joke?!  Puh-lease.
_______________________________________________________________________________________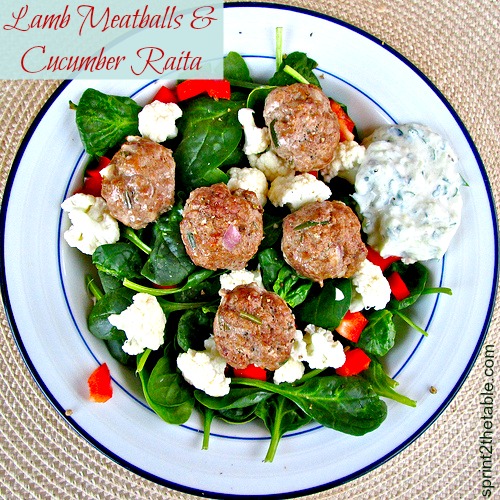 Baked Lamb Meatballs with Cucumber Raita
For the Balls:
3/4 lb ground lamb
1/4 lb ground pork
1 egg white
1/4 C fat-free ricotta
1/4 C red onion, finely chopped
2 cloves of garlic, minced
Juice of 1/2 lemon
1 T fresh rosemary, finely chopped
1 tsp ground cumin
1/2 tsp cinnamon
1/2 tsp cayenne pepper
1/4 tsp black pepper (or to taste)
For the Cucumber Raita:
1/2 small cucumber, finely chopped or grated
1/2 C Greek yogurt
1/4 C fresh cilantro leaves, chopped
1 clove garlic, minced
1/2 tsp ground coriander
1 T fresh lemon juice
Freshly ground pepper, to taste
For the Balls:
Preheat oven to 400 degrees F.  Line a rimmed baking sheet with non-stick foil or parchment.
In a mixing bowl, combine the ground lamb, pork, egg, ricotta, onion, garlic, lemon, rosemary, cumin, cinnamon, cayenne, and black pepper until the spices are all well incorporated into the meat.
Form the meat into balls  (1 heaping tablespoon each), taking care not to pack too tightly.  Arrange on lined pan.
Bake for 15-20 minutes, or until the meatballs are just slightly pink in the center (150 degrees).
Makes 22 meatballs.
For the Cucumber Raita:
Grate cucumber with the skin on.
Squeeze out excess water from grated cucumber and place in a medium bowl.
Add remaining the ingredients and mix well.
Makes ~1 cup.
***
Unrelated, but have you guys seen this video of what 2000 calories looks like?  50 slices of bacon.  Or 18.2 beers.  Or 60 carrots.  
For those of you who sacrificed something for Lent, what are you most looking forward to being reunited with?
Do you have lamb on Easter?  Or do you associate with another meat or vegetable?