Do you ever wonder where expressions come from?
Rough as a cob?  Wait… I know where that came from…
In the South, but "kiss my grits" is accepted as a nicer way for asking someone to kiss your hind end.
I'm a terrible Southerner.  I don't sugarcoat.  I'll tell you to kiss my ass if you deserve it. 😉  Food preferences are another way in which I fail as a Georgia girl.
Things I don't like:
Cornbread
Fried okra (or any okra)
Honey Baked Ham (it's at EVERY potluck)
Jell-o molds
Ambrosia
Green bean casserole
Grits
Correction.  I like grits my way: strange but good.
In my family Christmas brunch is the most anticipated meal.  We break out the mimosas, crank up the Christmas tunes, and create a meal that is much larger than necessary.  Growing up, a traditional Southern brunch in my house included biscuits, hot choc (chocolate gravy), bacon, eggs, and grits.
The fun thing about my family is that we don't feel the need to stick to tradition.  Variety is the spice of life!  Therefore, this Christmas morning instead of suffering through the sand-like, over-buttered Southern classic, I'll be enjoying cauliflower.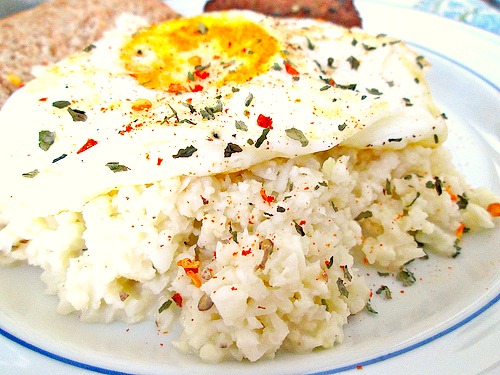 I've long been a fan of using cauliflower as a rice or flour substitute.  It provides a neutral, low carb base for virtually any flavor.  I've used it for Thai-inspired bowls, my favorite Mexican Rice Bowl, and even as the base for pizza crust.
As I researched Christmas morning breakfast ideas, I thought why not use it as grits?  Cauliflower even looks like grits after a good pulse in the food processor.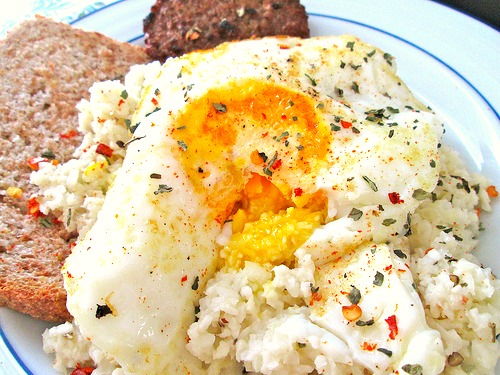 Admittedly, I was even a little surprised when this strange but good take on grits actually worked.  You can add any flavors you like.  I was feeling a savory breakfast and added lots of black pepper and garlic.
It's also much easier than grits.  There are no concerns about it sticking and you don't have to wait 25 mins.  My "grits" were done in less than 10 minutes!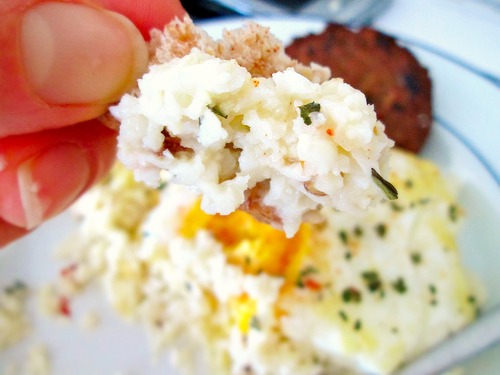 Topped with a runny egg and served with a vegan maple sausage and toast, this is a classic breakfast will never be the same!
Thank you to everyone who participated and/or checked out the first Strange But Good link up Friday!  If you read earlier in the day, check back and see all the odd deliciousness people added over the weekend.  We'll be doing it again this Friday – please join in!
---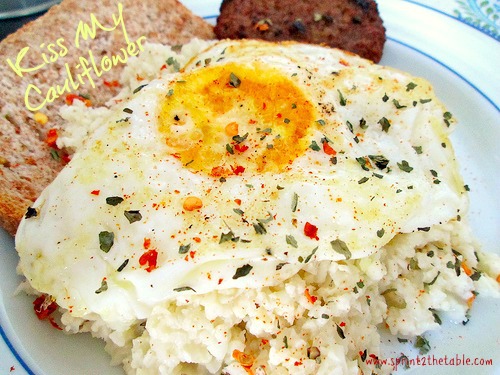 Kiss My Cauliflower
100g cauliflower florets

1/4 C unsweetened almond milk
1/4 tsp butter extract
Garlic powder
Freshly ground black pepper
In a food processor (or Vitamix), pulse the cauliflower florets until they are fine, like couscous or small rice.
Grease a skillet  (I used PAM) and place on stove top over medium-high heat.
Pour the cauliflower "grits" into skillet, add milk and butter extract (you can also use "real" butter).  Stir until combined.  Add garlic powder and pepper to taste.
Cook until the "grits" warm and become tender (~5 mins).
Taste and adjust seasonings as needed.
Makes 1 serving, easily multiplied.
***
My heart goes out to the community and families affected by Friday's tragedy… I was going to post about it but cannot find the right words.  Take a moment today to send thoughts of light and courage to those that lost, and to appreciate all that we have.
If you celebrate, do you do a big Christmas morning brunch? Do you know what you're having this year?
Do you dislike any foods from your region/culture that everyone else seems to love?