To be honest, I'm not a big Key Lime Pie fan.
When Allie requested a smoothie version, I cringed a bit.  She was the inspiration for the Oatmeal Cookie Dough Shake, which is one of the most popular I've made… so I trusted her idea and set my mind to filling her request.
My problem with key lime pies in the past is that the balance of tart and sweet is not right.  Have you ever taken a huge bite of a too-green-to-be-real pie and nearly spit it out because it's too sour, or so sweet that your teeth hurt?  One bad experience can ruin you.
My dad would order a slice anywhere we went, and after one such achingly sweet bite I decided I would forever stick to my usual chocolate dessert orders.  Tragic, I tell you.
I guarantee that this smoothie won't end in such a tragedy.  The lime is balanced with the natural sweetness of banana and a bit of stevia.  Hints of vanilla and almond give it more depth  of flavor, also helping to balance the lime.  The key lime green color is all-natural from spinach, rather than the neon glow of food coloring.  One of my favorite features is the creaminess.  The banana gives it a great texture, and – if you use the Guar Gum – it will further enhance the decadent smoothness.
Of course everyone's favorite part of pie is the crust.  Rather than the usual buttery calorie bomb, I rimmed my glass in a mix of crushed cereal and sugar-free maple syrup.  Crunchy goodness with each sip!
Whipped cream topping is standard on many pies.  A drinkable version shouldn't lack that finishing touch!  For this shake, I made a quick cream from coconut flour and vanilla almond milk.
The fluff floated atop my pie-drink and you better believe I hoarded that deliciousness until the last drop was gone.
---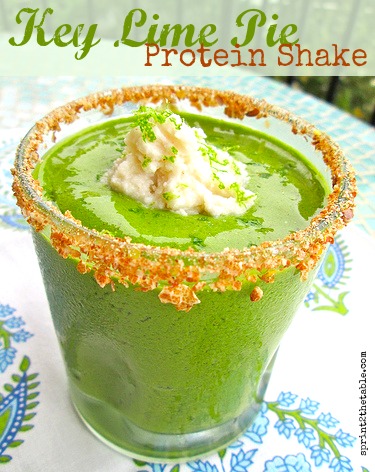 Key Lime Pie Protein Shake
1 C spinach
1 scoop vanilla protein powder (I use

Growing Naturals

)
1/2 banana
1/4 C unsweetened vanilla almond milk
4-5 T fresh lime juice (or 1/4 small lime if you have a Vitamix)
1 T ground flax
1/4 tsp almond extract
1/4 tsp Guar Gum (optional)
7-8 drops liquid stevia (or other sweetener)
Ice, to taste
For "Crust"
2 T cereal crumbs
Sugar-fee maple syrup
For "Cream" Topping
1 tsp coconut flour
2 tsp water
1 drop liquid stevia
Combine all smoothie ingredients in blender and blend until smooth.
For the "crust," lightly coat the rim of your glass with maple syrup and dunk in cereal crumbs – it's just like rimming a margarita glass with salt.
For the "cream," mix all ingredients in a small bowl.  Adjust liquid as needed.
Carefully pour your smoothie into the rimmed glass and top with cream.
Enjoy!
***
I leave you with my favorite pie quote from Jack Handy: "When you die, if you get a choice between going to regular heaven or pie heaven, choose pie heaven. It might be a trick, but if it's not, mmmmmmmm, boy."
What is your favorite pie?
If you had a choice, what kind of food-related heaven would you choose?