Congratulations on making it to yet another Friday!
In honor of the end of the week, my yearning for solid food, and of my friend beginning my day by asking for restaurant recs, I have decided to make a list…
Top 5 places I would eat this weekend if I could chew:
1. Empire State South (999 Peachtree Street, Atlanta, GA 30309, 404-541-1105) – Hugh Acheson (of 5 & 10 – Athens, GA fame) has struck again.  The staff was incredibly accommodating on V-Day weekend, straining some incredibly flavorful white bean soup and serving a side of celery root puree for my chewing needs.  I also enjoyed a whisky-based Brown Derby cocktail. When I go back, that ricotta dumpling is mine.
2. Victory Sandwich Bar (280 Elizabeth Street, Atlanta, 770-676-7287) – I don't think they have a website yet, but I can confirm they do have the following:
Jack and coke slushies
Punching bag (for the angry drunk in you)
$4 sandwiches
3. Holeman & Finch (2277 Peachtree Road, Suite B, Atlanta, GA 30309, 404-948-1175) – I would eat here every night if I could.  This place makes 24 burgers.  They don't serve them until 10p.  You need to be there by 830p to "reserve" one.
Yes, you will wait.  Yes, it will be chaos.  YES, it is worth it. (Secret: Sunday brunch begins at 12:30p… the burgers are served without bounds.)
Do yourself a favor and try other menu items – they're ALL good.  And let Greg Best, the rockstar behind the bar, serve you drinks of his choosing.  Trust will serve you well at this fine establishment.
4. La Pietra Cucina (One Peachtree Pointe, 1545 Peachtree Street, Atlanta, GA 30309, 404-888-8709) – Hands down the best pasta in Atlanta.  To start, don't miss the Proscuitto di Parma with the house-made ricotta and pineapple mostarda.  Then Carla's Tagliatelle.  Then one of everything for dessert.
Charcuterie.  A glass (or 2) of Amarone. Find a better way to enjoy National Drink Wine Day.  I dare you.
5. Top Flr (674 Myrtle St., Atlanta, GA, 404 685-3110) – Top Flr is one of my "go to" places in town for dinner (read my short review here).  They have a solid wine list, a wide variety of food, and a relaxing, funky atmosphere.  However, this weekend they are getting a special shout out because Sunday will begin their brunch service!  The brunch menu hasn't been announced yet, but I cannot wait to see what they come up with!
One of my all-time favorite restaurant review quotes comes from Besha Rodell @ Creative Loafing's coverage of this fine establishment:
"Top Flr is what happens when the kids who used to wait tables and bartend in other people's restaurants grow up and become their own bosses."
---
Back to your regularly scheduled programming…
Surprise!  Its another soup recipe.  But this one has a new squash!!!
Kabocha squash (which means "Japanese pumpkin").  They look like this: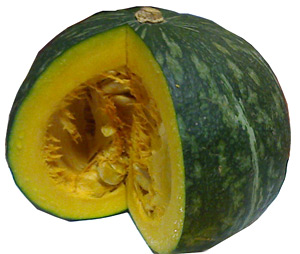 They are Japanese in origin and have a potato-like texture.  They have an earthy taste and are sweet (though not quite as much as a butternut squash).
Verdict: I'd eat it again.  
In the soup below, the sweet squash went perfectly with the heat from the chipotle.  The carrot and coriander also complimented the sweetness, making the taste more complex.  Topped with avocado, it was like a fiesta in my mouth.  (That's what she said.)
---
Kabocha Chipotle Soup
1 tablespoon olive oil (I used Sweetwater Habanero-infused)
1/2 yellow onion, chopped
3 carrots, peeled and chopped
3 cloves garlic, minced
2 C spinach
1 medium kabocha squash, cooked
2.5 C vegetable broth
3/4 C water
1 chipotle pepper from a can of peppers in adobo sauce
Handful cilantro
1 tsp coriander
S + P, to taste
Avocado slices, for garnish
Heat the oil in a large saucepan.  Add the onion and carrots, sautéing until tender (~7-8 mins).  Add garlic and saute just a minute more (careful not to burn the garlic!).  Add the pumpkin, spinach, broth, water, chipotle pepper, and cilantro.
Bring the mixture to a boil, stirring to combine.  Reduce temp, bringing soup to a simmer until the spinach wilts and flavors combines (~5-10 mins).
Puree the mixture using an immersion blender or stand blender until smooth.  Add seasonings to taste.
Ladle into bowls and garnished with avocado, cilantro, sour cream (or greek yogurt!), red pepper flakes, diced tomato, crumbled tortilla chips, etc… you get the idea!
***
Creative food = fun!  Jack and Coke Slushies.  Pineapple with you ricotta and prosciutto.  New squash (as opposed to New Coke, which was a terrible idea).
What's your favorite unexpected combo/dish/drink?