There's something special about a hot breakfast.
Forget Folger's in my cup – I want eggs!
As someone who is continually unable to get out of the door on time, hot breakfasts aren't exactly practical.  This means food prep is especially important.  And it has to be high protein – I need stay-power!
I bring you the Kabocha and Black Bean Frittata.
This savory breakfast bake is perfect to keep on hand and reheat quickly throughout the week.  It's packed with veggies, so you begin your day with a nutrient-rich breakfast. You can customize your veggie mix and spices to your liking.  I was feeling Mexican.
Yo quiero desayuno. 
What I really love about this frittata is how thick it is.  You can add more egg if you want something more quiche-like, but I prefer the density.  It feels like I've had a breakfast sandwich!
I would be remiss if I didn't call out Heather's MMAZ ingredient – squash!  Of course I chose my favorite Kabocha; you could use anything here.  Kabocha is strongly encouraged though – the hint of sweetness the kabocha adds is fabulous with the warm Mexican spices!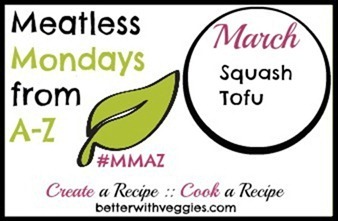 It was indeed marvelous.  Check out more marvelous links on Katie's blog!
---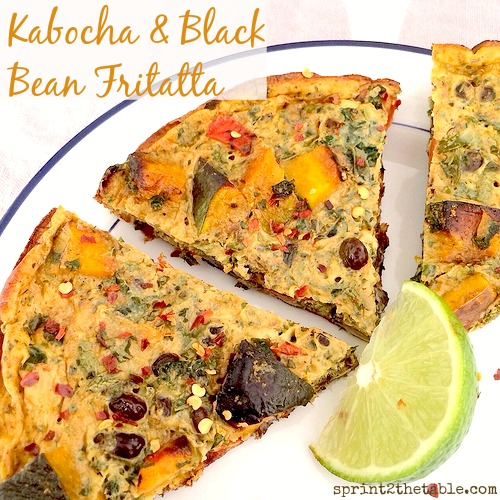 Kabocha Squash & Black Bean Frittata
Olive oil
1 C cubed kabocha squash, roasted
¼ cup diced red onion
1 clove garlic, minced
1/4 C diced red bell pepper
1/2 C frozen kale (can use fresh)
1/2 C black beans, rinsed and drained
1/2 C egg whites
1 T nutritional yeast
1/2 tsp cumin
1/2 black pepper
1/4 tsp turmeric
1/4 tsp cayenne
Fresh cilantro, to taste
Preheat the oven to 400 degrees.
Spray or grease an oven-safe  skillet over medium-high heat.  Add onion, sauteing until beginning to turn translucent.  Add red pepper, garlic, kale, kabocha, and beans and saute until tender, ~5 -6 mins.
Meanwhile, whisk together egg whites, nutritional yeast, and spices in a small bowl.  Transfer veggies to the bowl, stirring to combine.
Grease you skillet again, then pour in the eggs and vegetables mixture.
Bake for 15-20 mins, until the center is firm and no longer jiggles when you move the pan.
Cool for 10 minutes. Can store for 4-5 day in an airtight container in the refrigerator.
***
I'm on the road all week.  Bring it on, hotel breakfast bar.  I'm armed with protein, bro.
What is your favorite squash?
Do you prep breakfasts for the week?  What do you make?