Kabocha and bacon are two of my favorite things.
Vegas and chocolate are also on that list.
Speaking of Vegas, these were Vegas-approved!  I always consider that an accomplishment – my pasta-loving lady gives me the side-eye if I try to get *too* healthy on her.  However, She can always be won over with bacon.
These muffins were inspired by the bacon grease I had leftover from breakfast at this past weekend.  I always save it for cooking; you can use it in place of butter to grease a pan.  It may sound strange, but why not use bacon grease in place of butter in baked goods too?  It really is good!
The use of kabocha squash was inspired by the Butternut Rosemary Drop Biscuits I made long, long ago.  I love the creamy texture squash adds to baked goods.  The coconut flour also enhanced that creamy quality in the biscuits.
Coriander is something you my also think is odd, but just a bit can enhance just about any baked creation.  It comes from ground cilantro, and has a slightly lemon-y, warm flavor that you can't quiiiiite detect in the background.  A bit of je ne sais quoi… if you took French in high school.
These can easily be made vegan.  Seriously.  Just sub vegan butter for the bacon grease and butter, and coconut or soy yogurt for the Greek.  Then add 4-5 drops of liquid smoke and some salt.  Boom!
---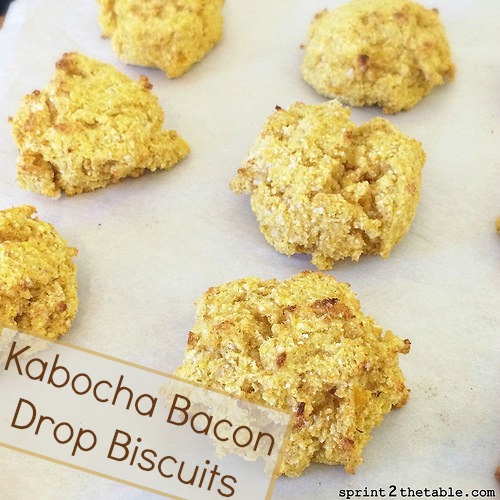 Kabocha Bacon Drop Biscuits
1 C whole wheat flour
1/4 C coconut flour
3 1/2 tsp baking powder
1/2 tsp coriander
2 T bacon grease
1 T salted butter, chilled (?)
1 C mashed roasted kabocha squash
1/2 C Greek yogurt
1/4 C buttermilk (I used 1/4 C unsweetened vanilla soy milk + 1 tsp ACV)
1 T maple syrup
Preheat oven to 400F and line baking sheet with parchment paper.
Sift flours, baking powder and salt into a medium mixing bowl.  Cut in the cold butter with a pastry cutter or your hands until you have a crumbly mixture.
In a large mixing bowl, stir together squash, yogurt, milk, maple syrup and coriander until smooth.  Fold in the dry ingredients until just mixed.
Drop the dough onto baking sheet by the spoonful (~2 T), leaving about an inch between the biscuits.
Bake in preheated oven for 12-15 mins, or until lightly golden.
Makes 12 small biscuits.
Approximate nutrition: 65 calories, 0.6g fat, 14.4g sodium, 11.9g carbs, 2.5g fiber, 1.9g sugar, 2.7g protein
---
How have you enjoyed making co-workers, friends, or family stare with strange but good creations this week? The link up rules can be found here or by clicking on "Strange But Good" in the menu bar above. In short, I want to see what concoctions have earned you weird looks from co-workers, family and friends! Post your Strange But Good creations, grab the logo below for your blog, and link up here.
Remember to use #strangebutgood in any Tweets and Instagrams of your creations. 🙂



***
If we'd had leftover bacon I'd have crumbled it in the biscuits!  Leftover bacon doesn't exist in our house though.
What are two of your favorite things?
Do you ever re-purpose bacon grease?