Mexican-inspired breakfasts are some of my favorites.  Jicama & Tofu Nachos are my morning take on the giant plates of nachos I love for dinner!
This Mexican-ish deliciousness happened for breakfast, but I think it makes a good brinner dish too.  When is breakfast not appropriate?!
I don't make guarantees often, but I promise that if you try this, you will be in love.  It seems like a lot of steps, but they happen simultaneously so it's not too time consuming.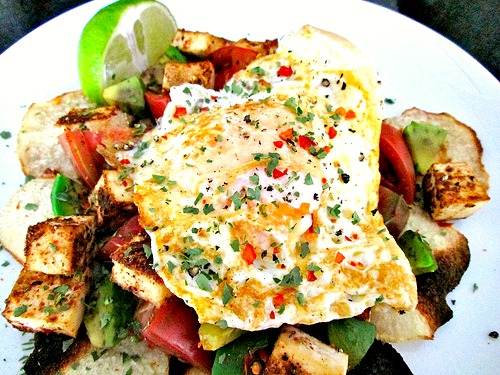 If you haven't had jicama before, here's what you need to know:
Pronounced HIK-ka-ma
Root vegetable, sometimes called a Mexican turnip
Tough brown skin should be peeled before eating or cooking
Inside is white, wet and crunchy… like if a potato and an apple had a baby
Flavor is slightly sweet, a little nutty
Low in calories
High in Vitamin C and fiber… but not just any fiber!  It's fiber infused with oligofructose inulin, which has zero calories and doesn't metabolize in the body
Inulin enhances absorption of calcium from other foods and is a prebiotic (read: promotes "good" bacteria growth)
Jicama is good raw in salads like my Edamame and Jicama Salad, but it's also great roasted.  I cut it into "chips" and roasted it in the oven for use as the nachos in this recipe.
It was awesome topped with tomatoes and creamy avocado… and tofu!  If you haven't baked tofu before, now is the time to try it.  It poofs up like marshmallows!  In a good way.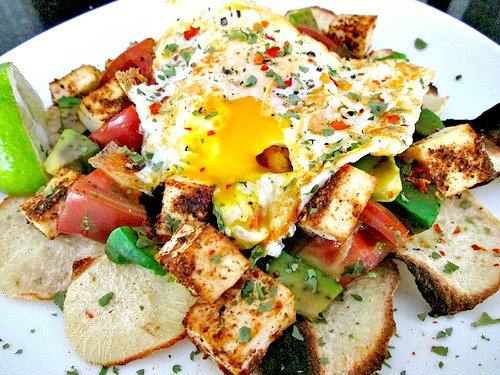 Even more fabulous was the runny egg on top.  That #yolkporn dripped down into the crevices of my nacho creation, making each bite worthy of a giddy grin.
My only complaint was the not-so-happy ending – I was really sad when the last bite had been taken.
---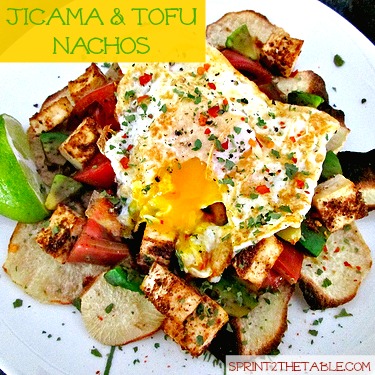 Jicama & Tofu Nachos
1 small jicama, peeled and sliced thinly
6 oz tofu, cubed
1 tsp Mexican spice blend (use your favorite)
1/2 medium tomato
1/4 avocado
Egg (optional)
Garnish ideas: lime, red pepper flakes, pepper
Place the thinly sliced jicama on half of a parchment-lined baking sheet.  
Season cubed tofu with your favorite Mexican spices and place on the other half of the baking sheet.  
Cook both under broil for 10 mins, flipping half way through.  Make sure you watch the jicama closely so as not to burn it.
While that is roasting, cut your tomato and avocado into cubes.  Set aside.
When the chips and tofu are done, remove from the oven.  Arrange chips in nacho-form on the baking sheet.  Top with tofu, tomato, and avocado.  Place the pan back in the oven under the broiler for ~5 mins, until warmed through.
Meanwhile, cook egg to desired level of doneness on the stove top.
Remove chips from over and verrrry carefully slide off onto a plate.  Top with the egg (if using) and garnish as desired.
---
How have you enjoyed making co-workers, friends, or family stare with strange but good creations this week? The link up rules can be found here or by clicking on "Strange But Good" in the menu bar above. In short, I want to see what concoctions have earned you weird looks from co-workers, family and friends! Post your Strange But Good creations, grab the logo below for your blog, and link up here.
Remember to use #strangebutgood in any Tweets and Instagrams of your creations. 🙂

***
Today my dad would have been 58 years old. I still feel the hole in my heart… but the Mitch Albom quote holds true: "Death ends a life, not a relationship." I feel his presence, love, and support every day. His lessons live on through the lives he touched. Happy Birthday, Old Man.
How do you like your eggs?  Green with ham? 😉
Have you ever had jicama?  Do you prefer it raw of cooked?