I'm a snack junkie.
If I'm honest I'd rather snack and have a meal. 
If you're a snacker like me, you can imagine my excitement when I received a GIANT box of jerky from Jack Link's.  Turkey jerky, teriyaki turkey jerky, chicken jerky… it is basically outdoor snacking deliciousness.
And by outdoors, I don't just mean sports (though Vegas and my favorite softball snack is jerky).
You'll see a little more about how we incorporate jerky into our diet in a creative yet easy way later in this post, but let me tell you that in makes a great addition to a picnic at an outdoor concert!
We are classy concert goers.  Cheese, crackers, veggie tray, wine… and chicken jerky.  Yes jerky.  It's delicious lean white meat – not greasy, 98% fat free, and added 11g of protein to my cheese binge.
Jerky is a great way to keep your outdoor activities – athletic or entertainment – healthy!  And you want it.  So there's a giveaway at the end of this post for a Jack Link's gift pack that contains:
Jack Link's Chicken Jerky
Jack Link's Turkey Jerky
Jack Link's Sweet Teriyaki Turkey Jerky
Water bottle
Headband
Sweat towel
EOS lip balm*
*Have you tried this lip balm?  It's the one that comes in the egg-looking thing.  It's awesome.
---
I'm also sharing WIAW hosting duties this week for Jenn!  Read on for my eats, and then check out the links below for everyone else's delicious creations!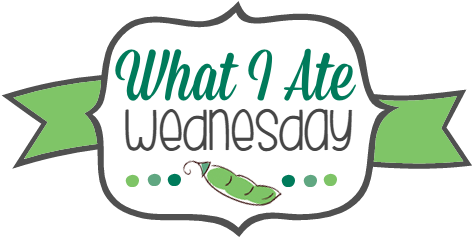 ---
Breakfast:
I had the usual morning cocktail and morning sludge.
Breakfast was an old favorite: overnight oats in a jar!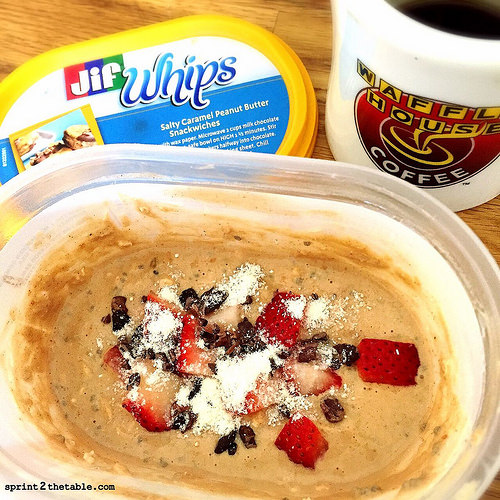 I took an almost-empty jar of Jif Whips Salty Caramel Peanut Butter (which is amazing, btw), mixed with:
I let that sit over night and them topped it with strawberries, cacao nibs, and coconut flour.  With a side of coffee in a Waffle House mug* I stole with Vegas 6+ years ago, long before we ever dated.  Ah, memories.
*We have a full set
Lunch:
Vegas and I went on an awesome-yet-hot bike ride around lunch time yesterday.  When we got back we were covered in sweat and in need of some salt to cure a couple of headaches, and protein to help our muscles recover.  The thought of a BLT entered my mind… and then I remembered the jerky.  TLT, anyone?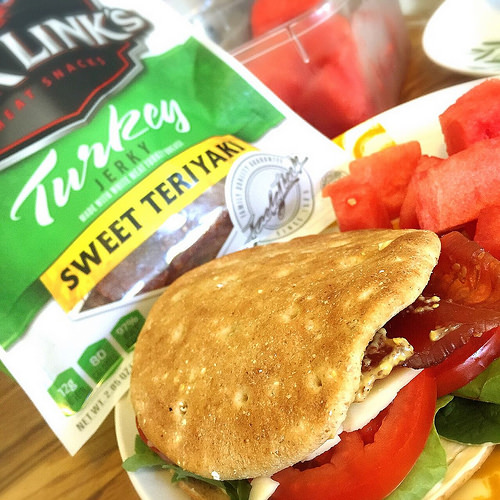 This sandwich was a lettuce, tomato, and teriyaki turkey jerky monster.  We added swiss cheese and mustard too.  So. (Strange but) Good.
Dinner:
Picnic dinner!  They were showing Annie Hall (an old Woody Allen movie – he's is nuts, but it's hilarious!) in Balboa Park and we pack up a pseudo-fancy dinner to-go.
Homemade chicken salad with raw sweet corn, red bell peppers, onion, carrot, and arugula on sandwich thins with cheese and kale crackers and the sweetest watermelon is of the season.
There was also a glass of wine and a Swiss chocolate for dessert during the movie. 🙂
---
Giveaway!
This post is sponsored by FitFluential on behalf of Jack Link's.
---


***
Don't forget – you have one day left to enter the $15 giveaway!
Do you like jerky?
Have you ever seen Annie Hall?