It's New Hair Thursday! 🙂
I love my stylist even more than I love chocolate cake (translation: love her a lot).
Karen worked in my old neighborhood salon, but moved to North Georgia.  I now drive an hour to go see her at her own salon called Lava Hair Studio.  Check our her new ad: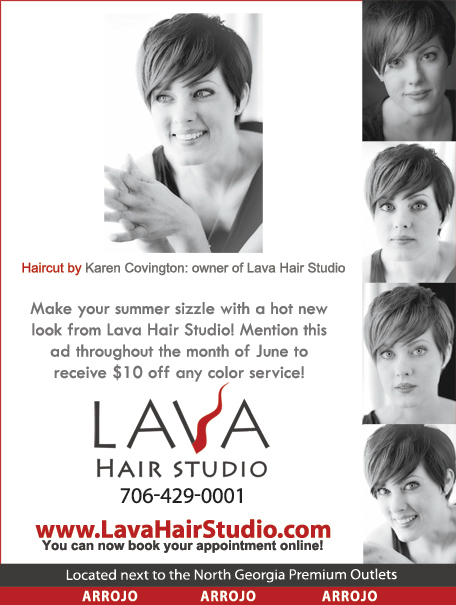 Karen and I have been together since I was 15.  It was only fitting that I go see her right before my high school reunion this weekend.  I cannot believe it has been 10 years!
Always have to have some red in it. Somethings never change.
Today was especially good because I feel SO much more human.  Thank you all so much for the get-well wishes!
I busted out a easy run during lunch to sweat out the rest of my sick germs.
Stats:
Distance – 3.5 miles
Time – 28:55 mins
Pace – 8.16 mins
Delicious food made things brighter as well.  I wish today's eats could have been featured on WIAW!
___________________________________________________________________________
When I saw this recipe for Caesar Hummus at Healthy Exposures I was intrigued.  Then I saw Jess continue to mention how good/addicting it was… I knew I had to try it for myself.
Jess is right. This may be the best hummus ever.  Seriously – I don't use extremes often.
Once I began tasting and mixing, I determined that this had a decidedly Asian taste to it.  So I went with that and added soy sauce and Japanese red pepper blend called Shichimi Togarashi.
This farmer's market-find is a blend of: red pepper, sesame seed, orange peel, Japanese pepper, seaweed, and rapeseeed (<– I have NO idea what that is and I'm too scared to google it).
I added 1/4 – 1/2 tsp of this and then sprinkled it on top of the final product.  Heat is my BFF, so be sure to adjust to your preference!
You know those sauces they bring out at Japanese restaurants?  I'm going to start bringing this instead.
___________________________________________________________________________________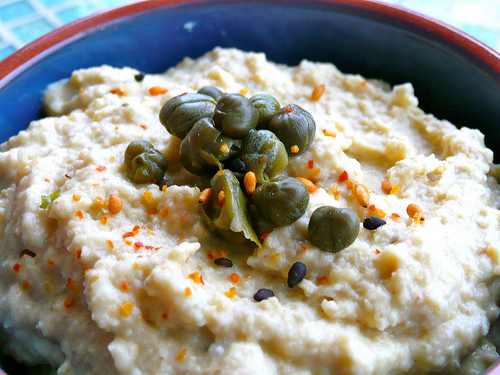 Japanese-ish Hummus
1 C garbanzo beans
1 T tahini
1 T capers + brine
1/2 tsp herbed dijon mustard
1 garlic clove
Juice of 1/2 a medium lemon
Liberal drizzles of soy sauce
Shichimi Togarashi (or red pepper flakes/cayenne/paprika), to taste
Olive oil and/or water
If using dried chickpeas: soak chickpeas overnight (or 12 hours) at room temp (water should just over top of chickpeas).  Rinse and place in a large pot with 3-4 garlic cloves and salted water.  Water should cover chickpeas.  Bring to a boil and them simmer for 50-60 mins.  You may need to add water to keep peas covered.  When desired tenderness is reached, remove from heat and allow to cool in cooking water.  Drain and rinse before using.
Add chickpeas, tahini, capers, mustard, garlic, and lemon juice.  Pulse until beginning to come together.  Taste and add soy sauce and spice to taste, processing again to combine.  With processor running, drizzle in olive oil and/or water (I used ~2 tsp oilve oil and ~1/8 C water).  Continue processing until smooth.
Makes 3/4 cup.
***
I can't stop eating this hummus.  Is it too abnormal to eat an entire cup of it in one sitting..?
Have you been to your high school reunion?  How was it?