Have you ever seen a jackfruit?
I had passed by them in the farmer's market, not knowing what that prickly thing was.  Never thought twice about it.  Until I saw this recipe by Jessica @ Clean Green Simple: Carolina Pulled "Pork" BBQ Sandwich.
BBQ?  Jackfruit?  Curiosity killed the blogger.
Exhibit A: the funny-looking fruit in the back left corner of the $35 farmer's market pic I posted Monday:
Jackfruit.  Not just any jackfruit – that is just 1/4 of a jackfruit (they pre-slice them).  They can grow to be 8o lbs and 3 ft long!  My quartered piece was just 99 cents.  So cheap – I would have been losing money if I didn't buy it!
The Low-Down
It was delicious raw – a little chewy, tropically-sweet, reminiscent of a mango in flavor.  It's also in season right now!
Jackfruit is also super-nutritious:
Energy replenish-er and revitalizes the body instantly (I can vouch for this – I perked up and went to the gym after dinner!)
Good source of Vitamin-A, B, C cancer-preventing antioxidant flavonoids (like β-carotene and lutein)
Mineral-rich (potassium, magnesium, manganese and iron)
Full of fiber
Improves iron absorption
Normalizes blood sugar levels and supports healthy thyroid gland

---
I took about 1.5 C of fresh jackfruit (you can also find it canned), and tossed it in a quick dry rub. I used Jessica's dry rub recipe for guidance, but simplified it a bit for a change.
After that, I added ad-libbed a wet sauce.
The best thing about BBQ is that you can really make it up as you go!
So.  Good.
It took a long time to make since I had to peel/seed the jackfruit and I got the spice rub in my eye, but it was TOTALLY worth it.
I had just seen Evan @ The Wannabe Chef post a socca taco shell, so I decided to turn Jessica's sandwich into a taco!
These were super easy to make and I liked them much better than "regular" hard taco shells.
Served with a salad of roasted tomatillo, cilantro, watercress, and lime juice.
Oh, and did I mention you can eat jackfruit seeds?  Yup.  I can't find the stats, but they are rumored to be a good source of protein.  I toasted those up in a skillet and tossed them on my salad too!
My BBQ-Taco ended up being vegan, gluten-free, refined sugar-free, dairy-free, and soy-free. Combine that with a 99 cent jackfruit, it felt $$$ free.
---
Jackfruit BBQ Taco
1.5 C jackfruit (~1/2 of a jackfruit)
1 shallot, minced
3 cloves garlic, minced
Socca, bread, or taco shell… whatever you want to put it in
For the dry rub:
1/4 tsp red pepper flakes
1 tsp paprika
1/2 tsp cayenne pepper
1/2 tsp ground mustard
1/2 tsp black pepper
pinch garlic powder
For the wet sauce:
4 T fire-roasted tomato chunks
1 tsp apple cider vinegar
1 tsp canola oil
1 tsp blackstrap molasses
1 tsp cocoa powder
1/2 tsp cinnamon
1/4 C water
Preheat oven to 400 degrees.
Sauté shallot with a splash of oil over medium heat until translucent.  Add garlic and sauté ~1-2 mins longer, until fragrant.  
Mix together dry rub spices and toss with jackfruit pieces until coated.  Add to a medium-sized pan and cook over medium-high heat for ~5 mins to toast spices.  
Stir together wet sauce ingredients and add to pan, along with shallot and garlic.  Simmer jackfruit in sauce for 20-30 mins until softened.
Using a fork, shred the jackfruit pieces into small stringy bits.  Spread mixture evenly on a foil-lined baking sheet and bake for 15 mins until slightly dried out and toughened.
Scoop in to taco shells (or bread) and garnish with lime and cilantro.  Enjoy!
Serves 2-4.
***
Happy WIAW!!!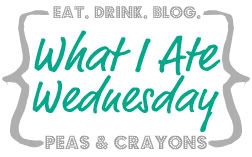 It's certainly not everything I ate, but everything else paled in comparison.
Have you ever had jackfruit?  
What is the coolest thing you've ever made?