Procrastination is a vice.
Unfortunately, it's a vice that I possess.  I procrastinate at work (I am the queen of working until 2am), with cleaning (my BFF finally told me I had to clean my shower because "that's disgusting"), and with certain type of shopping (I've gone through every moisturizer sample in the house – it's time to hit up Sephora).
If you look at my recipes marked "to try," you know I procrastinate at that too.  I get distracted by other ideas, go out to eat too much, or just straight-up give in to $10 Whole Foods hot bar cravings.
This vice is the only excuse I have for not trying Kristin's Broccoli Slaw.  I'm ashamed it took so long 'cause this easy dish was AWESOME.
I hate to dub it a recipe since I literally just cleaned out my veggie drawer into a Pyrex.  In the break down below I barely include measurements.  Adjust everything to your liking!
My version was loaded with flavorful items like roasted artichokes, capers, and lemon-pepper tempeh.  I topped it off with a garlic marinara sauce, extra basil, and red pepper flakes.  Talk about a meal… I am calling it 2 servings, but I could have sat there and demolished the whole thing.
There are a million possibilities for variations.  Kristin makes a BBQ version.  Next up for me will be a Mexican riff.
________________________________________________________________________________________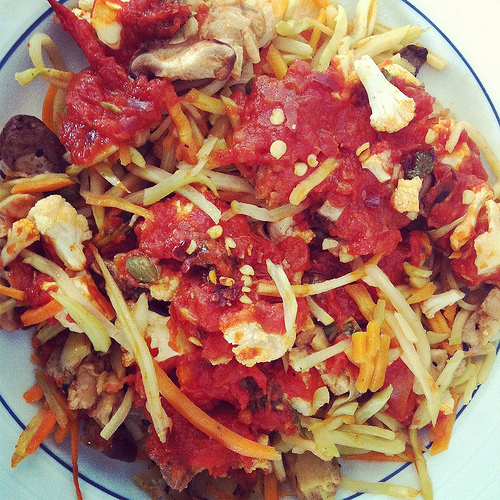 Italian Baked Broccoli Slaw
1/2 package broccoli slaw
1/2 head cauliflower, chopped
Sliced mushrooms (I used a mix of cremini and shiitake)
Roasted artichokes
Capers
Red pepper flakes
Basil
1 C marinara sauce
Pre-heat oven to 375.
Toss everything into a 8×8 pyrex dish and top with sauce.
Bake for 20-25 mins.
Serves 2.
***
After all the Food & Wine festivities, meals like this vegan dish and a lot of green smoothies have been in my life this week!
What have you been procrastinating on lately?
Have you tried broccoli slaw before? (You can find it at any major grocery store!)