Moving is exhausting.
I'm mentally tired.
Organizing, cleaning, and decorating are not my favorite things.  Doing that while working and dealing with annoying shit that comes with closing on the sale of my condo has left me grouchy.  People commenting on my lack of cooking gets me fired up.  We just got a working oven and found time to grocery shop.  If I want to have some beers, then I will.  Jeeeeeeesus.
This isn't a blogger rant.  These are Facebook friends.  I've actually been loving going out in our new neighborhood and trying out new things workout-wise.  I've taken up boxing and tried out jiu jitsu.  I've been running more.  Ending the day jogging back home to Vegas with this view makes me incredibly happy:
---
That said, this WIAW we now have a stove and groceries.  We're cooking again.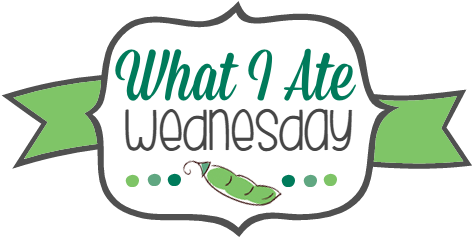 Read on for my eats, and then check out Jenn's blog for everyone else's delicious creations!
---
Breakfast:
Vegas and I both do the usual morning cocktail.  Mine is followed by my morning sludge.
In honor of St. Patrick's Day, I made us Irish cream green protein pancakes.  We don't have flour, so I used a bit of coconut flour and protein powder… which means they're gluten free!  That combo actually makes a super-fluffy pancake.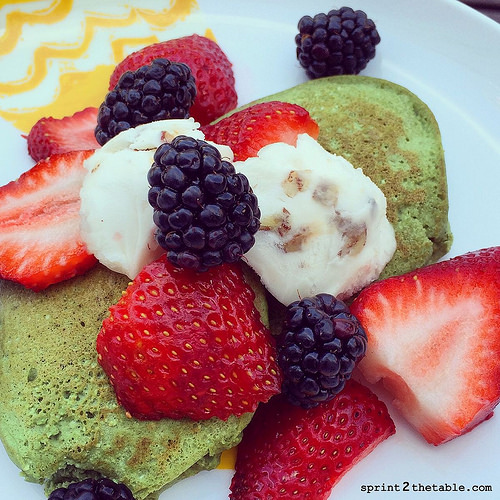 Irish Cream Green Protein Pancakes
1 scoop vanilla rice protein powder (I use

Growing Naturals

)
1T coconut flour
1/2 tsp cinnamon
1/2 tsp baking powder

1T Greek yogurt

2 egg whites

1T cashew milk

5 drops vanilla stevia

1/4 tsp Irish cream flavoring (made by LorAnn Oils)

1/2 tsp butter extract

5 drops green food coloring*
*If I'd had spinach, they would have been green'd that way.  What I had was food coloring.  #sorryimnotsorry
Lunch:
For lunch we've been having lots of cooling foods – San Diego had a heat wave!  Deli turkey and veggies.  Vegas has a sammich, I have a salad.  Both of us have kale chips.
These creations included kale, cucumbers, sprouts, hummus, orange cherry tomatoes, apple, and salsa.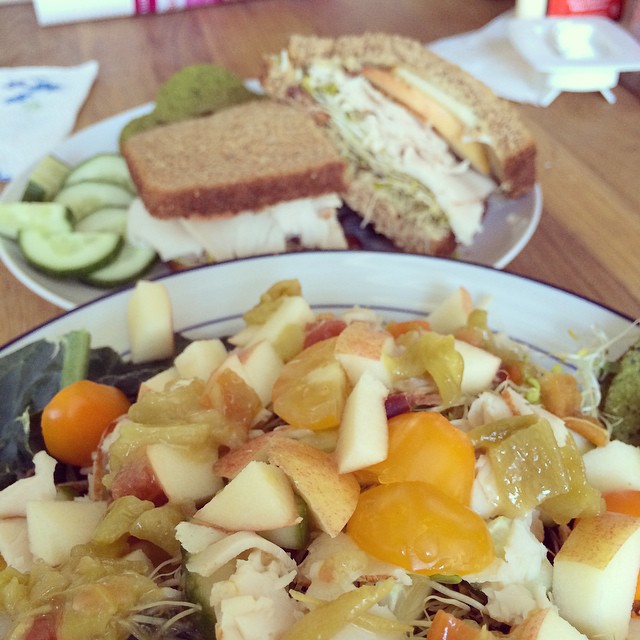 Dinner:
Vegas can cook.  This is amazing… I don't remember the last time someone that wasn't my mother made me dinner!  She made spaghetti with an amazing bison tomato sauce… she even made kale salads for us so I had greens. 🙂
Eaten with a particularly tasty 2011 Syrah from Esterlina Everett Ridge vineyards in Sonoma.  I can't wait to visit this winery!
Bedtime Snack:
Unpictured macaroons from Whole Foods.  Red velvet, blue velvet, dark chocolate, and salted caramel.  I can't begin to pick a favorite.
***
I'm working on being more patient and less fired up going forward.  #rawr
Did you eat something green for St. Patrick's Day?
Do you ever get annoyed over stuff you really shouldn't bothered by?