Gluttony is controversial in blog-land.
I'm a firm believer that you should have everything in moderation.  Including moderation.
When my softball team requested these cupcakes after our game last weekend, I had to oblige.  I'd made the 'cakes for them 3 or 4 years ago, and they've been requested every year since.
These are not your ordinary cupcakes.  They are called Irish Car Bomb Cupcakes.  A reader pointed out the negative connotation of that name… I'm sorry if it offends anyone.  These cupcakes are referring to the popular shooter.  Many of you may have taken seen the shot in college.  You take a 1/2 pint of Guinness and drop a shot of Irish cream and whiskey in it.  Then you chug (you have to drink it fast of it will curdle).
Turning a shooter into a cupcake may be strange, but it most certainly is good.  In fact, I think these cupcakes are better than the shooter.  Not better for you – hence the gluttony.  But the booze (mostly) cooks out, so at least they won't give you a hangover. 😉
Oddly, they don't taste particularly boozy.  The cake portion is a chocolate-Guinness combo.  The carbonation from the Guinness makes the cake light and fluffy, and amplifies the chocolate taste without adding too much sweetness.  The center of the cupcake is scooped out and filled with Irish whiskey ganache.  It is also not terribly sweet, and the whiskey only deepens the chocolate taste.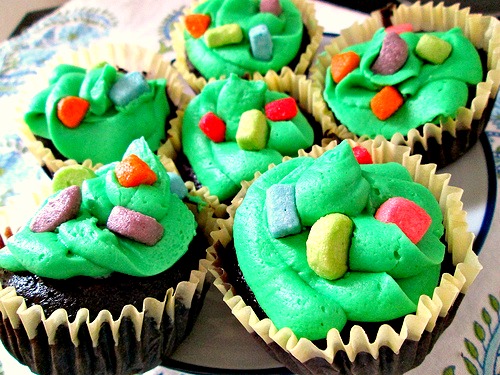 The booziest part is the icing.  That Irish cream isn't cooked out, so you get a little of liqueur taste.  However, if you've ever had Irish cream you know it's sweet and creamy, so it works well as an icing component.  I whipped this up the same time I made the hazelnut icing for Kat's cake.  I topped it with lucky charms marshmallows (thank you again for that gift, Heather!) to be more "festive."
The combination makes for a fluffy, moist, decadent cupcake.  You will promise yourself you will only take a bite of… then look down and realize it's GONE.  Not to be made every weekend, but once a year I think it's worth a little gluttonous indulgence.
---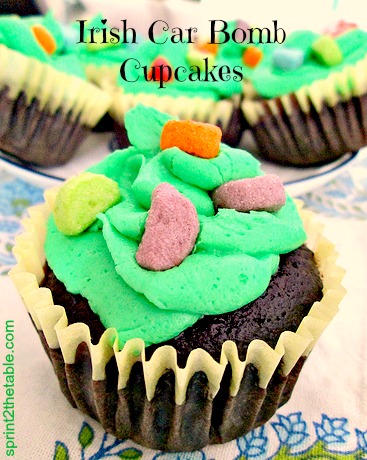 Irish Car Bomb Cupcakes
For the Cupcakes:
1 C stout (I used Guinness)
1 C (2 sticks) salted butter
3/4 C unsweetened cocoa powder
2 C all-purpose flour
1 3/4 C sugar
1 1/2 tsp baking soda
2 eggs
2/3 C sour cream
For the Ganache:
8 ounces bittersweet chocolate
2/3 C heavy cream
2 T salted butter, room temperature
1 T Irish whiskey (I used Jameson)
For the Frosting:
3 C powdered sugar
1 stick (1/2 C) salted butter, softened
4 T Irish cream (I used Bailey's)
Food coloring (optional)
To make the Cupcakes:
Preheat oven to 350.  Line 24 cupcake cups with liners.  
Bring the beer and butter to simmer in medium-sized saucepan over medium heat.  Add cocoa powder and whisk until mixture is smooth.  Cool slightly.
Whisk together flour, sugar, and baking soda in a medium bowl.
In a large bowl and, using electric (or hand) mixer, beat eggs and yogurt.  Add the chocolate beer mix to the egg bowl and beat just to combine.  
Add flour mixture and slowly beat.  Just before it's completely mixed, use rubber spatula to fold batter until completely combined.  
Pour batter into the cupcake liners, ~3/4 full.  Bake ~15-17 mins. Allow cupcakes to cool completely.
To make the filling:
Break up the chocolate and place in a glass (heat-proof) bowl.  
Place cream in a small bowl and bring to a simmer.  Pour the hot cream over the chocolate, allowing it to sit for a minute before stirring until smooth.  If your chocolate isn't melted completely, you can pop it in the microwave in 15-20 second increments until melted.  
Lastly, add the softened butter and whiskey.  Stir until combined.
To fill the cupcakes:
Let the ganache cool and thicken.  If you're impatient like me you can place it in the fridge to firm up; however, it shouldn't be hard.
Using a cupcake corer, knife, or an apple corer, remove centers from the cupcakes.  Take care to not cut through to the bottom.  About 3/4 deep is perfect.  (Note: save the centers and mix it with leftover ganache and/or icing to make fudgy cake balls.)
Spoon the ganache into the holes, filling to the top.  (This could also be done with a piping bag, but I don't have one.)
To make the frosting:
Whip the butter at a med-high speed using an electric (or hand) mixer until light and fluffy.  Slowly add the powdered sugar – just a few tablespoons at a time.
When the frosting thickens, drizzle in the Irish cream and whip until combined.  Add food coloring, if using, until desired color is reached.  In the event that the frosting becomes too thin, simply add more powdered sugar until its think enough to spread.
---
Now that my gluttony is out of the way, what's strange but good creations have you been concocting?  Someone post a healthy recipe to balance me out… 😉
The link up rules can be found here or by clicking on "Strange But Good" in the menu bar above.
In short, I want to see what concoctions have earned you weird looks from co-workers, family and friends!  Post your Strange But Good creations, grab the logo below for your blog, and link up here.

Remember to use #strangebutgood in any Tweets and Instagrams of your creations. 🙂



***
 No need to wait until next St. Paddy's to make these cupcakes.  I've done them for birthdays, 4th of July, NYE… Easter… break those Lenten alcohol and sugar bans in style! 😉
Spill it: Have you ever done an Irish Carb Bomb?
What strange but goodness have you been eating this week?