Blogger meet ups are always fun.
Yes, always.  It's a rule.
Meet ups with bloggers from the other side of the world ROCK.
Last night I had the honor of eating dinner with Hannah of Wayfaring Chocolate.  She is in town from Australia (via Canada).  I remember the day I added her to my Reader (RIP).  I'd read a review of a chocolate bar she'd written and fell in love with the way she turned a chocolate description into poetry.  If you haven't ever read her blog, I don't recommend doing so while hungry.
Hannah was staying with Alayna (who also has quite the way with words… and Japanese food!) and her husband.  I'm so grateful to her for coordinating this meet up.  And impressed with how amazing she looks while carrying a small human inside her.  Only 6 weeks to go!!!
Read on for our dinner adventure…
________________________________________________________________________________________
My WIAW meals should be re-title "meals of desperation."  There has been so much going to that I still haven't done a big trip  to the market since Blend!  This means I was eating the last of everything in my fridge.  By snack time I was 100% out of veggies and had convinced myself to ditch kickboxing for a grocery run.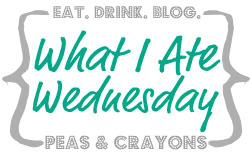 Check out my (mostly) clean eats below, and then click here to head over to Jenn @ Peas and Crayons to get to see what delicious spring foods everyone else is enjoying!
_______________________________________________________________________________________
Breakfast:
I'm kicking myself that I wrote that whole post yesterday on detoxing and didn't mention my morning cocktail (apple cider vinegar, water, Glutamine, and Fitmixer Aminos).  This little drink will start your day out in a (ahem) cleansing manner.
Breakfast was a #strangebutgood creation.  Can anyone guess what it is?  I asked on Instagram yesterday and the only ingredient guessed correctly was the collard green wrap.  Hints: It doesn't involve quinoa, chickpeas, or TVP (though all would be good adds).
Recipe will be posted in Friday's #strangebutgood link up! 🙂
Snack 1:
Crab salad with blueberries, basil, black pepper, lemon juice, and red pepper flakes.  Seafood and fruit are the best combo!

Lunch:
A super-satisfying "deconstructed" salad.  This was spinach, collards, parsley, butternut squash, shredded raw beets, red bell pepper, and red onions.  I ate the rainbow!

Snack 2:
These Terra veggie chips happened while on  mute during a conference call.  They are super crunchy, but delicious.  The best part?  Only 50mg of sodium!
Dinner:
This was my Hannah meal!  We went to one of my favorites, Metro Fresh.  I had the sautéed mussels, scallops, and salmon in tomato broth with grilled garlic bread.  Yes, it was as good as it sounds!
Dessert:
Like good bloggers, we made our way across the street to Yoforia for some frozen yogurt.  Can you guess which one is mine? 😉
Hint: Mine involved banana pudding and chocolate flavors.
I'm sad we didn't have more time, but Hannah is jetting off again tomorrow. Did I mention this girl is living the dream traveling around the US and Canada?!  #colormejealous
***
Did you notice how many of my detox foods were included?!  Until the fro-yo, that is.  LOL!
Do you try to eat the rainbow?
What is your favorite frozen yogurt flavor?