Leg day is even less fun with a torn ACL.
You'd think I'd use this as an excuse to skip it.
If I weren't scared of my leg totally atrophying I wouldn't bother with legs.  But I am.  So we did it.  Yes, Vegas even came to the gym with me.
We kept it simple – light weight, high reps.  Vegas has a bum knee too, so we were quite the pair.
Here's what we did:
Lying leg curls – 2 sets of 20 reps, 2 sets of 15 reps at an increased weight
Leg extensions – 4 sets of 15 reps, increasing weight by 15 each time
Glute push downs – 4 sets of 15 reps, focus on pushing through heel
Leg press machine – 4 sets of 15 reps, increasing weight each time
Wall ball squats – 4 sets of 20 reps
Then we did 30 mins of cardio (20 on the elliptical, 10 on the bike) and walked home for dinner.  I'm going to be sooooo sore… and that makes me feel like a wuss.
It's all about taking it slow and healing though.  I'm trying not to be stupid and make it worse.
---
Here's my day of more healthy eats (yay for being semi-disciplined!).  Read on and link up to Jenn's WIAW baby over at Arman's this week!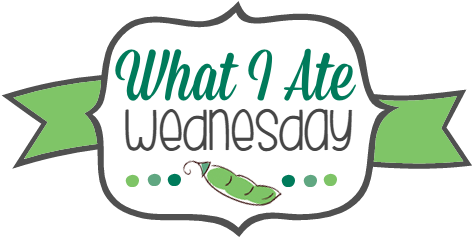 ---
Breakfast:
The usual morning cocktail followed by the matcha sludge (Vegas passes on the sludge).
Then we had breakfast.  Two eggs scrambled with a little cheddar.  Mine was topped with salsa and bacon "sprinkles."  I ate it over a paleo wrap.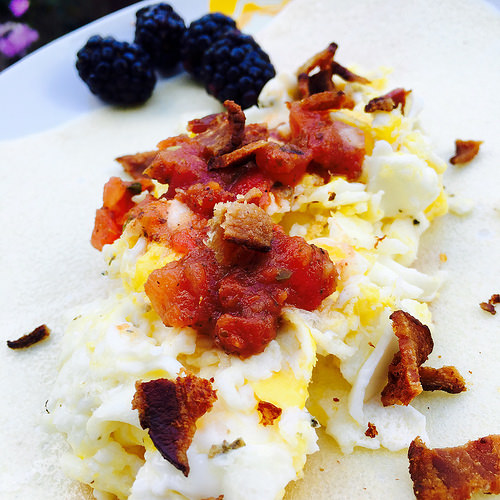 I'm not paleo, but there's something oddly addicting about these coconut wraps.
Note: The wraps are pricey, but they are teensy bit cheaper on Amazon.
Lunch:
Salads with no-salt turkey, arugula, cherry tomatoes, and shredded beet.
Snack 2:
Half an unpictured frozen banana concoction.  More to come Friday… complete with banana-eating jokes. 😉
Dinner:
I'll post the full recipe when I have more time, but let's just… when Vegas doesn't complain about eating seafood, it's a win.
The bacon crumbles on top may have helped…
There was also a glass of wine involved.  The recipe involved wine… it was taunting me!
Dessert:
Yogurt bowl goodness.  I've even gotten Vegas on board with these healthy dessert bowls!
***
I'm trying to time grocery usage right because we'll be gone for a long weekend… the struggle is real.
Do you like leg day?  I never have… hurts so good though!
What's your favorite healthy dessert?