Cod is a great choice for when you need something light.
By now, everyone has heard that a good diet needs to contain at least two portions of fish.
According to the NHS, we all need to start eating more fish, not just because they're great sources of vitamins and minerals, but also because oily fish like salmon and fresh tuna are also high in long-chain omega-3 fatty acids, which the American Heart Association says is excellent at reducing risk of heart disease and arrhythmias.
Both institutions, however, also recommend limiting the amount of oily fish we take in, and watching how we cook fish. It's also important to explore different kinds of fish to ensure that fish sources remain sustainable. The next time you're in the market for fresh fish, don't instinctively reach over for the tuna and salmon. Instead, you may want to try your hand at cooking cod.
The World's Healthiest Foods says that cod is a great substitute for meat protein since it's available throughout the year, and it's quite versatile and can deal with different cooking methods. All it really takes to make cod the star of your dish is to surround it with subtle flavors that compliment its flavors. M&S wine connoisseur Chris Murphy warns against pairing fish with heavy red wines, as these may overpower the flavors of the fish. Instead, choose lighter flavored wines like Beaujolais, as these can help bring out the flavors of cod.
Below is a nice, quick and healthy recipe for preparing cod!
________________________________________________________________________________________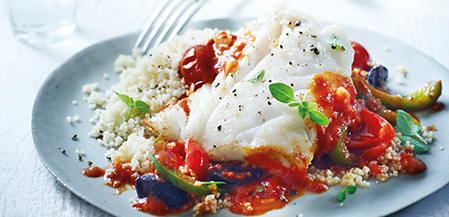 Fish Provencal
Olive oil 
1 sliced pepper 
2 crushed cloves of garlic 
 2 cod fillets 
400g cherry tomatoes 
6 olives 
Chopped parsley 
Heat the olive oil in a pan and cook the fish, skin-side up, for 3-4 minutes.  Remember, fish generally cooks 10 minutes per inch of fish, so be mindful of how thick your fillets are.  Once the fish has cooked through, take it out of the pan and put it on a plate. 
In the same pan, with the oil used to cook the fish, sauté the peppers and garlic for about 1-2 minutes.  Next, add in the tomatoes and the olives, and bring this to a simmer.  You can now reintroduce the fish into the pan, tucking it into the sauce, skin-side down.  Let this cook gently for 4-5 minutes, until the fish is tender and flakes easily. 
Add in the parsley, season to taste, and serve on a bed of pasta or potatoes.
Disclaimer: This post was sponsored by Marks & Spencer. 
***
You guys know how  much I love fish… cod and salmon are two omega-rich options I make nearly every week!
What is your favorite healthy fat?
Have you ever prepared cod?