Happy New Years Eve!!!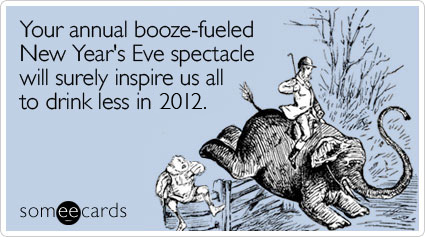 In case you do get a little over-zealous while welcoming 2012…
Top 5 Hangover Helpers:
Sleep – roll over and pray it goes away
Hydrate – before you roll over and go back to sleep, chug a big glass of water or Gatorade (taking a Motrin or Excedrin Migraine with it may not be a bad idea either)
Exercise – nothing works better than to sweat out all those toxins (not that I would know)
Hair of the Dog – there's a reason bloody's and mimosas are breakfast drinks.  They work.  Just watch out or you'll only have a worse hang over the following day!
Kombucha – It may be in my head, but I swear this stuff lessens a hangover.  Is it the tummy-pleasing enzymes?  The fermentation?  The carbonation?  Who cares.  It works.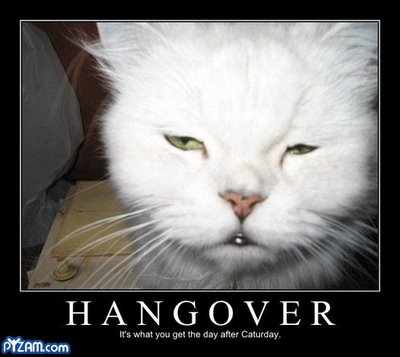 Other ideas include: Waffle House, coffee, (caffeine), Pedialyte.  Mom says orange juice.  Baby sis says Emergen-C before going out and pickles the next day.
You can thank us later (when your head stops pounding).
__________________________________________________________________________________
 In all the excitement I almost forgot to post about my December Foodie Penpal treats!
The amazing Rachael @ The Avid Appetite sent me a package not to be forgotten!
In it was homemade marshmallows (which were gone in about 30 minutes!), a fantastic loaf of banana bread, KIND bars, and a couple of holiday teas.  Sometimes I think bloggers have ESP – how did she know that banana bread is my favorite loaf and that KIND bars have been on my "to try" list for literally a year?  Thanks, Rachel!!!  And thank you for organizing, Lindsay!
Want a Foodie Penpal of your own?
Please send an email to Lindsay @ theleangreenbean@gmail.com and include the following information:
-Your full name
-Your email address
-Your blog name/address
-Your twitter handle (if applicable)
She will need to hear from you by January 4th – penpals will be notified on January 5th!
***
Thank you for all of the wonderful comments yesterday AND for the votes to land me in the FoodBuzz Top 9 today (check it out here) – you guys made my 2011!
What are your big plans tonight?
Any hangover cures to share? 🙂