PSA: Sleep Cycle is the best app ever.
Wild ass claim…
From their website, Sleep Cycle is a "bio-alarm clock that analyzes your sleep patterns and wakes you when you are in the lightest sleep phase." Since using it, I have woken up on time (or early!) and not pressed snooze the first time.
By far, the most useful app I've downloaded to-date.  I'd give it an Oscar. For the second morning in a row…
I had time to go to the gym!!!
And make a tasty breakfast:
Roasted grapefruit with fresh nutmeg, cinnamon, and coriander.  Side of Greek yogurt + chia seeds.  Coffee.
If you've never tried a roasted grapefruit, I highly recommend it.  It is an easy and grapefruit is in season right now.
For a "how-to," check out this post.
____________________________________________________________________________________
This week has inadvertently become Indian cuisine week… (more after the jump)   Despite the jaw limitations, I've kept up my recipe pack rat ways.  My Delicious bookmarks are growing my the second!   Last week I saved a recipe for Roasted Butternut Squash with Caramelized Onions from Eric @ Wannabe Chef.
In the mood for something spicy (as usual), I followed his method but spiced it up Indian-style.  Garam masala, ginger, and cayenne.  They're like my ketchup. Yep – I left the peel on.  Eric promised it didn't taste odd, which matched my lazy-ways perfectly.  No, it didn't taste bad.  Yes, it was a little chewier than I should be eating.  I'd do it again.
While I was at it, I wrapped 3 garlic heads in foil and roasted them too. Did you know you can freeze roasted garlic whole?!  I do them in big batches so I always have fresh roasted garlic on hand.
____________________________________________________________________________________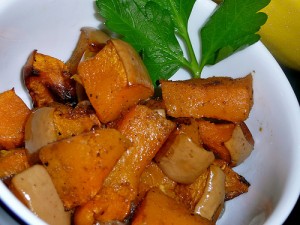 Indian-Spiced Roasted Butternut Squash and Caramelized Onions
1 butternut squash
1 red onion
2 T EVOO
1 T minced ginger
2 tsp garam masala
1 tsp cayenne pepper
S + P, to taste
Preheat oven to 375 degrees.
Dice squash and onion into 1-2 inch cubes.  Toss with oil and spices on foil-lined baking sheet.
Bake for 75 mins, or until desired tenderness is reached.
Note: I used Sweetwater Growers' Basil-Infused Olive Oil and topped with freshly ground pepper and roasted garlic.
***
Do you have secret to waking up?  Are you a morning exerciser or a night owl?