Did you know that it is a British royal wedding tradition for chefs to name dishes after the bride?  And that the menu is always written in French?  I'd never know what I was eating!
Princess Diana's dish was titled: suprême de volaille princesse de galle. Any guesses as to what that is?
A chicken breast stuffed with lamb mousse, wrapped in brioche, and garnished with asparagus tips and Madeira sauce.  Apparently there are no pictures on this dish in existence (that I could find), but it sounds fantastically decadent!
I wonder what Kate's will be… something light, veggie-based?  Or something beefy?
___________________________________________________________________________________
Enough about Kate's food!  My nourishment is far more important.  🙂
A creative "salad" is my favorite (aside from chocolate cake).  You can toss lettuce with virtually anything – veggies, grains, meats, eggs, legumes, cheeses, fruits…the list goes on.
Clarification: it may be a little weird tossed with ice cream… but it's unlikely I would turn it down.
My salad of choice last night was a sweet-salty-spicy combo.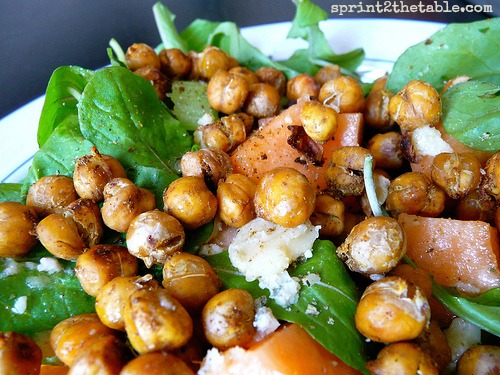 Arugula




Cantaloupe

Roaring 40s blue cheese

Indian spiced chickpeas
I tossed it all with a little olive oil, lemon, and pepper.  It didn't need much.
Indian spices pair really well with fruit.  The salty-spiciness complements the fruit's sweetness.  Like when you sprinkle watermelon with salt.
These roasted chickpeas can be eaten alone (and may want to be alone to lick your fingers), but they are versatile.  Add crunch and unexpected flavor to salads, Greek yogurt, sautes… eat them instead of chips with your lunchtime wrap!
___________________________________________________________________________________
Indian-Spiced Roasted Chickpeas
1 C chickpeas, rinsed
2 tsp lemon juice
1 tsp olive oil
1 1/2 tsp garam masala
1/4 tsp cinnamon
1/4 tsp cayenne
S+P, to taste
Preheat oven to 425 degrees.
Combine all ingredients in a medium bowl.  Toss well to combine.  Spread evenly on a foil-lined baking sheet.
Roast for 25-30 mins, tossing half way through.  The chickpeas are done once they begin turning dark brown.
Remove from oven and serve immediately, or allow to cool completely and store in airtight container.
***
What dish would the chef at your royal wedding name for you? Mine would involve arugula, a fruit (maybe blackberries?), nuts, and some kind of spicy meat substance.  And chocolate. 😉