My sister is vacationing in India.
She won't let any of us forget it.  I'm not jealous.  I don't need a vaca…
I would say I made the burgers I'm sharing today in her honor… but really I was inspired after seeing Madelyn's recipe.  Before I start, a note: I realize this is a meat-centric post and many of you don't eat meat… these flavors/ideas would also work well with tempeh, lentils, beans, or soy meat crumbles.
The burgers themselves aren't so strange (other than the fact that I'm confident there are no bison in India), but I think what I did with them might qualify.  I wanted pizza.  Bison is sort of like sausage.  Bison for breakfast… why not?  Sometimes I feel like this in the morning: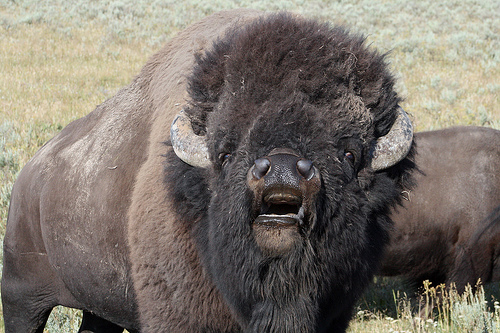 He doesn't look so nice, but I wanted a hit of sweetness (read: fruit) with this creation.  I decided mango was a perfectly acceptable topping.  It works really well with Indian spices and provided a little cooling effect against all the extra red pepper flakes I added.
A corn tortilla made for a delicious, crispy crust.  And it's fast – there is no way I'm making dough before noon!
Mango Bison Breakfast Pizza
1 corn tortilla

Tomato sauce*
Bison burger
Spinach, steamed
Cherry tomatoes
Mango
Basil
Spread the sauce across your tortilla and add toppings.  Place under broil for 5-7 mins, watching closely.
Remove and enjoy!
*The sauce might be the strangest part to some of you.  I mixed fire-roasted tomatoes with nutritional yeast, red pepper flakes, garlic powder, and cinnamon.  Yes cinnamon.  It's awesome with tomatoes.
________________________________________________________________________________________
Or how about crumbling a perfectly good, already cooked bison burger and using it to stuff a kabocha squash?  With coconut milk.  And curry leaves.
Curry leaves do not taste like curry powder.  They are actually a little bitter and have a hint of lime to them.  More on that when I post the curry recipe I promised on Instagram Tuesday. 😉
I roasted half a kabocha while I prepped my green stuffings.  This was an important distraction step for me because I am normally way to impatient to wait for a squash to roast.
I had to add the coconut and some Indian spices to go with the burger.  So glad I did because this won the prize for meal of the week!
Indian Bison Stuffed Squash
1/2 kabocha squash

1/4 in pieces fresh ginger, chopped
1 garlic clove, minced
1 green onion, chopped
1 C broccolini
3 Brussels sprouts
1/2 carrot
8 curry leaves (optional)
1 T coconut milk
2 tsp apple cider vinegar
1/4 tsp garam masala
Red pepper flakes and pepper, to taste
1 bison burger (recipe below)
Place the kabocha in the oven to roast at 400 degrees for about 20 mins, or until tender.
Meanwhile, saute the veggies, adding the coconut milk, ACV, and spices at the end to preserve the moisture.
Crumble the burger and toss with the veggies.  Remove squash from over and stuff with your mixture.
Place the stuffed squash back in the over to bake for 10 mins.
Devour.
At the end of the day… I wonder to myself why I make burgers if I'm just going to crumble them.  It is a little strange.  Then I remember and important lesson: don't question a good thing.
_____________________________________________________________________________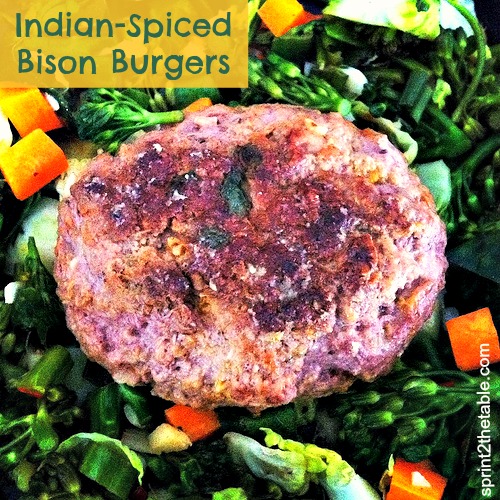 Indian Spiced Bison Burgers
1/2 lb ground bison (or sub in your protein of choice)
2 T cilantro, minced
2 cloves garlic, minced
1/2 tsp curry powder
1/2 tsp smoked paprika
1/2 tsp black pepper
1/4 tsp turmeric
1/4 tsp onion powder
1/4 tsp dry mustard
Mix everything together and divide into patties.
Cook in a pan over medium heat for 3-4 mins on each side, or until desired temperature is reached.
Allow to cool slightly so the juices soak in before you dig in.
_____________________________________________________________________________
Who else has enjoyed making co-workers, friend, or family stare with strange but good creations this week?
The link up rules can be found here or by clicking on "Strange But Good" in the menu bar above.
In short, I want to see what concoctions have earned you weird looks from co-workers, family and friends!  Post your Strange But Good creations, grab the logo below for your blog, and link up here.

Remember to use #strangebutgood in any Tweets and Instagrams of your creations. 🙂
***
I got lazy this week and took all my pics with my iPhone. #sorryimnotsorry
Have you ever eaten bison?  Do you like it or ground beef better?
Do you prefer using a smart phone or a "real" camera?