Impromptu dinner parties are the best.
My friend Jessica stopped over to share a bottle of wine and dinner.  She's pretty brave, as I was trying a new recipe.
How I've never made a tofu scramble before, I do not know.  What I do know is that I'll be doing these a lot more in the future!  Much like scrambled eggs, you can throw basically anything into them.
 My first scramble had a decidedly Indian flare (surprise, surprise… it's a little bit of an obsession).  
Garam masala with sautéed onion, fennel, and garlic were my starting points and I amped it fom there.
Red pepper flakes, turmeric, cumin, paprika… I'm hoping I remember it all!  Despite all of the spices, for once I didn't add so much that Jessica's mouth caught fire.
It turned out really well!  I loved the Indian flavors and the texture of the scrambled tofu against the crunch of the fennel.
She was an awesome guest and brought over some Whole Foods mango-pineapple salsa (if you haven't had it, I highly recommend!), as well as dessert!
Red cherries and American Grafrutti Coconut-Chocolate balls!
Side note: American Gra-frutti is a great local gluten-free bakery with items that can be found at Whole Foods.  Try out their pimento cheese too – and my mini-review here!
The wine we shared was a 2008 Bodegas Ateca Garnacha "Atteca" from Calatayud, Spain.
It was a great bottle, especially after it had a few minutes to open up.  Very drinkable, even with the spicier food.  The long finish was especially pleasing and I loved how the rich, berry flavor stood out when paired with the cherries for dessert.
---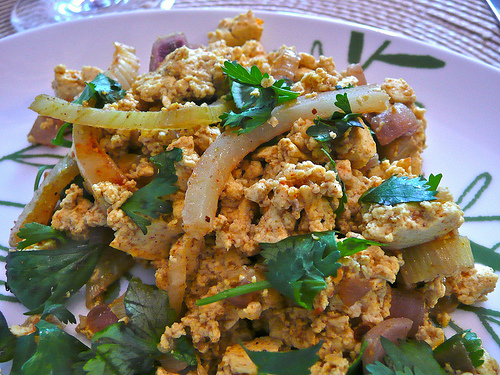 Indian-Inspired Tofu Scramble
1/2 T EVOO
1/2 red onion, thinly sliced
1/2 medium fennel bulb, thinly sliced
2 cloves garlic, minced
2 tsp garam masala
1/2 tsp turmeric
1/2 tsp cumin
1/2 tsp red pepper flakes
1/4 tsp coriander
1 (14 oz) package extra firm tofu
1/4 C cilantro
S+P, to taste
Add olive oil to large skillet over med-high heat.  Stir in the spices, then quickly add onions and fennel.  Saute until onions soften (3-4 mins).  Stir in garlic, cooking until just before then brown (~1-2 mins).
Add crumbled tofu, stirring to combine.  Cook until warmed through (~5-6 mins).  Taste and adjust seasonings as necessary.  Remove from the heat and stir in cilantro.
Plate and enjoy!
Makes: 2 mains or 4 sides.
***
What's your favorite scramble?
Have you ever scrambled tofu?