Something very strange happened yesterday.
I woke up not wanting to eat anything.  That's not too odd.  Often I prefer to wake up and hit the gym first thing, without breakfast.  That has had to change for two reasons:
My heavier lifting, longer workouts mean I'm hungry about 3/4 of the way through
My 7th meal would end up being at midnight since meal 1 wasn't until 930 or 10a (way too late for me)
That's why this morning I ignored the part of me that wanted to skip breakfast before my workout and shoveled down my "oats."  When I returned from the gym it was time for meal 2 and I still didn't feel like cooking or eating.  Nothing sounded appealing, and that didn't change throughout the day.  I reworked my spreadsheet at each meal just trying to find something that sounded tasty.
This never happens.  I always at least enjoy the process of cooking.  Maybe I'm getting sick?  I hope not!
Sorry for the blah intro to the 3rd installment of the  "Food, Fun, and Fitness" What I Ate Wednesday.  I'll bust out of this funk by next week.  I can assure you that (most of) my food still tasted good… I just didn't feel like eating it.
Check out my vegetarian protein-loaded day below; then click here to Jenn @ Peas and Crayons to see everyone else's fitness foods!
---
Meal 1:
The day started out as usual with a glass of my BCAAs mixed with ~2T of apple cider vinegar and water.
I've been repeating some of my favorite protein-filled breakfasts lately (like this Blueberry Protein Tart that I'll be eating again tomorrow).  There have been a few crave-worthy meals!  Today I did my Paleo Oatmeal again, but this time using peanut flour instead of protein powder and vanilla instead of almond extract.
Meal 2:
The second meal of the day is a little weird, but it's what I could get down post-workout.  Today was shoulders and glutes.  I pushed it to the limit and after my workout all I wanted was something to drink. 
These Isopure drinks are great because the entire bottle is 40g of protein!  I drink 1/2 at a time.
That was accompanied by an apple and my sorry attempt at sunflower seed butter.  It was a nasty sticky mess (which didn't help my lack of motivation to eat).  #fail
Meal 3:
Lunch was really, really good.  One of my comfort foods is an egg sandwich, so I made just that.  I scrambled some egg whites with garlic and basil before stuffing it between 1/2 of a protein bagel.
The awesome people at P28 sent me a bag of bagels to sample and I am addicted.  It's the first time I've had a bagel in years.  You definitely have to toast it, but who eats a cold bagel anyway?!  They are chewy and nutty and have 28g of protein per bagel.  Now I need to get my hands on the sliced bread and the rumored new product – wraps!
On my bagel I spread a mix of sriracha and cottage cheese before adding the egg, then stuck it in my George Foreman for a quick press.  Served with a side of roasted cauliflower, coated in a quick sauce of nutritional yeast, paprika, garlic, and rice vinegar.
This actually hit the spot. 
Meal 4:
This was the least satisfying thing I had all day.  I wanted a chocolate protein shake.  I wanted it super creamy, like a milkshake.  This did not hit the spot.  I won't even go into details.  I'm still irked.
Meal 5:
Again, I couldn't think of what to make and didn't want anything.  So I went to my new staple – an Indian tempeh stir-fry.  I ate the same thing for dinner yesterday, and I ate it last Friday too.  It's bizarre for me to repeat a meal so often, but it's damn good.  This ginger-spiced, garlicky dish comes together quickly, and is easily changed up with different sides or mix-ins.
Last Friday I served it over parsnip rice, Monday night over a ton of fresh spinach, and last night I added zucchini and red pepper to the mix.
Confession: I tried to serve it over zucchini "pasta," but I can't figure out how to work my new spiralizer. 
My carb source with it last night was a sweet potato + cinnamon.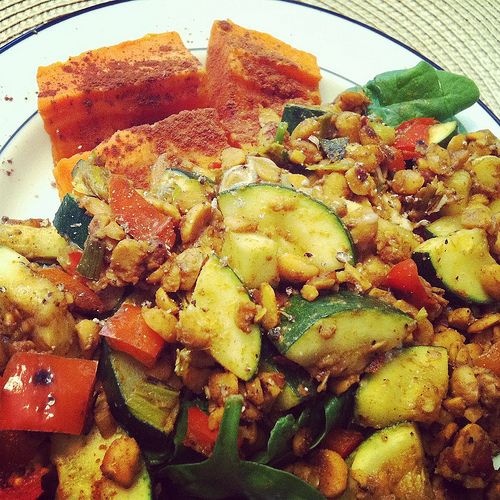 Recipe at end. 
Meal 6:
Eh.  I didn't want meal 6 and I knew I was going to clear my protein goal for the day.  So I skipped it.  Sorry, Coach.
Meal 7:
Dessert is not a meal I ever skip.  Tonight was a bowl of Pumpkin Protein Dough with blueberries that I microwaved for ~15 secs with a bit of sugar-free maple syrup.
There's not much  of a recipe.  Here's what I  mixed together:
1 scoop of vanilla protein powder 
2T of pumpkin puree
1/4 C cereal
1/2 tsp cinnamon
1/4 tsp ginger
7-8 drops liquid Stevia 
Almond milk (maybe 2-3T?)
Stir together and let is sit in the fridge for 30 mins to let the cereal get soggy and form a dough-like texture.  Nosh away!
---
Indian Ginger Tempeh Stir-Fry
1/2 tsp coconut oil
1 T ginger, minced
1 clove garlic, minced
1 T green onion, chopped
1/4 C red pepper, chopped
1/2 jalapeno, minced
1 tsp garam masala
1/2 tsp coriander powder
1/2 tsp ground cumin
1/4 tsp cayenne
1/4 tsp turmeric powder
2 T rice vinegar
1/4 C water
1 serving tempeh, crumbled or grated
1/2 zucchini, cubed
 Heat coconut oil in a skillet over medium heat.  Add ginger, garlic, onion, pepper, and jalapeno.  Saute 1-2 mins, until fragrant.
Add spices and vinegar, stirring to combine.  Add water, tempeh, and zucchini, again stirring to combine.  Simmer until liquid evaporates, ~5 mins.
Plate and enjoy!
Makes 1 serving (easily doubled).
***
This day of eats was entirely vegetarian, and I managed 145g of protein.
Do you ever just not feel like eating?
What do you eat before working out?  Anything?