I'm a crab sign.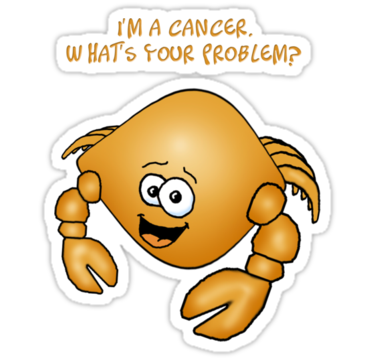 Admittedly, I can be crabby.  Like when some dude at the gym is reading TIME magazine on the captain's chair.  Really?  You can't do that at home?!
Despite the astrological connection, the last time I ate crab I was 7.  We were at the beach and my dad paid me $1 for every crab claw I could eat.  I ate 10 claws.  Greed > Gag
That was the last time I ate seafood until this year.  Incidentally, I also didn't eat tomatoes until recently.  In another dad-related traumatic event, he gave me a big slice of tomato and told me it was watermelon.  I happily took a bite before choking it back up.  Talk about being crabby… not cool, Dad.
Things I still won't eat: caviar (he told me they were mini grapes) and sour cream (thought I was eating a spoonful of ice cream).
I also won't east white potatoes, though I don't remember a traumatic event associated with those.
I'm glad I did get over the crab and tomato hatred.  This tomato-based gazpacho is a tasty soup, and the meaty crab gives it the protein to fill you up.
One my favorite parts about gazpacho is its resemblance to salsa.  In order to leave those delicious chunky pieces of tomato and pepper, I reserved some of the soup when I blended the base.  After pureeing part of the mixture, I manually stirred in the rest of the remaining chopped veggies.
The other fun component here is the addition of liquid smoke.  It adds just a touch of… well, smokiness… as if you'd first roasted the tomatoes over wood chips.  It's a fantastic way to add more flavor to dishes without adding salt.
If you don't eat seafood, you can leave off the crab.  If you do eat seafood, you will love the rich, slightly sweet crab again the spicy soup.  Another option would be to top this with tempeh bacon, or possibly a firmly pressed tofu marinated in sweet citrus.
Either way, don't skimp of the cilantro.  It's wonderful with the late-season tomatoes and tangy lime. (Unless you don't like cilantro… in which case parsley would be a fine sub!)
________________________________________________________________________________________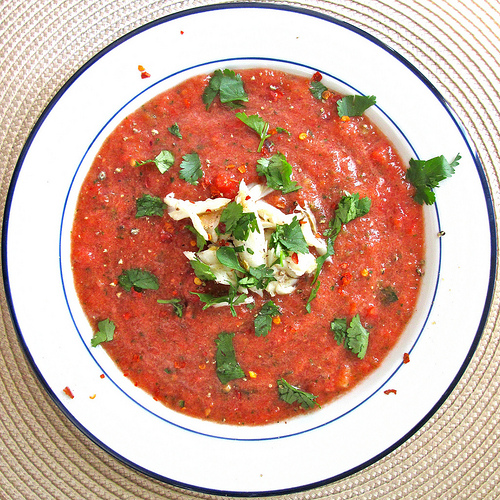 Crabby Smoked Gazpacho
1 clove garlic
1/4 c diced red onion
1/2 C fresh cilantro
1/2 jalapeno
2 large tomatoes
1/2 large red bell pepper
1/2 cucumber
1 T white wine vinegar
Juice of 1/2 lime
5-6 drops liquid smoke (optional)
Crab
S & P, to taste
Place garlic, onion, and cilantro in blender.  Roughly chop remaining vegetables into 1 inch cubes.  
Add 2/3 to the blender.  Pulse briefly to coarsely puree the contents.  
Add remaining 1/3 of vegetables, vinegar, lime juice, and smoke.  Manually stir to combine.  Chill before serving, as the flavors develop the longer gazpacho sits.
To serve, top with fresh crab meat, fresh cilantro, and pepper.
Makes ~3 cups.
***
I still get crabby if I fall for something silly.  Scarred for life. 😉
Did your parents ever trick you into eating something you didn't like?
What food(s) will you absolutely never touch?