I'm a big dill.
In my head.
Really though.  I posted the pic below on Instagram heading into leg day on Monday, but there's a reason other than humor.  Legs days with my trainer always kick my butt.  He's brutal… in a good way though.  One of the reasons I love training with him is that he pushes me to do more than I even imagine to be possible.  
When I walk into a session with him, I psych myself UP.  So much of lifting is mental.  If you tell yourself you can and approach the weights with confidence, you'll be amazed by what you can do.  That's also a good example of how I #MoveHappy. 😉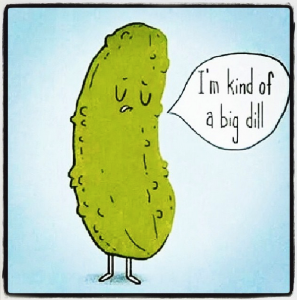 ________________________________________________________________________________________
This WIAW I was STARVING from leg day.  I wanted a little bit of everything, so that's what I had!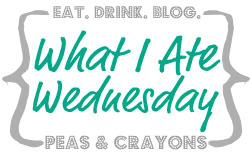 Read on for my eats, and then check out Jenn's blog for everyone else's delicious creations!
________________________________________________________________________________________
Breakfast:
My morning cocktail carries on.
Then I had a hodge podge breakfast – a little sweet and a little savory.  Local #yolkporn in a portobello mushroom with a side of mango and a protein chocolate muffin experiment.  The muffin needs work… but top anything with peanut butter and it's good!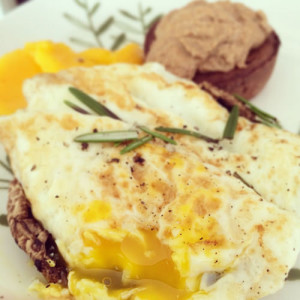 Mid-Morning Snack:
Scallops cooked in parchment with zucchini, red bell pepper, carrots, thyme, and orange.
Don't be too impressed – I bought it ready to cook at Whole Paycheck Foods. 😉
I also enjoyed a cold coffee.  I just brewed up a bug pit for the week and let it chillin the the fridge.  I pour out a glass at a time and mix it with cinnamon, almond milk, and the new NuNaturals chocolate syrup.
Iced mocha for a fraction and the price (and calories)!
Lunch:
Chicken salad wraps in locally grown cabbage leaves. I mixed my chicken with hummus, goat milk yogurt, ACV, pepper, and cayenne and tossed it with zucchini and rosemary.  So simple, but so good.
Mid-Afternoon Snack:
I wolfed this down post workout because I needed something small and fast before heading to dinner.  I'd seen the Ratio bars around a lot and was curious to try them out – I wasn't disappointed!
Dinner:
I was invited to check out the event space at The Spence, one of my go-to spots in Atlanta, by Gather.  It's a really cool event planning app!  The apps they provided we delicious – crostinis and risotto balls.
We decided to stay for dinner.  I ordered one of my favorite apps for the table – bone marrow topped with tuna tartare and quail eggs.  We followed that with some amazing braised shortrib and (upictured) thrice cooked french fries.  Totally gluttonous, especially with the red wine.  Worth.  It.
Dessert:
In rare form… I didn't have room for dessert.  Good times.
***
I made sure to get my #MoveHappy on with a check and biceps workout and a walk home for dinner in the muggy summer air.
Are you checking in with the #MoveHappy month?  I wish I could win the prizes…
How do you psych yourself up for a workout?