True, a fair amount of this happened last weekend:
Source: Heather
However, the brewing I've been doing doesn't involve beer.
I bit the bullet and decided to brew my own kombucha!  There are "how tos" all over the web for starting from scratch and growing your own scoby (the bacterial component you need to start the process).  While that seems very noble, I took a short cut and purchased a starter kit from Kombucha Brooklyn.
The kit came with everything I needed – a jar, tea bags, sugar, and a baby scoby.  All I has to do was follow their simple instructions, cover the jar, and wait 14-28 days.
For the record, mine took 20 days.  I'm not exactly sure how to tell when it's ready… I just got bored with waiting.
The process was fun to watch.  It bubbled a little and my scoby-starter grew huge!  It covered the top of the 'buch and was about 1/3 inch thick.
Once it's done, you remove the scoby, saving it along with 1.5 cups of the brew to start your next batch.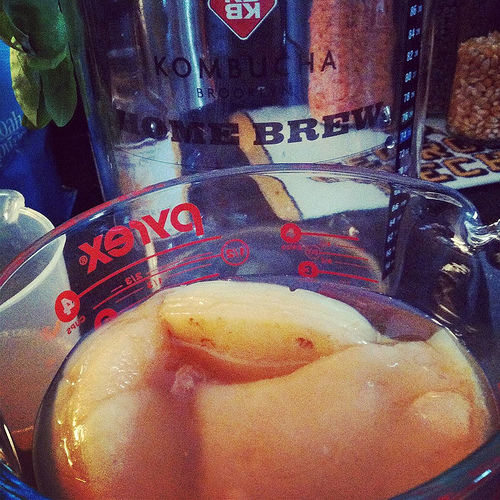 Warning: The scoby is a little gross looking.  Don't be scared.  It won't hurt you.
Next I bottled my 'buch in old GT's Kombucha bottles and a Bragg's bottle.  Then I added flavors to two of them – one ginger and one cinnamon.  The others I left plain.
They are all pretty tasty, but next time I'd add more flavor.  I'd also remember to let it sit on the counter bottled for a few days.  That apparently adds more effervescence and allows the flavors to develop as it continues to ferment.  Someone didn't read all the directions…
I immediately started round 2.  This time I used pomegranate green tea in the brew.  I'll let you know how it is in 14-28 days! 🙂
***
Not to get too political, but I can't begin to express how awesome it was to see a sitting president endorse marriage equality. In the words of Dr. Martin Luther King, Jr: "Injustice anywhere is a threat to justice everywhere."
Did anyone else wake up this morning thinking it was Friday?
What is your favorite Kombucha flavor? I need ideas!