We create our own destiny.
I refuse to read my horoscope.
Someone told me that Mercury is in retrograde.  After Googling to see WTF that meant, I called bullshit.  There are times where life gets more challenging, time is short, motivation is lacking… but in the end we decide how we handle it.
Right now my struggle is on the superficial side, but a struggle nonetheless.  It's diet.  I'm supposed to compete in 8 weeks and I'm struggling with getting back on track.  However, I've decided to allow myself to be flexible.  If I don't make this show, there will be one the next weekend.  And the next.  And next year.  I came to that realization by being honest about where I am.  I talked to my therapist trainer Monday night and he reminded me that a lot is changing for me.  I got married.  It's a new life.  I don't have to do EVERYTHING at once (insert shocked face).  Doing stuff like enjoying dinner with Vegas on her birthday is more important right now.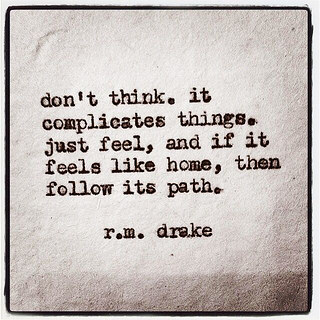 That's not to say I'm giving up.  But whatever happens… I own this!
One thing that helps is treating myself with healthy buys… like a haul from iHerb.  Beet powder (which I love in pancakes and Red Velvet protein shakes), Cocoa Cardio (Red Velvet Waffles!), peanut flour, and gelatin are daily staples. If you have any digestion "issues" I highly recommend it (here's a post I did on it).  I'm trying the collagen version for the first time with this order.
Another motivator is energy.  I was thrilled when I received the two-10 discovery pack from FRS®.  The pack includes a big bottle of FRS concentrate, a sample pack of soft chews, and 2 cans of their energy drink.
My favorite thing about FRS is their ingredient list and why it was developed.  It was originally created by health scientists to provide chemotherapy patients with natural, sustained energy.  The FRS patented Healthy Energy formula has the all-natural antioxidants quercetin (found in blueberries and apples) and green tea extract, plus seven essential vitamins (B1, B2, B3, B6, B12, C and E).  I'm all about immune system support after getting the plague.
Not only are these drinks more delicious than the junk from the gas station, but they also doesn't rely on chemicals, sugar and massive amount of caffeine to give you the shakes energy.
Vegas and I both loved the soft chews on our San Diego hikes.  I could feel the difference mid-hike as I raced Vegas up a hill.  I won, btw.
So, I'm challenging myself to go with the flow and not be so hard on myself.  At the same time, I'm committed to doing my best and staying active.  It's what makes me happy!  #iownthis
Learn more about the FRS two-10 discovery pack, and check them out on Facebook, Twitter, and Instagram.
This post is sponsored by FitFluential LLC on behalf of FRS.
---
This WIAW is 8 weeks out from my competition.  See above.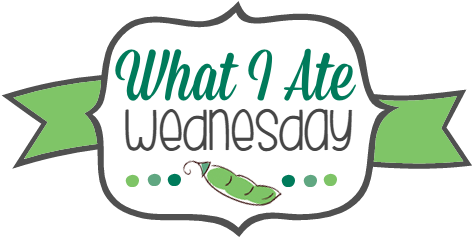 Read on for my eats, and then check out Jenn's blog for everyone else's delicious creations!
---
Meal 1:
The usual morning cocktail, followed by my morning sludge.
Breakfast is the new standard – basil and garlic egg white scramble with a whole egg dropped in for #yolkporn.  Toast with coconut oil and cinnamon.
Meal 2:
I baked Sizzlefish trout with lemon and Italian herbs.  Eaten standing up with red bell pepper slices and kabocha.
Meal 3:
Chicken with sugar peas.  Simple… but a perfectly cooked piece of chicken is actually one of my favorite things.  That and hot sauce.
Meal 4:
Rice cakes with Nuttzo nut butter.  I probably look forward to this meal a little too much.  I had one with chocolate protein "icing" too.
Meal 5:
Rinse and repeat from last night.  A giant peanut butter-sweet potato pancake made with Japanese white sweet potato.
Peanut Butter-Sweet Potato Pancake
2T peanut flour (an iHerb order)
1/2 C cooked sweet potato
2 egg whites
1/4 tsp cinnamon
1/4 tsp no sodium baking powder
5-6 drops liquid vanilla stevia  
Blend and cook!
Meal 6:
I love yogurt.  Really.  I'm just as happy with bowls like this as I am with *most* regular desserts.  Well, average regular desserts.  Oh man, I love dessert.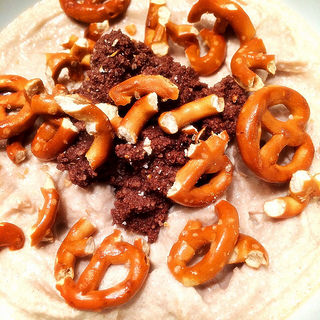 This dessert bowl was 1/2 scoop of Growing Naturals vanilla rice protein mixed with plain Greek yogurt, cinnamon, almond extract, and vanilla liquid stevia.  Then I mixed up 1/2 T cocoa powder and 1/2 T coconut flour with stevia and just enough water to make it a fluff.  Topped with crumbled leftover pretzels from the plane.  Sweet 'n salty perfection!
***
If Mercury means being impatient, then maybe I am a believer… ha!
Do believe is horoscopes and Mercury and all that jazz?
What are you owning right now?