Some days I think I am certifiable.
Side note: Bat-shit crazy is actually the name of the group text between my mom, sisters, and me.
So… we know I tore my ACL.  How about 6 days later I decided I'd still participate in a 22 mile bike ride?  I mean… I'd already registered and paid the fee…
Vegas was so mad she would barely speak to me.
It was actually fine.  I think it helped workout out some of the swelling.  As long as I don't do any side-to-side motion, I can move about as I please… as long as it's just biking and walking (and it's a bit slow and involves a teensy limp).
If it's not a BAD tear, you can try to rehab it.  I've sent my MRI to the guy that fixed the ligament in my ankle with PRP to see what he thinks… *fingers crossed*
---
On to the food!  Check out my (Mon)day of eats and join Jenn's WIAW baby over at Arman's today!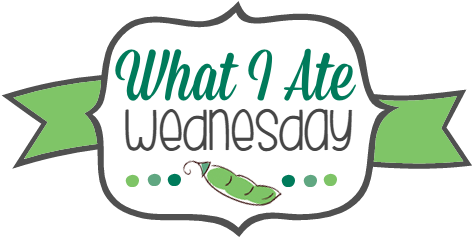 ---
Breakfast:
I had my usual morning cocktail and sludge.
We went for yogurt bowls at breakfast today.  It was a sort of #strangebutgood concoction… I wasn't sure if Vegas would eat the purple sweet potato on top, but she actually said she loved it!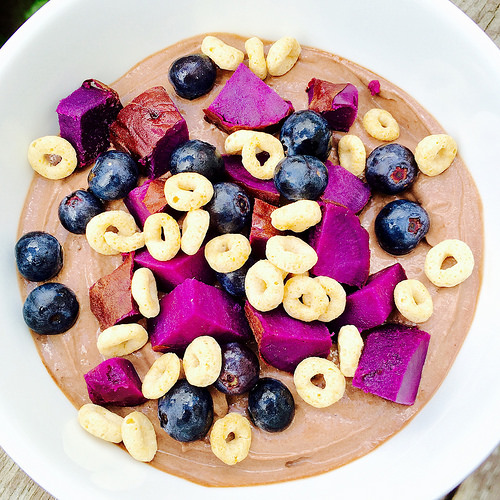 In the bowl:
1/2 C greek yogurt
1/4 almond milk
1/2 T cocoa powder
1/2 tsp cinnamon
Toppings: purple sweet potato, blueberries, Cheerios
Lunch:
This is how you do a quickie chicken salad!  I mixed mine with tzatziki… Vegas intervened and mixed hers with mustard and mayo.  You can't win 'em all… 😉 
Dinner:
I still love to make my Cauliflower Pizza crust.  It's a few years old, and one of the few recipes I repeat regularly.  Even Vegas likes it, so that's a huge win.
I topped this creation with pesto, arugula, and Lindsay's Creamy Garlic Mushrooms.  She use hers to top toast, but I took a few liberties…
I followed her procedure, but added an extra garlic clove and 1/2 a red onion.  I also used a mix if about 1 T cream cheese yand 1 T milk instead of the cream… because I didn't have cream.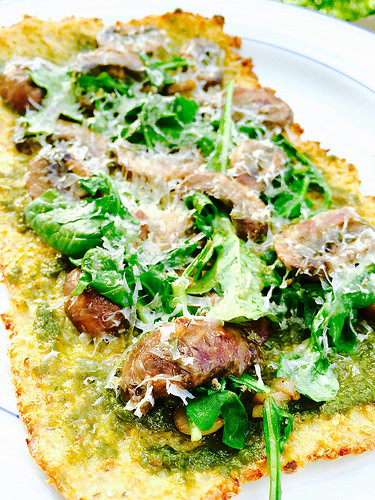 You should try this.  It was awesome.
Dessert: 
Unpictured cookie thanks to a friend who brought me get well cookies.  I love/hate her for that. 😉
***
Soooo… no Thailand.  But I did pick up a few new clients which is making for a crazy-busy April.  Yay!
Are you forever looking for alternative ways to heal yourself?
Would you eat sweet potatoes on your yogurt bowl?  Clearly I love them IN bowls.