Last night I made hummus.  
Not an uncommon occurance, as I eat it in embarassing quantities.
THIS hummus was special though.  It's hummus that is acceptable to eat with a spoon.  Who knew the slurp-life could be so good?!
The concept was from this recipe found on Oh She Glows.
Hummus soup is great for several reasons: great nutritionals (thanks to the musical fruit), good fats from the peanut butter and oil, and it is super-filling (something I'm quickly coming to appreciate in my delicate condition).
I ate the leftovers for lunch today.  Like many soups, it's even better after the flavore have a chance to meld together!
________________________________________________________________________________________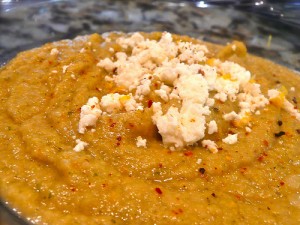 Hummus Soup
1 T EVOO
1 medium red onion, chopped
1 medium zucchini, diced
2 cloves garlic, minced
2 bay leaves
2 tsp garam masala
1 T fresh lemon juice
2 15-oz cans of chickpeas, drained, rinsed, and skinned
1 C vegetable stock (I used full-sodium)
2 C water
2 tsp sesame oil
1 T peanut butter
1/4 C fresh parsley
S & P (to taste)
Heat EVOO in medium skillet.  Add in onion and heat over medium until just beginning to become translucent.
Add in zucchini and sautee until slightly softened.  Add minced garlic, reduce heat to low to avoid burning.  Let cook, stirring occasionally for 5-6 mins.  
Add garam masala, a pinch of salt, bay leaves, pepper, and fresh lemon juice.  Stir to continue to cook over low heat for 4-5 mins.
Meanwhile, combine vegetable broth, 1 C water, sesame oil, and chickpeas in medium pot.  Stir well and bring to a boil.  Reduce heat to simmer for 8-10 mins.
Remove bay leaves and add onion mixture and peanut butter to chickpea pot.  Cook for 5-7 mins, allowing flavors to combine.  Add remaining cup of water as needed.  Mix parsley in the last 1-2 mins, stirring to combine.
Pour the soup mixture into a blender and blend until smooth, or use immersion blender to combine.
Pour into bowls and garnish with lemon zest, lemon juice, olive oil, red pepper flakes, feta cheese, and/or olive tapenade.  Serve immediately.  Makes 4 cups (4-ish servings).
Note: I added roasted red pepper olive oil and red pepper flakes as my soup was cooking.  I like it HOT.
Next time I'd add some rosemary and probably leave out the bay leaves.  I'd also like to try it with some roasted eggplant.
***
What's your favorite smooth dessert?
I'm over vanilla ice cream and I can't eat the chunks in my favorite fudge brownie.