It's no secret that my favorite meal of the day is breakfast.
Wouldn't you think this means I'm a morning person?
Lately I've been wondering why I don't just eat breakfast all day long.  There's no rule that says I can't.  So I did… it was sooo good that I decided to have it as a savory breakfast.
You many recognize this pic I posted to Instragram yesterday morning and asked you to guess what it was.  It was hummus french toast topped with roasted cherry tomatoes, avocado, bacon sprinkles, and cilantro.   Meg was the closest to guessing correctly!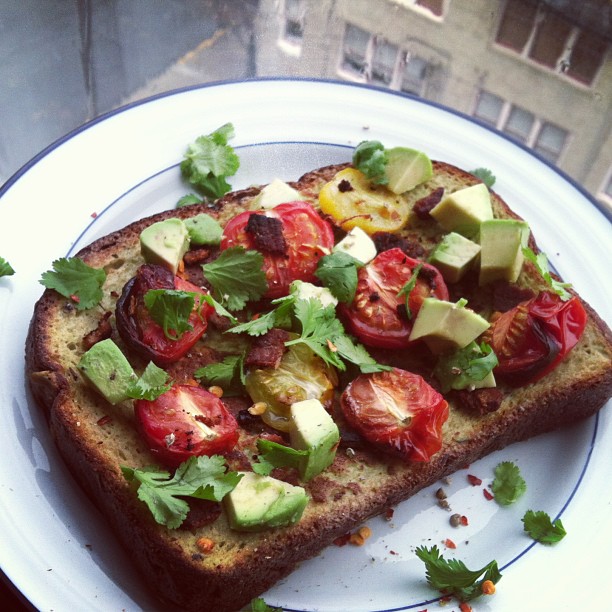 It may look fancy, but this was the EASIEST thing to throw together.  All you need for the eggy dip is an egg white and hummus.  It's not even that strange… think savory eggs… with bread!
I added some spices too, but you can do your own thing depending on the hummus you use.  Mine looks a little green because I used spinach hummus.  Fitting for #strangebutgood, no?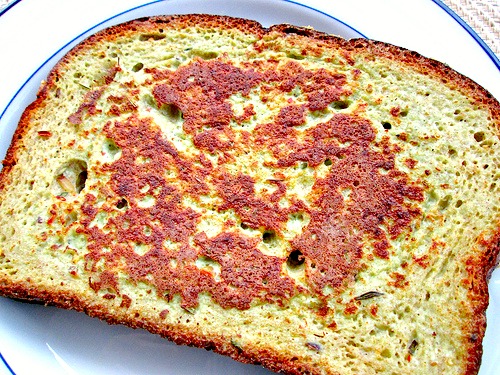 On my brinner version I roasted broccoli slaw along with cherry tomatoes as a topping.  I also used some of my no-salt deli turkey for a little more protein.
The bread I used as the base is P28 high protein, but you can use whatever you like.  The P28 slices are HUGE, so if you use another bread you may need 2.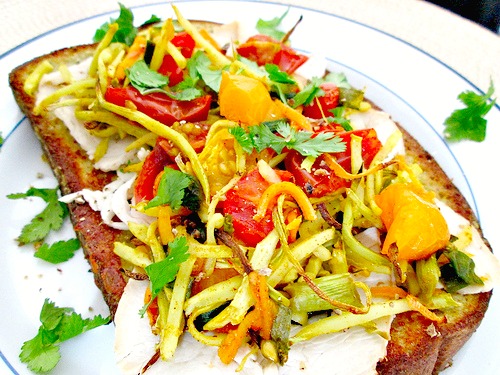 ________________________________________________________________________________________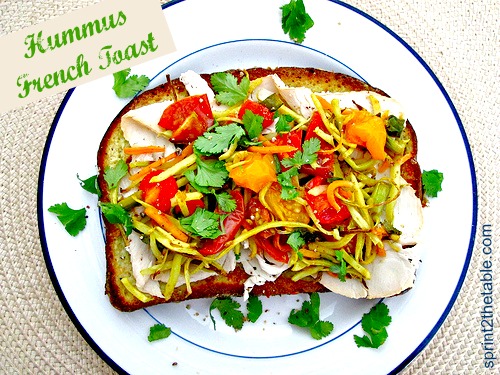 Hummus French Toast
1 T hummus
1/4 C egg whites (or 1 large)
1 small garlic clove (minced) or 1/4 tsp garlic powder
1 large or 2 small slices of bread (I used P28)
Red pepper flakes, to taste
Optional toppings: avocado, cilantro, roasted broccoli slaw, cherry tomatoes, turkey
In a wide bowl, mix together hummus, egg whites, and garlic.
Over medium-low heat, heat pan coated with a thin layer of oil or PAM.
Place the bread into the bowl, letting it soak up egg mixture for a few seconds, then carefully turn to coat the other side.
Transfer bread slices to pan, heating slowly until bottom is golden brown.  Turn and brown the other side.
Serve hot, topping as desired.
________________________________________________________________________________________
Who else has enjoyed making co-workers, friend, or family stare with strange but good creations lately?

The link up rules can be found here or by clicking on "Strange But Good" in the menu bar above.
In short, I want to see what concoctions have earned you weird looks from co-workers, family and friends!  Post your Strange But Good creations, grab the logo below for your blog, and link up here.

Remember to use #strangebutgood in any Tweets and Instagrams of your creations. 🙂



***
Someone else guessed this was Mexican French Toast... that may be happening this weekend...
What is your favorite french toast recipe?
What is your go-to brinner (breakfast-dinner)?