I can be forgetful.
Yes, it does get worse as you age.
At 33, I've forgotten a lot of things: my keys, where I parked, conference calls… once Vegas and I BOTH forgot to turn in a rental car.  For a week.
Most recently I forgot deodorant.  This is not the first time I've forgotten it, but it's particularly embarrassing when you're headed to the gym where you quite obviously need it.  This is where choosing the right deodorant for you (and your degree of forgetfulness) plays a role.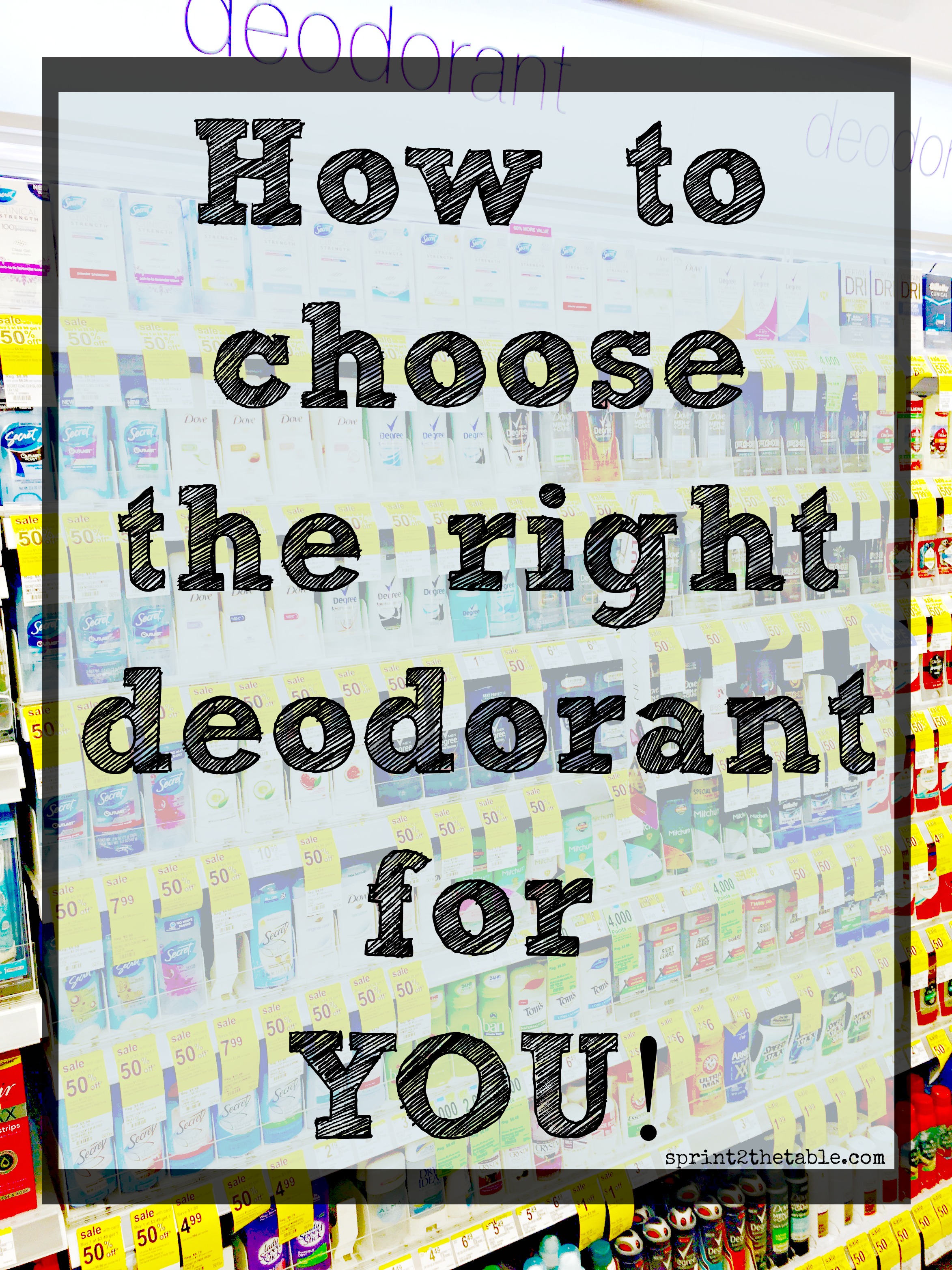 Thankfully, there's something for everyone when it comes to deodorant at Walgreens.  Even us forgetful folks.  
They have 4 major categories to keep you smelling like a rose.  As you've heard me say before, everyone is a snowflake.  You have to find the right deodorant for your body!
Here's a break down:
Dry Spray – This goes on instantly dry, which is perfect if you're one of those people who's still pulling on a shirt as you rush out the door!
Care – Arm pits are sensitive!  Shaving, chafing, and sweat can irritate it.  Care deodorants gently moisturize and softens your skin.
Motion Activated – If you're constantly running around – even outside of the gym – this is what you want.  These deodorants detect movement and keep you feeling confident in your scent for 48 hours with Motionsense® technology.
Clinical Protection – This is for those of you who need a little extra wetness protection.  There's no need to make a special trip to the doctor for a prescription – clinical protection deodorant defends with clinical strength wetness protection!
Anyone want to guess what I wear?
Motion activated.  48 hours.  That potentially embarrassing gym trip was saved by Motionsense®!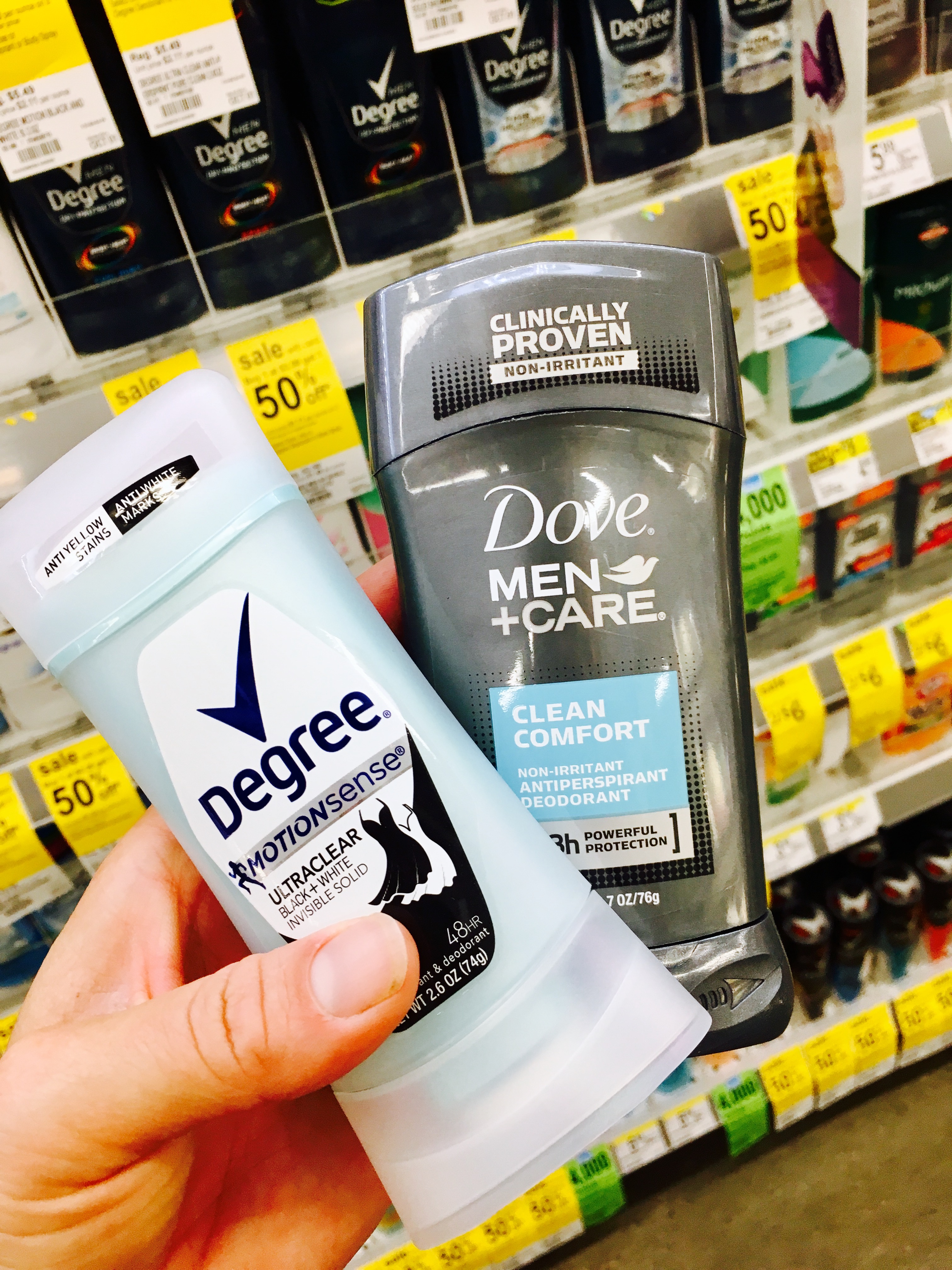 Which leads me to another confession… I wear men's deodorant.  I stink.  Just ask Vegas.
Vegas, on the other hand, is far more girly (isn't that so sweet?).  She was gifted with a deodorant from the ladies section.  Mostly because of these offers:
BOGO! Buy 1 Dove, Dove Men+Care, Degree® Women, Degree® Men and Axe Deodorants, Get 1 50% off.*
*Offer good 8/28/2016 – 10/1/2016. Excludes trial size. Due to state and federal laws, points cannot be earned or redeemed on some items, and points will not be earned in a transaction where store credit or redemption dollars are used. See full terms and details at Walgreens.com/Balance.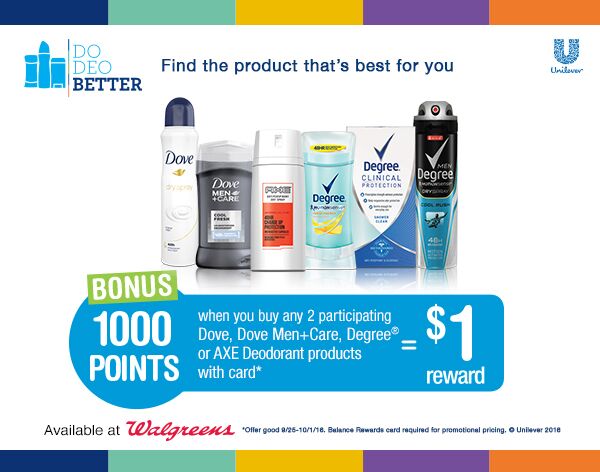 Week long loyalty offer of "Buy 2, Get 1,000 points" for Dove, Dove Men+Care, Degree® Women, Degree® Men and Axe Deodorants.*
*Offer good 9/25-10/1/16. Balance Rewards card required for promotional pricing.
Let's face it, no one wants to be the (forgetful) smelly kid.  Or the "unsure" pit stained dancer.  Or the hottie with white chalky streaks on their LBD.
Walgreens.com/DoDeoBetter is a great resource to help find the deodorant that's right for you.  Check it out and you can #DoDeoBetter, too!
This post is sponsored by Mirum Shopper. Opinions, as always, are 100% my own.
***
I may forget a lot… but I have never forgotten to eat.  How does this happen to people?!
What's your deodorant "style"?
What are you most likely to forget?