Some things are embarrassingly easy.
And some are embarrassingly hard.
Today I have an easy recipe for you.  Making lemonade in the blender.
Here's the recipe: put a bunch of lemons in a high-speed blender (I'm biased towards my Vitamix) with some water and sweetener.  Blend.  Strain.  Drink.  Boom.
We could be fancy and add simple syrup, but who wants to make that on their own?  Plus, I'd rather chew my sugar.  Mmmm… cake.  
For this super-easy recipe I used NuNaturals Nustevia Simple Syrup.

Check out the giveaway for a whole prize pack at the end of this post!
---

Homemade Sugar-Free Lemonade
5 lemons, quartered (about 4 cups)
4 C water
Cut the lemons into quarters.  Place in a blender with water and sweetener.
Blend on high speed until the lemons are broken down and water looks like… errrr… lemonade (~1 min).  Let the mixture sit for a bit so that the pulp rises to the top.
Pour the juice through a strainer over a large pitcher.*  This will need to be done in batches.  
*If you don't use a wide mouth pitcher, I recommend pouring it into a large bowl and then transferring it to a pitcher (otherwise you'll spill it everywhere – not that I'd know anything about that). 
Bonus: You can put the discarded lemon pulp in garbage disposal to make your sink smell pretty.
---
We're still rocking the anti-inflammatory diet this week.  Check out my day below, then see Jenn's WIAW linky baby over at Meghan's this week!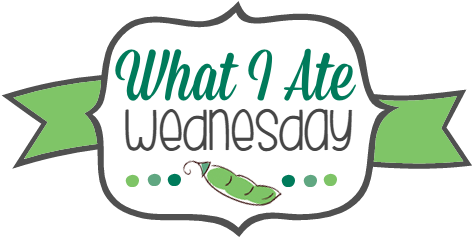 ---
Breakfast:
I had the usual morning cocktail and morning sludge.
I couldn't decide what I was in the mood for so I asked Vegas for a change (normally she's at my mercy).  She said grapefruit, which was a good call since I'd just bought a fresh one.
We ended up with roasted grapefruit, avocado, fried egg, and my own version of socca bread.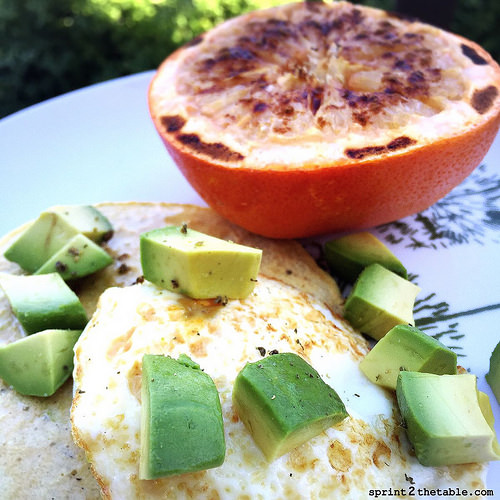 Fluffy Socca
1/2 T Coconut Flour

1 egg white
2 T water
1/2 tsp Herbs de Provence
Mix everything in a small bowl and added spices as desired (I used Herbs de Provence).  Cook like you would a pancake (about 3 mins each side).
Devour!
Lunch:
We had leftovers from last night.  I made a new twist on an old recipe.  The original recipe was my Sweet Potato Mexican Pie.  The new twist was to make it Italian.  
Vegas has that genetic thing where cilantro tastes like soap.  Being that the original recipe had a lot of cilantro, I decided to sub in basil, omitted the cumin, and added some other dried Italian herbs.  I also used ground turkey instead of chicken.
With a "martini."  I mixed equal parts lemonade and sparkling water for a midday mocktail.
I'm pretty sure Vegas would have been happier with a vodka-based martini, but we're on the second and final week of our anti-inflammatory diet.  No booze!  Bwhahaha!
Snack:
Vegas and I are both obsessed with smoothie bowls after our workouts now.  I've focused on getting extra anti-inflammatory benefits out of this these past couple of weeks by including cherries and ginger.  (You can read more on that in my original cherry-ginger smoothie recipe here.)
This smoothie was similar to the original, but we used Growing Naturals Chocolate Pea Protein.  Topped with hemp hearts, sprouted granola, and a cherry on top (just for good measure).
Dinner:
Vegas loves meat… balls… hee hee.  After feeding her a booze-less cocktail and a pasta-less Italian pie, I decided to do her a solid for dinner and make spaghetti and meatballs.
We're grain- and gluten-free on our anti-inflammatory diet, but decided quinoa was ok.  I used a mix of quinoa pasta and spaghetti squash for the base of this dish.  The balls here a mix of lean ground beef, ground pork, egg, herbs, and a little cornmeal.  We baked them in the oven at 400 for about 15 mins.
Served with a side salad of arugula and errrrr… grapes. 😉
---
NuNaturals is also offering a 15% discount on all orders at www.nunaturals.com. using discount code: BLG1215.  Offer good until 12/31/15.  There is free shipping on all US ordered over $35.
***
I'm pretty excited with the results so far of our diet – my fingers don't hurt anymore and I'm down a few lbs.  Will next week!
Do you love lemonade?  I used to drink Chick-fil-a lemonade like it was crack.
Have you used stevia before?