We're super handy over here lately.
Don't get used to it.
We've been hard-core decorating for Christmas.  Vegas made a wreath for our front door and has lined the entire living room with Christmas lights.  She's threatening to leave them up all year.  We're so Southern… but at least they're all white! 😉
I've been baking, working on a wine cork wreath, and brewing up some more kombucha.  My scoby is HUGE!  I decided to make it seasonal with the blood oranges we found at Whole Foods (where else?) this week.  I ordered my scoby on Amazon – I love it so much that I featured in Monday's gift guide post.  Who wants a puppy when you can have a scoby?
Last night's Christmas activity was a gingerbread house.
It's harder than it looks!  There is icing allllll over the table… but how cute is this house?!
---
Read on for my day of eats, and join in Jenn's WIAW baby over at Meghan's today!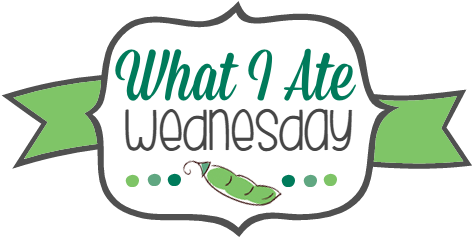 ---
Breakfast:
I had my usual morning cocktail and sludge (mixed with kombucha since I'm still out of matcha).
We're headed out of town once again and I am – once again – low on groceries.  We do seem to always have greek yogurt though!  I made my Pumpkin Pie Protein Bowl topped with pecans, coconut, hemp hearts, and pieces of a pumpkin Quest bar.
Lunch-ish:
I've been loving the crockpot lately.  It's insane how easy it is.  Why didn't someone make me try it out sooner?!
Lunch was leftover from a recipe I'm working on to post here Friday.  It's involves chicken, BBQ, and beer.  Can't go wrong with that combo!
Dinner:
We headed down to our favorite brewery for dinner.  The breweries in San Diego actually have great food, and Ballast Point is home to our favorite beer and some of the best mussels we've had here.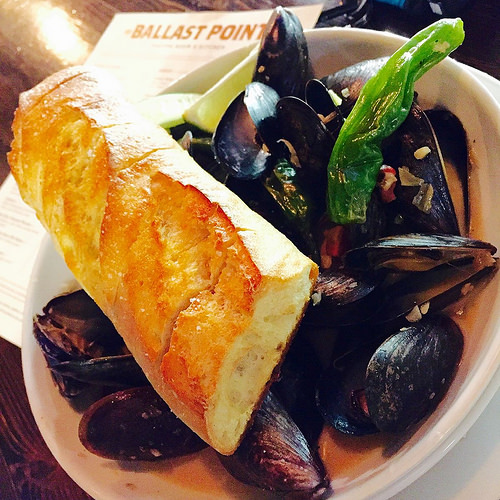 We started with the Wahoo beer steamed mussels with garlic, ginger, onion, chorizo, and roasted shishito peppers.  After getting our mussels fix, we both opted for salads.
More room for beer… 😉
***
Fun fact: In San Diego, you can be fined $250 if you leave your Christmas lights up after Feb 3rd.
Do you leave lights up year-round?
Have you used a crockpot before?  Game changer, no?