I drink a lot…
…of KOMBUCHA!
At $3 a bottle, it's an expensive habit.  When Stacy Tweeted to tell me about a deal on OpenSky (click for invite!) for a Kombucha Home Brewing Kit  from Kombucha Brooklyn I jumped at the opportunity.
My kit came with a jar, tea bags, sugar, and my very own scoby.  The instructions were idiot-proof easy to understand… with very little effort I'm 14-28 days away from home-brewed kombucha!*
*I fully realize that you can brew Komubcha without buying a kit.  Still, $30-something to get started is still less than what I spend on the stuff at Whole Foods.  And I actually DID it.
 ______________________________________________________________________________________
Two weeks ago marked the beginning of the Green Giant Veg Pledge to add an additional cup of veggies to my daily eats.  Despite some terrible food choices over the weekend (french fries happened… I can't say I regret it), I'm back on track this week and greening it up with everyone for What I Ate Wednesday!
Jenn @ Peas and Crayons is hosting  What I Ate Wednesday  this month in the theme of veggies: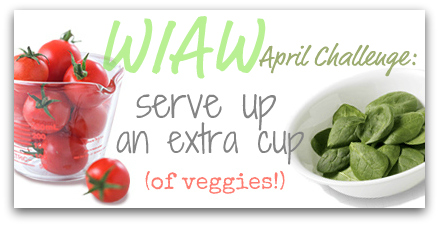 Check out my veggies below; then click here to see how everyone else incorporated extra servings.
Breakfast:
After a quick tabata-style workout found on Pinterest, I needed to cool down before getting in the shower.  Don't you hate when you're still sweating AFTER getting out of the shower?
I slurped down up a little Liquid Sweet Potato Pie Smoothie topped with hemp seeds while I got a head start on work email.
Lunch:
Massive collard greens are everywhere in Georgia grocery stores.  Traditional Southerners cook them with things like ham hocks.
Not me!  I use the greens as raw taco shells!
I filled my "tacos" with raw asparagus, carrots, celery, cucumbers, red pepper flakes, and a massive amount of my new favorite hummus.  The spinach-flavored hummus is made by a company called Roots.  Not sure how widely available it is, but I found this a Whole Foods. The rest of the container was enjoyed with some Sesame Wasa crackers on the side.
Snacks:
Unpictured was the daily Kombucha, a piece of dark chocolate, and handful of cashews.
An
apple
 with
peanut butter
and a
surprise
from
Nature Box
did make it for a photo shoot:
I really loved the Smokey Pepitas and Dried Pears.  More to come on this awesome company later! 
Dinner:
Baked is my favorite way to do tofu.  The outside gets all crunchy and the inside becomes marshmallow-fluffy.
Tonight's dinner was a Baked Sesame Tofu with lemon roasted asparagus and an heirloom tomato.
Tomato season has arrived down South!  That was the sweetest tomato I think I've ever had.  I made the mistake of cutting the tomato too early… only 2 little slices remained to go with dinner.
What was left of my tom was delicious with the light spice and nuttiness of the tofu marinade.  Recipe to come tomorrow!
Dessert:
It was a healthy post workout dessert – a chocolate protein shake topped with cereal.  Packed with spinach, of course.
***
I can't believe I didn't like tomatoes until a couple of years ago.
How are you doing with the Veg Pledge?  Have you been incorporating an extra veggie serving each day?
Have you ever brewed your own Kombucha?  How about beer?