As we approach the holiday season, planning becomes more important.
We all get insanely busy and it's necessary – for me at least – to have a play book.
My calendars are coordinated (work and personal), "to make" items are noted, grocery lists are written (in excel, if you're a dork like me).  Lastly, drink pairings are solidified.
Drink pairings are important.  In order to get a good deal you need to shop NOW.   Wine "specials" wane (at least on the stuff you'd actually want to drink) as Christmas nears and the price of champagne/sparkling wine increases just in time for New Year's Eve.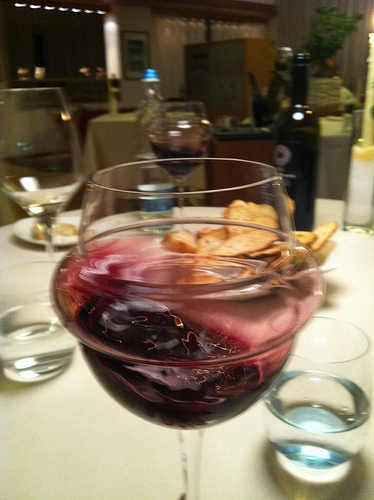 What should you buy now?
Beaujolais – This wine has been overlooked for years.  The French red is not overly complex; it's a fruit-forward, drinkable wine is what I think is nice about it for parties.  2009 was a great year for Beaujolais-Villages, and you should be able to pick up a satisfying bottle for under $15.  You can even find a Cru (Cru is a designation meaning it came from one of the 10 best Beaujolais-Villages) for less than $20.  Plus, it sounds fancy when you say it.
Champagne/Sparkling Wine – The wine that was made for celebrations!  Significant discounts will end about

2 weeks

before Christmas.  Plan ahead for NYE and pick up a few bottles of bubbly

this weekend

.
Wines from up-and-coming regions – You know how you can get clothes or art for great prices if you catch the creator before they really hit it big?  It's no different with wines – you can find some wonderful bottles on the cheap if you branch outside of the norm.
A Few Specific Suggestions:
Beaujolais
As I said above, 2009 was a great year for Beaujolais.  The 2009 Marcel Lapierre Morgon is a great choice for a holiday meal.  it is light in structure, with lots of red fruit and a slight earthiness.  You can drink it with your pre-dinner charcuterie, a roast chicken or pork dinner, and a chocolate tart.
Also good is the  2009 George Debouf Beaujolais-Villages.  I picked up a bottle for just $10!  This wine is a well-balanced red with subtle berry notes (think currents and raspberries) and little herbiness that is perfect with a variety of foods or on its own.
Interesting side note: It is against French law for Beaujolais producers to release the wine before midnight on the 3rd Thursday of November.  No one remembers why.
Champagne/Sparkling
My latest affordable find is a 2009 Argentinean Sparkling Malbec from Ernesto Catena's Alma Negra(translation = black soul) line.  It's a beautiful salmon color with notes of rose petal and strawberry.  Not too sweet, the finish is smooth and elegant.  The price for this bottle is about $16… not as cheap as Cooks, but your head won't be pounding in the morning. 😉
Side note: Catena also makes one of my favorite, affordable Malbecs.
Up-and-Coming
This recent article picked up by Reuters lists the Top 10 Up-and-Coming Wine Regions.  I remembered reading this article when I picked up this bottle from Portugal:
Portugal has long been known for sweeter whites, but it's the dry reds that are gaining notoriety.  This 2005 Alentejo Roquevale Redondo is one of the regions successes.  Smooth in the mouth without compromising structure.  It's a figgy, a little dark, and perfect for red meats or game.  It is a blend largely comprised of Tempranillo (Aragonez in Portuguese) and it was a steal at $12.
If nothing else, remember this helpful piece of advice: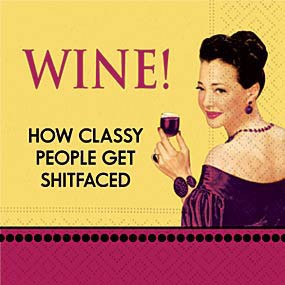 Or you could always buy some of wine in a can.
***
Christmas came early – I made the FoodBuzz Top 9 with my Sweet Potato Pie Oatmeal!!!   Thank you everyone and welcome new readers!
What is your favorite wine to serve/bring to parties?
Do you ever buy bottles because they are "pretty?"  No shame – we're ALL guilty.