Tis the season…
To bake all the foods.
Cookies, fudge, Devil's food cake, ricotta cheesecake, malted walnut pie… you name it, I've baked it.  I've been baking like a fool!  Or maybe a ho ho ho?
5 lbs of butter (just call me Paula), 4 lbs of sugar, and 64 ounces of chocolate later, I'm nearly done, a little high on sugar, and grateful to be spending Christmas with Vegas, both sisters, my mom, and my grandparents.
---
This WIAW meals are a little thrown together.  I'm so busy shopping and cooking for the holidays that I half forgot to make "real" food.  This is a mix of stuff from the past couple of days.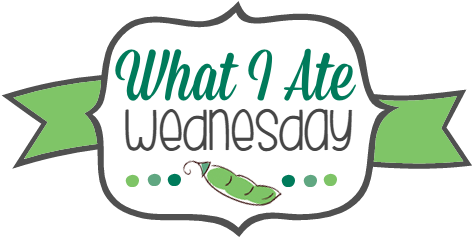 Read on for my eats, and then check out Jenn's blog for everyone else's delicious creations!
---
Breakfast:
The usual my morning cocktail, followed by my morning sludge.
Breakfast was adventure #1 in using stuff in my fridge that is NOT meant for the holidays.  Tofu.  I scrabbled it with peanut flour*, syrup, and cinnamon, then topped it with pomegranate arils.  Strange.  But good.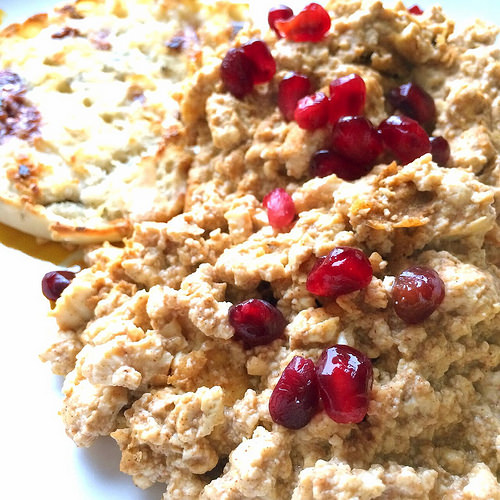 I also had a seasonal special from Thomas' – Cranberry English Muffin.  They are delicious, and I don't even love cranberry!
*I order my peanut flour from iHerb.  I like it because it doesn't have the added sodium and sugar that other brands (ahem PB2) have.  Use discount code USO924 for $5-10 off your order!
Mid-Morning Snack:
Finally tried the new shrimp from Sizzlefish – so delicious!  I love shrimp, and this did not disappoint.  I used it in the last of my pho from Garnish & Gather. Perfect on a cold rainy day.
Lunch:
No-salt deli turkey with marinara sauce and roasted balsamic brussels.  I cheated and bought the brussels at Whole Foods.  Where I have been 4 times in a week.
Mid-Afternoon Snack(s):
I'm still obsessed with the Quest S'mores bars.  I've been eating one a day!
Dinner:
After a long day of shopping Sunday, it only seemed right that mom and I have a little treat from Stem. Pappy Van Winkle (incredibly delicious and RARE whiskey) and a burger with braised short rib and pork belly and topped with comte cheese, tomato onion jam.  Side of thrice cooked fries and aioli.
Not the best burger but I was so happy with the Pappy they could have fed me road kill.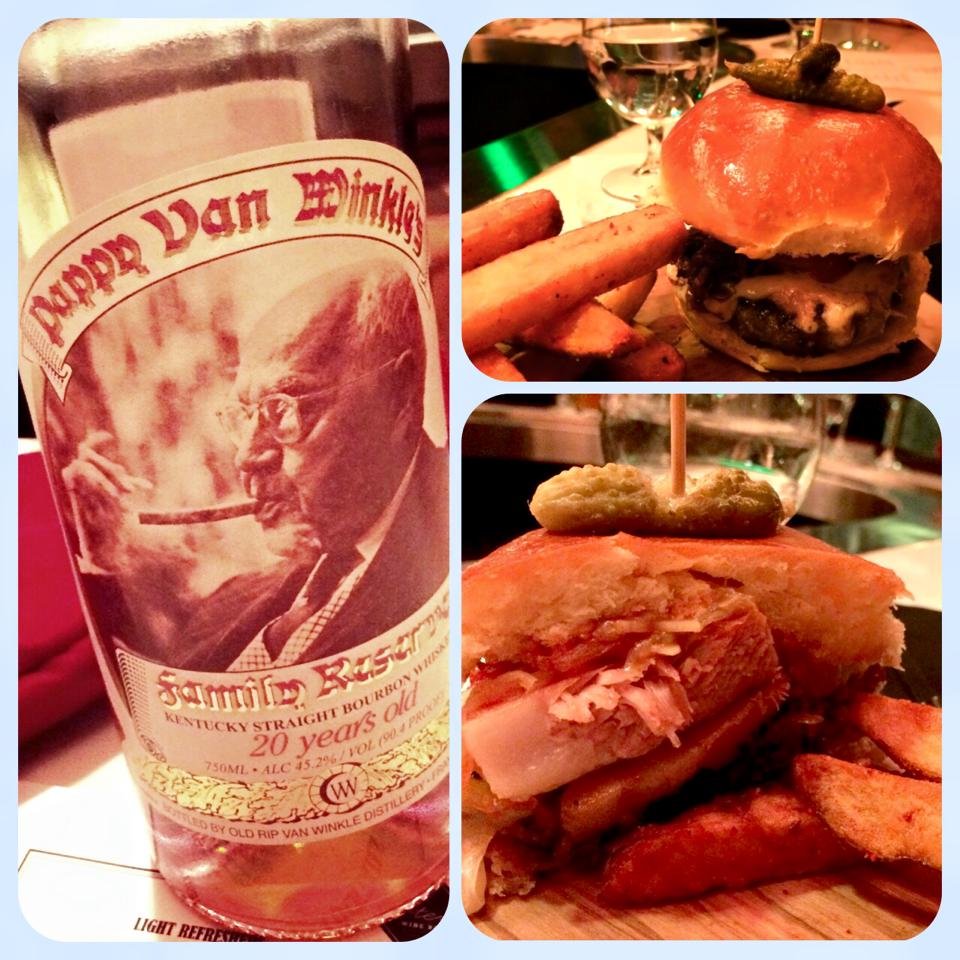 Dessert:
There have been lots of midnight snacks. This was like a bowl of pumpkin cheesecake!
Cottage cheese mixed with vanilla protein powder, pumpkin puree, gelatin, cinnamon, ginger, and almond milk topped with Siggi's pumpkin spice yogurt (finally found it… and it's GOOD!), oats, tiger nut flour, and chocolate sauce.
***
Merry Christmas!
What are you baking for the season?
Does your "normal" food get a little strange over the holidays? Link it up Friday for #strangebutgood!