Caution: this post involves drinking, gluttony, and theft.
In other words, my favorite things. 😉
We left Siena from Montalcino on a tour bus with 4 strangers and a tour guide, Mattea.  It was to be a relaxing wine tasting, followed by lunch, another tasting, and then a ride back to the hotel.  Little did Mattea know, this was no ordinary tour group.
First fateful stop: Il Cocco
It was here that we met our new BFF – Christal.  A New Mexican woman living at the winery with Giacomo, her wine-maker boyfriend (yes, we were all jealous of this modern-day Cinderella story).
At Il Cocco we tasted a fabulous Rosso di Montalcino and a Brunello di Montalcino.
Montalcino is a small hill town about 30 miles outside of Siena in the Tuscan region.  It is believed to have been founded in the early 9th century.  The town is famous for its Brunello – and rightfully so.
Brunello is the first wine to be awarded DOCG status.  It is made from the sangiovese grosso grape and must be aged 5 years before it is ready to be sold.  The Riserva must be aged 6 years, and is only produced only during the best vintages.  Brunello is a smooth, fruit-forward wine, often with notes of blackberry, black cherry, and chocolate.  I like the leather taste more commonly noted in the Riserva.
Rosso di Montalcino (aged just one year) is made from the same grape and is often called "Baby Brunello."  It is good, but much lighter (and less expensive) than Brunello.  It's all much cheaper in Italia.
Check out the price tag on the bottle below.  I paid $80 USD or the same bottle at a restaurant in Atlanta.
Back to our crime novella.
We needed to leave Il Cocco to get to our lunch reservation… but how could we leave our new BFF behind?!  Into the van went Christal the winemaker's girlfriend!  Bwhahahaha!
After a lunch (and a limoncello digestif) we were off to…
Second fateful stop: Le Potazzine.  A Potazzine is a small bird found in the hillside, but it is also and endearing term used by adults to refer to children.  The two birds on this winemaker's label represent his two daughters.  How cute is that?!
Here's where the hijacking begins.  We were supposed to be dropped back in Siena after this stop.  Tour over.  What had happened was…
There was a bottle of their absolutely fabulous 2004 Riserva.  And there were several of us that thought it would be a good idea to buy this bottle – it was one of the last bottles left!  Did I mention this was a magnum bottle?  Wine is better in magnum bottles.  How could we NOT buy it and solidify our friendship by sharing with the backdrop of a Tuscan sunset?
It only took a little convincing, but eventually Matteo caved to the pressure and agreed to take us all back to Il Cocco to drink the bottle.
I wish we had more time to open the bottle and let it breathe (often these wines will be opened the day before drinking to allow it to open up), but we did hold off for an hour.  It was fabulous.
We took our glasses and walked down to Giacomo's vineyards, where we cheered to our perfect, unpredictable day and took in the most beautiful sunset I have ever seen.
Bright green vines, the smell of fresh grapes, a Tuscan sunset, and a special bottle of wine with friends.  La dolce vita.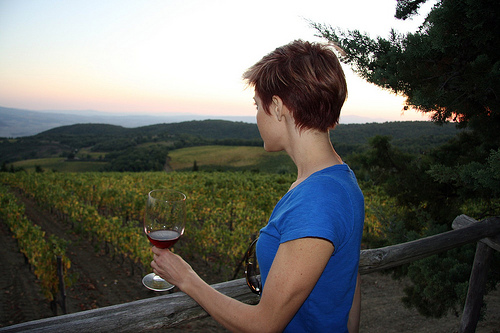 I'm going back to Il Cocco next year to help with the harvest.  Not kidding.  
Get ready, Christal!!!
***
Check out my "dream vacation" guest post on Corey's blog – Learning Patience!
What is your dream vacation?
If money, family, other obligations, etc. were no object, where would you live?