There aren't many party dips I don't like.
I'm that girl that hangs by the food spread all night.
This party season I wanted to create a healthier version of a classic dip.  My French Onion Dip is high in protein and low in fat, but doesn't sacrifice taste.  It's also quick and easy to make… what's not to love?

There's something addicting about chips and dip.  I don't keep it in the house, but parties are my downfall.  I could literally eat a whole bowl of creamy French onion dip – generously scooped out with Ruffles chips, naturally.  Maybe not the healthiest option…
In order to ensure there's at least one snack option I can nosh on guilt-free, I like to bring something healthier to parties.   This cleaned-up, simple version of my favorite French onion dip only has 3 ingredients, making it an easy dish to bring along to holiday/New Years/Super Bowl/etc. parties.
Bonus: You'll have more room for the cookie plate.  The soft kind with the icing.  Mmmmm…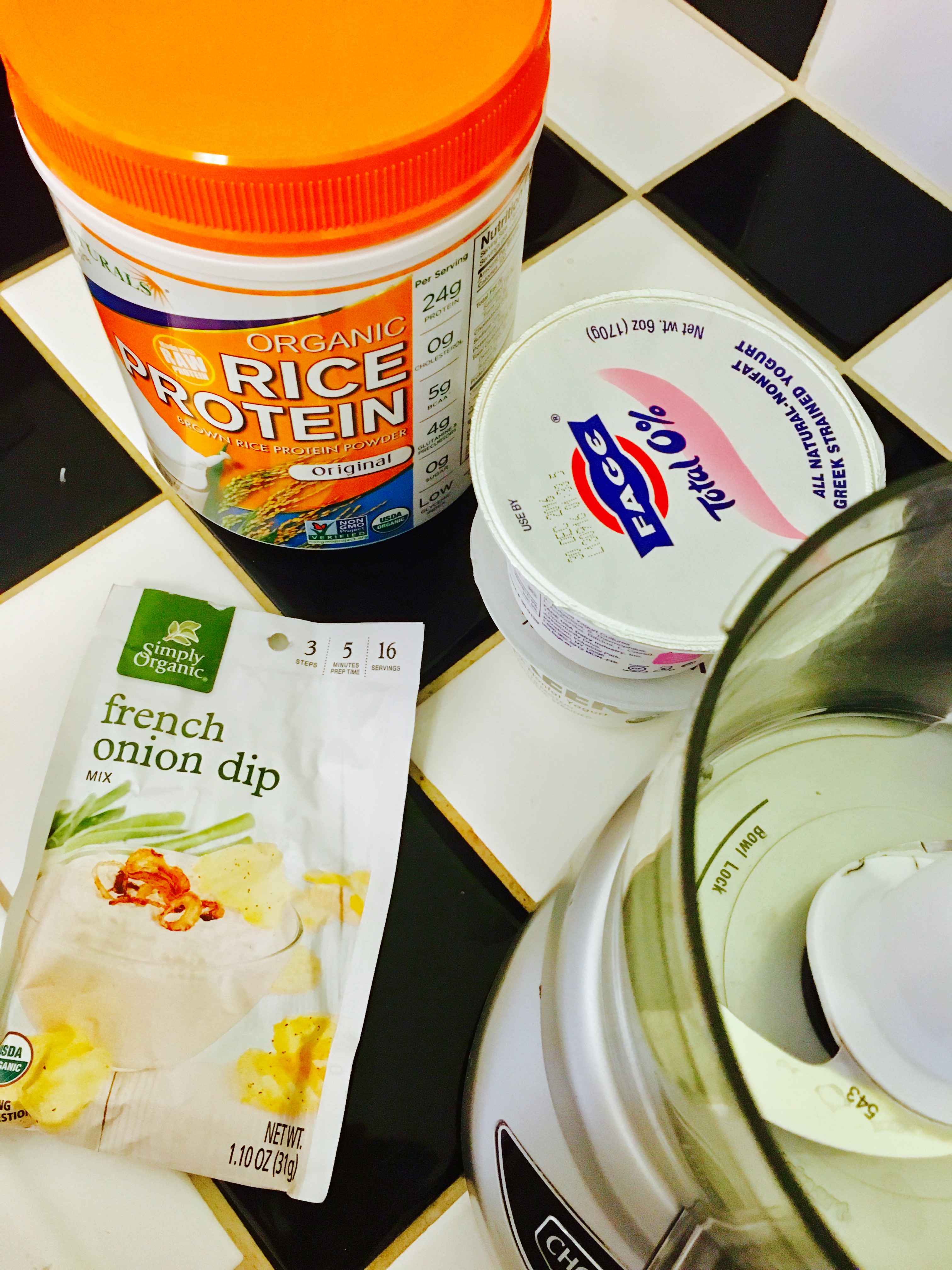 The base of this dip is non-fat Greek yogurt, which is naturally high in protein.  To amp it up even further, I added a neutral flavored protein powder.  I always use Growing Naturals protein powder because I know there isn't any "junk" in it.
Admittedly, I cheated a little and used a mix for the French onion flavor.  While at Whole Foods (where else), I stumbled upon this clean version by Simply Organic.  Perfect!
Taste is the most important aspect though!  You don't want to show up with the "obviously" healthy dish.  I served a test batch before dinner and Vegas didn't suspect a thing!  She's always my litmus test.
It was great with fresh veggies and sea salt Popchips.
If you love French onion dip but hate the calories and "junk" in most of store-bought versions, you'll love this high protein ranch dressing recipe!
---
High Protein Healthy French Onion Dip
4SERVINGS
adjust servings
Instructions
Place the ingredients in a medium bowl or food processor. Stir or blend to combine.
Add water one tablespoon at a time until you reach desired consistency (I used 2 tablespoons).
Approximate Nutrition: 55 calories, 0 g fat, 26.2 mg sodium, 4.4 g carbs, 2.2 g protein, 8.8 g protein
***
This dip also makes a tasty mix-in for chicken salad!
Have you ever used protein powder in a savory recipe?
What is your favorite party dip?