So many new things to talk about!
This weekend has been the most low key I've had in a while, but it was much needed.  I hit the ultimate level of productivity: not only did I wash the sheets, but I also washed the mattress cover and flipped the mattress.  Be honest: when was the last time you washed you mattress cover?
As much as I know you all are riveted by my cleaning accomplishments, here are 5 other announcements that might be more interesting to you (I know my mattress is riveting).
You can just call me "Guru" if you wish. 😉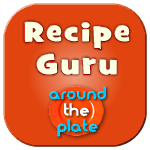 There's a new button on my side bar for easy access to the site.  If you click on it, go to "thePlate Community" tab and click on Recipe Gurus.  I'm the second from the bottom.
I am excited about the chance to share fun food ideas with more people… and the added motivation to keep it clean. 🙂
This is really exciting because it will be MUCH easier to search recipes, ingredients, etc on Sprint 2 the Table.  I'm done with Breakfasts and Mains.  All new recipes will be added on Recipage from now on.  Check it out on the top menu bar!
It's a slow process, but I thought I'd go ahead and unveil it… which will force me to speed it up. 😉
3. The Blend Retreat is May 4-6th in Boulder, CO.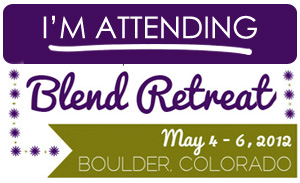 Blend was named from the combo of two things: Blogger + Friend = Blend!  It's designed to be "relaxed, laid back retreat for healthy living, food and fitness bloggers across North America!!  Instead of focusing on seminars and speakers, the focus will be on FELLOWSHIP and having a weekend away to get to know one another in real life!"
I'm going and you should too!  Tickets are just $75 and there are some great sponsors and activities planned (dinners, hikes, bootcamp class, etc).  Seriously – for this price I was shocked to see how much is included.  Click here for the schedule and here for the list of attendees.
4. The dinner with my cleanse buddies was a

win

.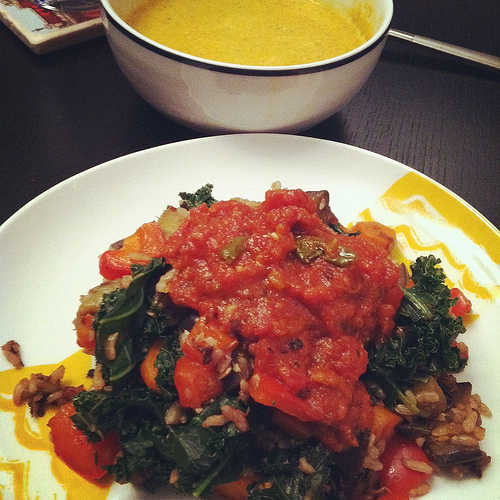 We had so much fun.  One friend brought a delicious avocado-red pepper soup and the other brought an awesome fruit blend covered in cinnamon for dessert.
I brought back another old cleanse recipe – Mamma's Italian Stir-Fry.  It was just as good the second time around!  This is a great recipe for using what you have.  I used portobello mushrooms rather than shiitake, used 1 huge eggplant, added a red pepper, and tossed in some apple cider vinegar and ground oregano.
We ate dinner (sans wine for the first time ever), enjoyed fruit for dessert out of martini glasses, talked about the random smoothies we've been making (no one likes what blueberries do texture-wise when blended), and then enjoyed a rousing game of Clue.  Old school and awesome.  Until I lost.
5. I ate some ugli.
Ugli fruit, that is.  Have you guys ever seen these?  They are indeed ugly on the outside, but taste like an orange-y grapefruit.  Not quite as sweet as an orange, but it lacked the bitterness of a grapefruit.  I loved it as part of my breakfast!
According to Wikipedia, the Ugli fruit was discovered growing in the wild and is a hybrid of a grapefruit, orange, and tangerine.
____________________________________________________________________________
This week was a good one for weights… a little lacking on cardio.  I get to try running again on Wednesday and I think my body know that and is subsequently rebelling against the elliptical.  I hate that thing!
Most exciting is my BodyRock progress.  This week's first video included a progress check – we were to re-do the fit test from Day 1.  I honestly didn't think I'd improve that much.  For 50 seconds you do as many of each exercise below, take 10 seconds of rest, and then move on to the the next.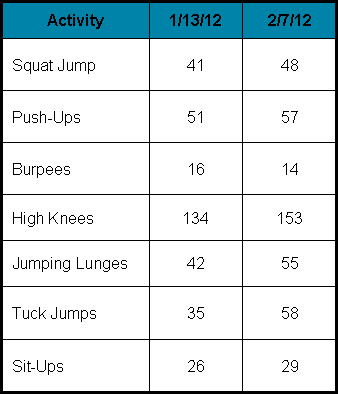 Apparently I wasn't feeling the burpees (I was really sore… also, I hate them), but I was really blown away at the improvement in tuck jumps!  All of this without buying any of their equipment.  It can be done with free weights and a bench (or couch).
I can't wait to see what the final 2 weeks of the BodyRock 30 Day Challenge brings!
Workout Recap (2/6 – 2/12)
Monday -P90X Tris/Chest
Tuesday – This Body Rock Day 1 Wk 3 + fit test, Bike (intervals)
Wednesday – Elliptical (intervals), Shoulders, 6 min plank rotation, This Body Rock Day 2 Wk 3

Thursday –  Legs, Bike (intervals), 100 push-ups 

Friday – This Body Rock Day 5 Wk 3, Biceps/Back, P90X Ab Ripper X

Saturday – P90X Cardio, This Body Rock Day 4 Wk 3, 100 push-ups
Sunday – Elliptical (intervals), Legs/Glutes, Core, 100 push-ups
***
Added benefit of the cleanse: I spent about $350 less this week than I normally do.  Holy cost savings.
What did you do this weekend?
Did it suddenly become arctic where you live?  I actually saw snow flurries!