Hold on to the ones who really care
In the end they'll be the only ones there
When you get old and start losing your hair
Can you tell me who will still care?
Can you tell me who will still care?
Can you guess the song?  Maybe the super-complex chorus will help…
Mmm bop, ba duba dop
Ba du bop, ba duba dop
Ba du bop, ba duba dop
Ba du
If you said Hanson's Mmm Bop, you are correct!  The prize?  Hanson Beer.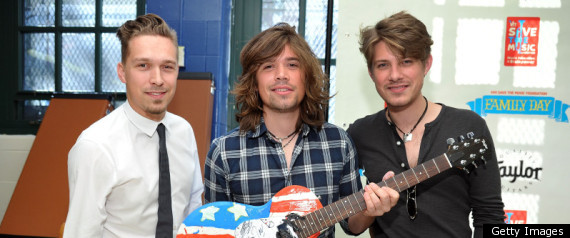 That's right.  According to Eater and other sources, the cute little teenage boys are reportedly going to be releasing their very own IPA beer – cleverly named Mmmm Hop – to be released in 2012.  Can this be for real?
______________________________________________________________________________________
This is just one of the many items I've been meaning to share on the blog this week.  Thanksgiving threw me off so today is a "catch up" day.
#1
I've been meaning to give a shout out to Sarah @ The Smart Kitchen.  This rockstar lady received an job offer she couldn't refuse… but it had her moving half way across the country on short notice.  What is a foodie to do with the stockpiles of goodies in her pantry?
Share!
I was one of the lucky recipients of Sarah's Random Snacks of Kindness (pictured above).  Those arbol chilis in my Pumpkin Tempeh Chili?  Those are thanks to Sarah.
She also included my favorite – Biscoff Spread!  In sample sizes, which make my travelin' heart happy.  The Hatch Chili Salsa also made me smile.  Spicy food is my BFF.  there was a lot more to it, but those are the items that I've consumed first.  Thanks for moving, Sarah!
#2
My best friend's baby is the cutest thing in the world.  I'm not just saying that… truth be told I'm not a huge baby person (insert horrified gasps here).
Jackson is an exception.  He also has good taste – we shared a Whiskey Sour and edamame (I'm KIDDING… he can't chew yet) at Top Flr, one of my "go-to" restaurants in Atlanta.
#3
The Warhol exhibit at Atlanta's High Museum was great (albeit small).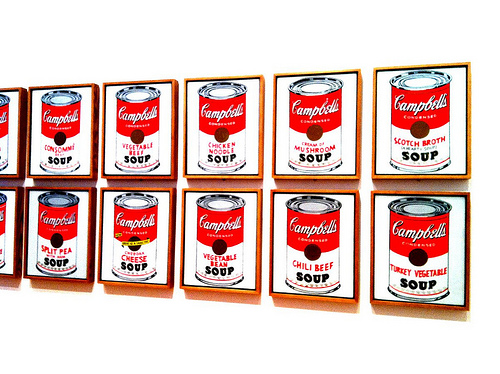 They are running a show called "Picasso to Warhol" right now, so he had to share billing with several artists.  I'd love to go see a full exhibit one day!
#4
You all seems rpetty amazing by the bacon weave on the mac 'n cheese at my "Bargiving"… I can't believe I didn't share bacon dish #2.
Pig Candy.  (Some call it candied bacon… I think pig candy is more fun.)  You coat bacon with brown sugar (and perhaps a sprinkle of cayenne) and cook it on a baking sheet in the oven until crisp.  It's pretty amazing stuff.
Now that I'm back on the healthy-eating train, we won't mention how much I appreciated it or how well it pairs with a crisp ale.
#5
Last Sunday I was lucky enough to see Kristian Bush (of Sugarland fame) play at my favorite local venue, Eddie's Attic.
Long ago he had a band called Billy Pilgrim – this show brought back the days of seeing him (or Jennifer) play teeny venues with my elbows on the stage.  Ah, memories.  
This night he played "in the round" with his brother, Brandon (on the right), and singer/songwriter/storyteller Ellis Paul (on the left).  Perfect end to the weekend.
Does that mean that he didn't attend Jennifer Nettles' secret wedding last weekend?!
***
You can thank me later for Mmm Bop being stuck in your head all day. 😉
Will you try the Hanson beer?
Did you ever follow a band/musician before they made it "big?"