Pavlova has been on my bucket list for years.
Yes, I have a strange bucket list.
Pavlova is a gorgeous dessert.  It's perfectly light and airy; aptly named after a Russian ballerina.  My take on this sweet treat is a healthy Walnut Pavlova with Blueberry Sauce.  It's sugar-free, gluten-free, and naturally high in protein!

I have to confess… a page ripped out of a magazine from when I was in college (12 *cough* years ago *cough cough*) inspired this.  It's a recipe for a gorgeous pavlova piled high with berries.
I've looked at it repeatedly, but never braved making pavlova.  It's a simple ingredient list, but something so fluffy-looking seemed intimidating.  Having finally taken it on, I'm here to tell you it's not scary at all!
Admittedly, the meringue would be 100x easier with a stand mixer.  We have no room for such things in our 1906 kitchen, so I used a hand mixer.
Pro-tip: keep your phone nearby and entertain yourself on Instagram during 20 minutes of whisking.
Sweetened naturally with xylitol, my light, airy meringue is packed full of protein filled egg whites.  You CAN use cane sugar here too; I've done with both ways (see picture above) with equally delicious results.
One caution: if you use xylitol, your meringue will be tan rather than white.  The taste is the same.  Vegas didn't notice the difference!
The walnuts were one of my favorite parts of this dessert.  They take on a candied quality in the baking process and add a fabulous crunch.  Walnuts also contribute to the health-factor, adding plant-based omega-3 alpha-linolenic acid (ALA), and 4 grams of protein and 2 grams of fiber per ounce!
The coconut whipped cream layer is another healthy fat addition… and yet another thing adding to the yum-factor.  Don't skip the cream.  Trust me.
This seemingly decadent summertime dessert is topped with fresh blueberries reduced down to to a light sauce.  The blueberries I used were bursting with sweet flavor, so I didn't need to add much sweetener.  If you're not in the height of berry season, you may want to add more.
So let's recap – delicious dessert.  Full of protein to keep you satisfied.  Sugar-free, gluten-free.  It's basically dessert perfection.
Disclosure: I received free samples of California walnuts mentioned in this post. By posting this recipe I am entering a recipe contest sponsored by the California Walnut Commission and am eligible to win prizes associated with the contest. I was not compensated for my time.
---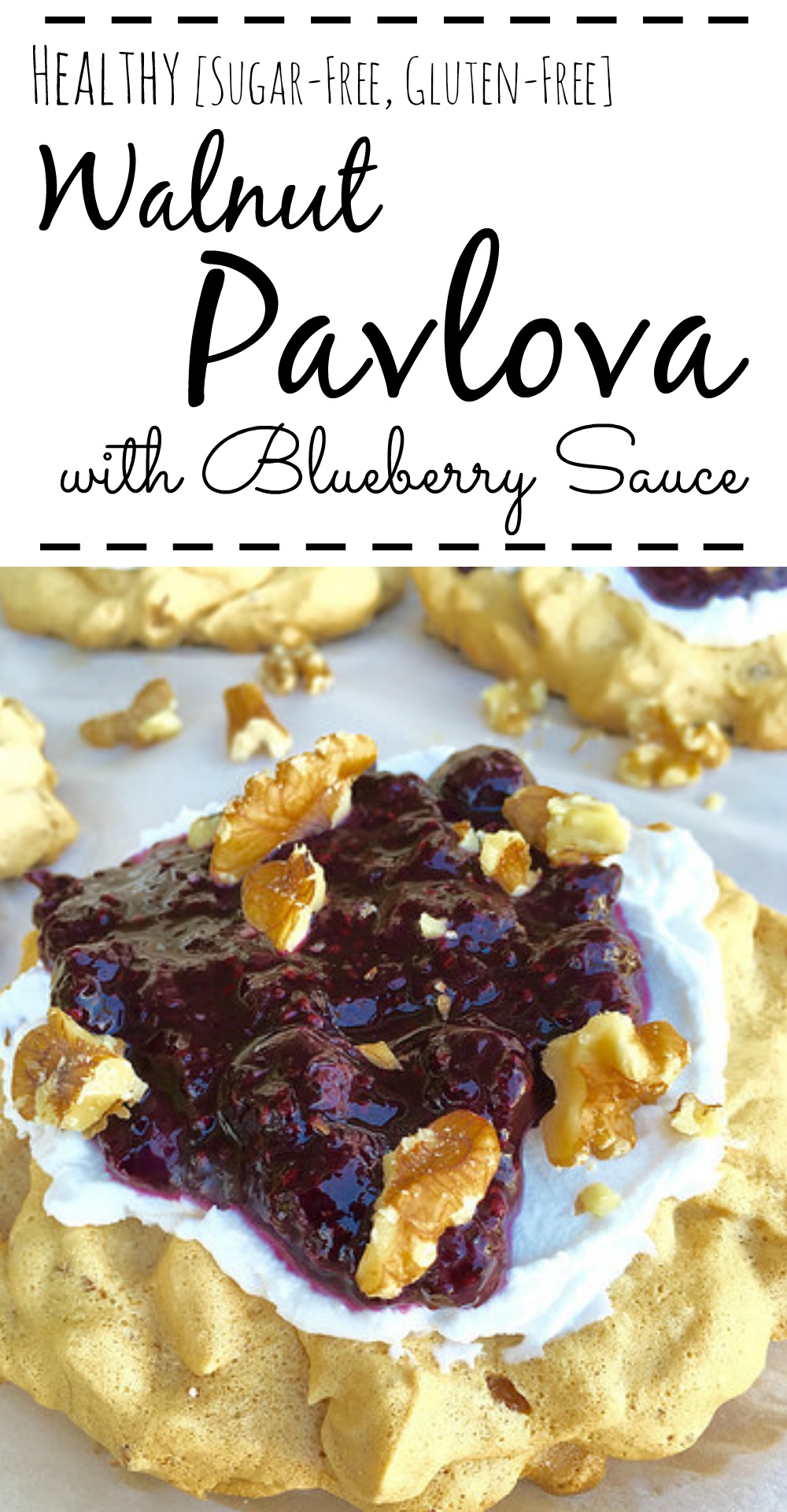 Healthy Walnut Pavlova with Blueberry Sauce [sugar-free, gluten-free]
For the Pavlova:
4 egg whites, room temperature
Pinch of cream of tartar
1/2 C xylitol, blended (I recommend this one for baking)
1/4 tsp vanilla extract
2 tsp cornstarch
1/2 tsp lemon juice
1 C walnuts, chopped
For the Coconut Whipped Cream:
1 can full-fat coconut milk
1 T powdered sugar (I used Swerve)
For the Blueberry Sauce:
1 pint blueberries
1/2 tsp cornstarch
1/4 C water
Juice of half a lemon
1 tsp xylitol
1/2 tsp cinnamon
1 T chia seeds
For the Pavlova:
Allow the egg whites to stand at room temperature for 30 minutes (this helps to add volume).  
Meanwhile, preheat the oven to 250 degrees and line a baking sheet with parchment.  
In a large metal bowl (and I mean large – the egg whites will grow exponentially in size) with a whisk attachment, beat the egg whites and cream of tartar over medium.  This can be done in a stand mixer or with a handheld mixer.   Whisk until soft peaks form, about 5 minutes.
Add the xylitol, one tablespoon at a time, beating on high speed until the mixture is glossy and stiff and meringue is no longer gritty (15-20 minutes).  Scrape down sides as need with a rubber spatula.  Beat in the vanilla extract.
Using a rubber spatula, gently fold in the cornstarch, lemon juice, and walnut pieces. 
Spread the meringue in 4 even circles onto parchment paper, creating a small dent in the middle for the berry filling.
Bake for one hour.  Turn the oven off and leave the meringues in the oven for another hour to dry out.  They should be firm on the outside.  DO NOT OPEN THE OVEN!
Once cooled, place the meringues on a platter or onto plates.  Spoon the blueberry sauce (recipe below) into the centers of each meringue.  
*Note: You can use regular sugar or other sweetener as you prefer.  I have tried this with cane sugar, xylitol, and a half & half mixture of the two.
For the Coconut Whipped Cream:
This is recipe from Minimalist Baker is easy and delicious.  Better yet, it literally takes 5 minutes.  My only modification was to only use a tablespoon on powdered sugar.
This can be made in advance and stored in the fridge.
For the Blueberry Sauce:
While the pavlova is in the oven, combine all ingredients in a small pot over medium heat and bring to a boil.
Stir and reduce heat to low and simmer for at least 30 minutes more.  The longer you allow the mix to simmer, the thicker it will be.
You may need to add more sweetener depending on your berries.  My summer berries were quite sweet! 
Raspberries or strawberries will work just as well as blueberries; it's just a matter of preference and availability.
---


***
I've made this 3 times so far.  We have a marvelous new addiction.
Have you ever had pavlova?
What is your favorite warm weather dessert?