Switch up your morning (or afternoon) coffee with a Healthy Vanilla Matcha Latte with almond milk.  It feels like a decadent treat, yet it's incredibly easy to make – hot or cold!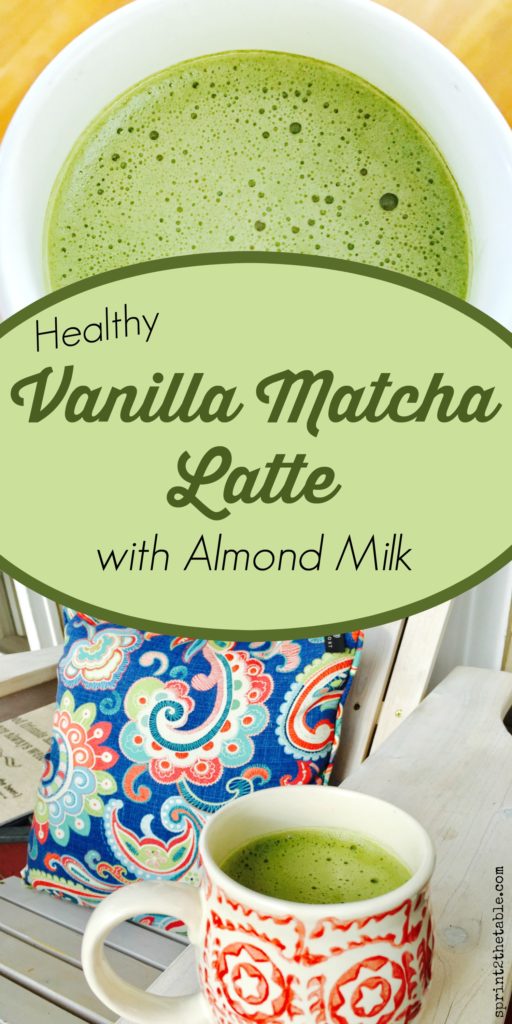 Warning: Controversial statement to follow…
I don't love coffee.  
Half a cup of black coffee is my limit, and I only do it for the *ahem* bathroom benefits. 💩  I wouldn't ever bother if Vegas didn't brew it and bring it to me.
That said, I do appreciate a little extra boost in the morning.  Matcha is a great alternative, and my new addiction.
Matcha is basically green tea leaves ground into a fine powder.  You're consuming the actual green tea leaves, so it has more caffeine than regular green tea.
The types of leaves used to make matcha are grown in the shade, which aids in producing more chlorophyll, a powerful antioxidant.  For that reason, matcha can have 10 times the amount of antioxidants of green tea!
Here's a short list of why matcha rocks:
Good quality matcha can be pricy, but I think of it like this: I buy one bag for $25 and use one teaspoon each day.  That's 37 servings at $0.68 each.  How much are you spending at Starbucks, my lovely unicorns?  I'm betting it's more than that!
The point it, a bag of matcha is worth a splurge.  Plus it's so simple to make!
---
Healthy Vanilla Matcha Latte with Almond Milk
Prep Time: 5 mins
Keywords: blender beverage sugar-free vegan low-carb gluten-free matcha
Ingredients (1 latte)
1 tsp matcha powder
1/2 C unsweetened almond milk, warmed
1/2 C hot water
1/2 tsp vanilla
1/4 tsp cinnamon
Honey or sweetener, to taste (I use 5-6 drops of vanilla liquid stevia)
Instructions
Mix all of the ingredients together, either in a mug or blender. I find it easiest to add it to my little bitty Magic Bullet and give it a whir before pouring it into a mug. You can also mix it directly in a mug using an electric whisk.
If you prefer an iced latte, simply use cold milk and water, and add a cup of ice to the drink.
---
With all of our super-clean eating lately (well, except for the New Mexico trip last weekend), I thought this would be a nice alternative to this month's cocktail-themed Recipe Redux. Check out the round up here:

***
Matcha green tea also has anti-inflammatory benefits.  If you've been following along on Instagram, you know I need that right now!
Are you a coffee addict?
Have you ever had a matcha latte?