This ground turkey-based Sloppy Joe recipe is a simple, healthy version of a childhood classic.  Put it over zucchini noodles for a low-carb/gluten-free option!

Growing up we were "deprived" of the usual pre-made food delights – I never had Spaghetti-Os, Sloppy Joes, Lunchables, or Kraft Mac 'n Cheese.  My mom was a purist.  We would only eat homemade meals, dammit!  This was nothing short of torture to my 10-year-old self.
That said, when I came up with this homemade Sloppy Joe recipe I had to ask Vegas if this tasted like the "real" thing.  She confirmed that the flavor was spot on… minus the fatty ground beef and the trashy white bread.  I call that a win.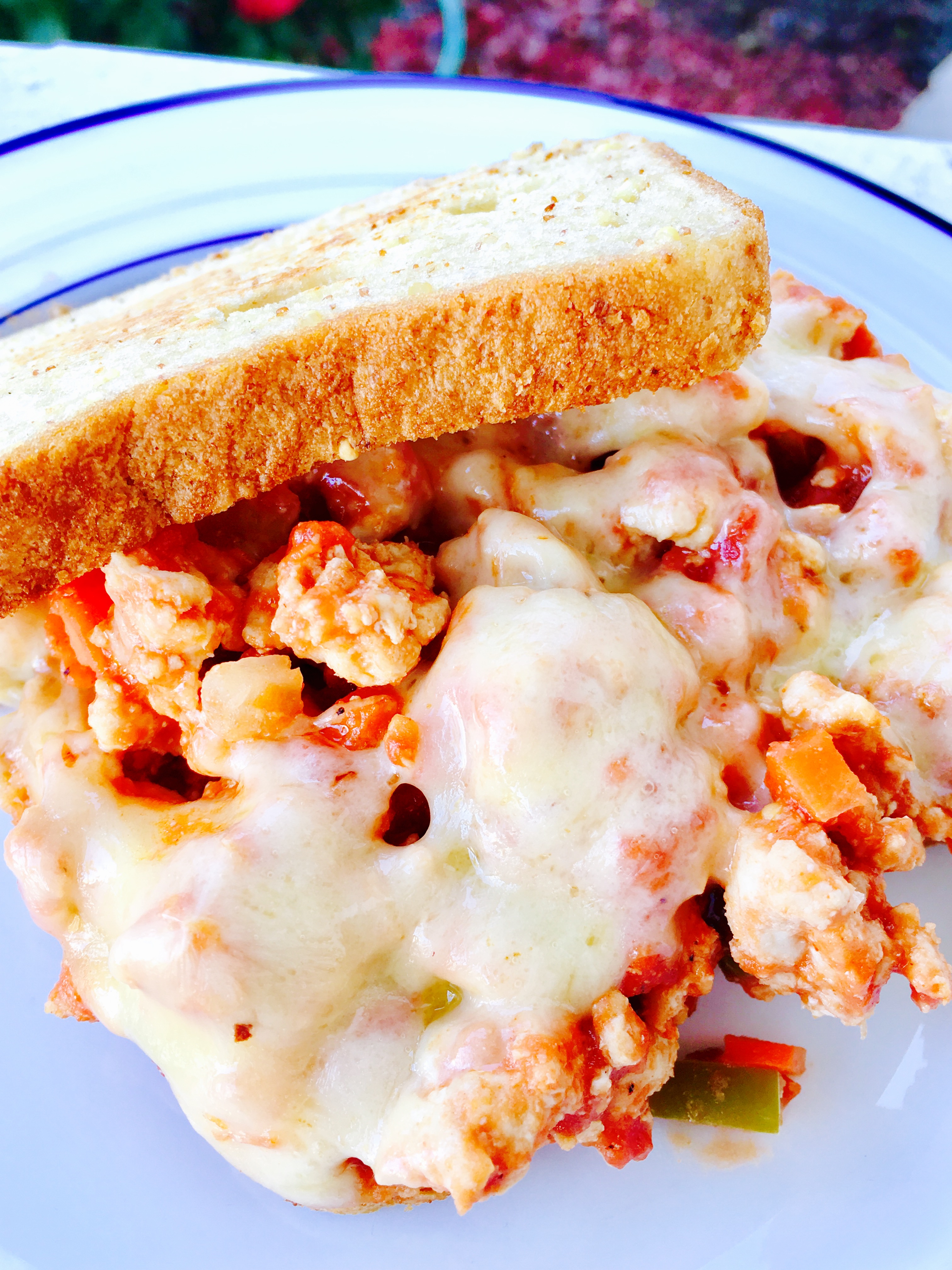 As an adult, I appreciate the care my mom took in making sure we ate well.  The way I grew up informed how I eat today.  I prefer cleaner, made-from-scratch meals… which means Vegas has to suffer through all of my cooking experiments.  Mwhahaha!
This experiment was a double win because I gave her the (gluten-free) sandwich version of a Sloppy Joe, including the slice of cheddar on top.  I enjoyed mine over zucchini noodles.
Side note: This handheld spiralizer makes my life so much easier.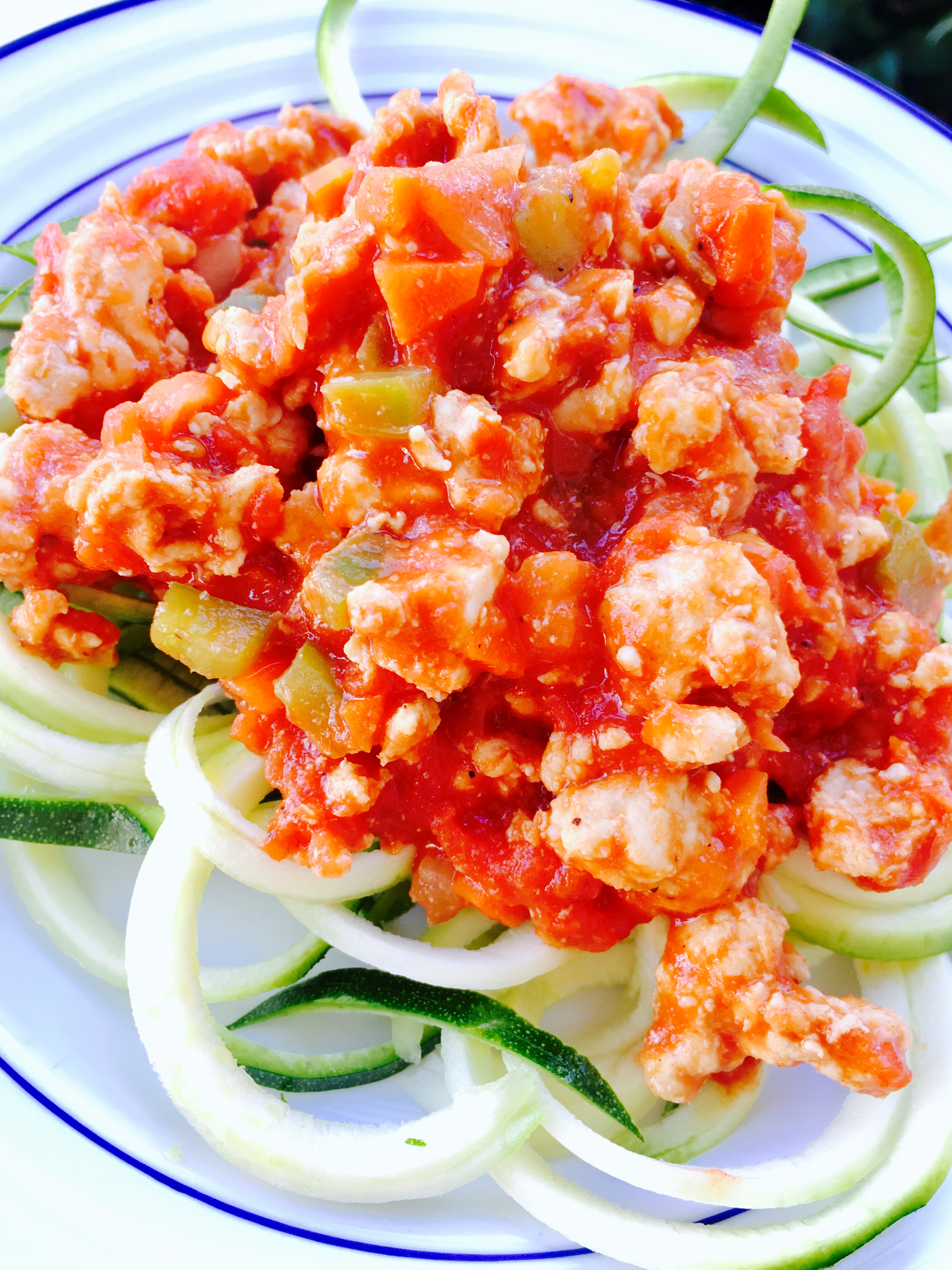 These Sloppy Joes are better for you than the canned variety, and they're MUCH tastier.  I loved the fresh tomatoes in the sauce, and the natural sweetness the carrots added.
Rather than beef, I used lean ground turkey sent to me from Jennie-O.  It was a perfect lighter option (read: left plenty of room for seconds).
---
4SERVINGS
adjust servings
This ground turkey-based Sloppy Joe recipe is a simple, healthy version of a childhood classic. I even created a low-carb/gluten-free option!
Ingredients
1

tsp olive oil

1

pound lean ground turkey

1/2

C yellow onion, diced

1/2

C chopped green pepper

1

carrot, peeled and minced

1

T tomato paste

18

oz (1 jar) whole peeled tomatoes, diced

2

T spicy mustard

1

T Worcestershire

1

tsp garlic powder

1/2

tsp smoked paprika

1/4

tsp pepper
For a Sandwich
8

slices of bread or 4 buns, split

8

cheese slices
For a Zucchini Noodle Dish
Instructions
Heat a large skillet over medium heat, add in oil. Once hot, stir in turkey, onion, pepper, and carrot.
Cook, breaking up the turkey as you go, until the turkey is cooked and veggies are soft (~ 5 mins).
Meanwhile, whisk together remaining ingredients for the sauce.
Stir the sauce into the turkey mixture and bring to a simmer. Reduce heat and simmer until sauce thickens slightly (3-4 mins).
Taste and adjust seasoning as needed.
When ready to serve, preheat broiler.
Place the bottom buns on a baking sheet and top with turkey mixture. Cap each bun with a cheese slice and place under a broiler until it melts. Remove and top the other piece of bread.
If you're using zucchini noodles as your base, simply spoon the turkey mixture over your noodles.
***
I feel like I need to apologize to my mom for all the times I begged for trashy food.  Kids… sigh.
To the mammas: do your kids beg for the packaged stuff?
What's your favorite trashy childhood food?