I am traveling for work this week.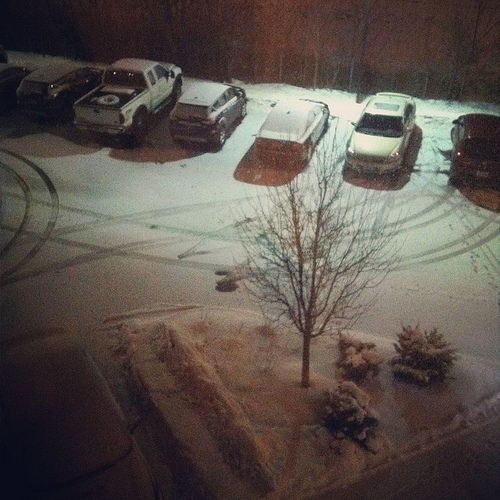 In the cold.  So very, very cold…
Finding healthy food option is one thing if I'm headed to a bigger city, but when I head to smaller towns I know I have to PLAN.  With less than 2 months until my next competition, I'm not "wasting" cheat days on crappy travel food.  I mean, did you see this post?  Why would I eat fast food when I can save it for dinners like that?
The night before I go, I pack up vitamins and supplements.  And then I pray that I don't get arrested for traveling with white powder (it's just BCAAs and glutamine!).
I also gather my protein powders, gum, my own salt-free spice blend, "emergency" bars and tuna.  Most of these items are "back up" in case I get stuck somewhere.
Last, I portion out proteins and veggies.  This trip I am taking chicken burgers, lamb, no salt deli turkey meat, balsamic grilled chicken, sweet potatoes, carrots, celery, zucchini, snow peas, and Greek yogurt (see Meal 7 pic below – mixed with fruit and frozen for safe travel).
Check out this post for a super-detailed explanation and tips for traveling with healthy foods!  And yes, I made it through security with ALL of this, no questions asked.
________________________________________________________________________________________
This WIAW my task was to eat everything left in my fridge.  I not-so-secretly love these days because they lead to come fun concoctions!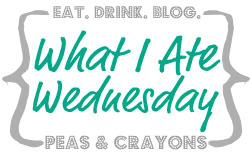 Check out my 7 meals below, and then click here to head over to Jenn @ Peas and Crayons to get to see how others dined this week!
________________________________________________________________________________________
Meal 1:
As usual, I enjoyed my morning cocktail (mix of Apple Cider Vinegar, Glutamine, and Fitmixer Aminos).
Upon hearing on GMA that it was National Pancake Day, I consulted the Pancake Queen's blog for an appropriate breakfast.  I settled on her Ginger-Pear Pancakes.
These were heavenly!  I followed the recipe, with a few additions:
Added 1/8 tsp cardamom

Added 1/2 tsp cinnamon

Used ground ginger
My pear was an Asian Pear
Made syrup by mixing sugar-free syrup, almond milk, and cinnamon
Meal 2:
This week I had the find of a lifetime at Trader Joe's.  NO SALT canned salmon that is boneless and skinless!!  Now I can make my Lemon-Thyme Zucchini Salmon Cakes without the nauseating task of de-boning and skinning the can.  *shudder*
That's not what I made today though.  Today was a blood-salmon salad!  It's not a gross as it sounds… it's a blood ORANGE salad.  Hee hee.
Blood Salmon Salad
1 can no salt salmon

1 blood orange, sectioned
1/4 C chopped fennel
2 T plain Greek yogurt
Freshly ground pepper, to taste
Meal 3:
Lunch was a two-part affair.  Part 1 was mahi mahi and a roast of brussels, fennel, and eggplant tossed in coconut vinegar and herbes de provence.
Part 2 was "dessert."  Sweet potato topped with cottage cheese and tons of cinnamon.
Let's pretend I didn't add more cinnamon post-pic… 
Meal 4:
I roasted a leg of lamb before work yesterday.  I'm told that's not normal.  Either way, it was delicious!  And it was a great mid-afternoon meal with spinach, cabbage, and nutritional yeast!  Does anyone else top their meat with vegan cheese-like substances? 😉

Meal 5:
This was my last meal before making a mad dash to the airport.  I had 1/2 a serving of chili left, a little deli turkey, avocado, and smokey blue cheese.  Down the hatch and sprinting… 2 the airport.
Meal 6:
Airplane meal!  I knew I'd have to eat this cold, and a salad seemed more appealing than a burger… so I crumbled a chicken burger and mixed it with Greek yogurt, carrots, and zucchini.  Chicken Burger Salad!  People were appalled fascinated.  Better than peanuts, no? 
Meal 7:
This is one of my yogurt creations.  I took a single serving plain Greek yogurt container and mixed it with blood orange, cinnamon, and a couple of stevia drops.  Then I froze it overnight to take with me.  This serves two purposes: it keeps it cold enough for travel and acts as and extra ice pack for my cooler.
Being on the road doesn't mean I can't have a clean dessert… with a little treat on top.  A crumbled Quest peanut butter cup!
***
The protein count for the day: 171.4g.
Have you had any interesting run-ins with airport security?
Do you pack healthy food for the road?  What are your favorites?  This week's Strange But Good link up is going to be fun with all my packed eats! 😉