As you have probably figured out, I am always on the go.
It'd be a shame to stagnate.
Whether it is traveling to the next exotic location or just running around town, I don't sit still for very long.  Unfortunately, this can mean grabbing something unhealthy to eat on those forays in my car.  Granola bars, fruit, and raw veggies can only carry you so far.  And what happens when you don't feel like lugging along a cooler to keep things like Greek yogurt cold?
If you've been reading very long, you know I need variety!  Anyone else looking for healthy (and delicious) snacks that don't need refrigeration but are not the same old same old?  I thought I'd share some of my stand-bys today.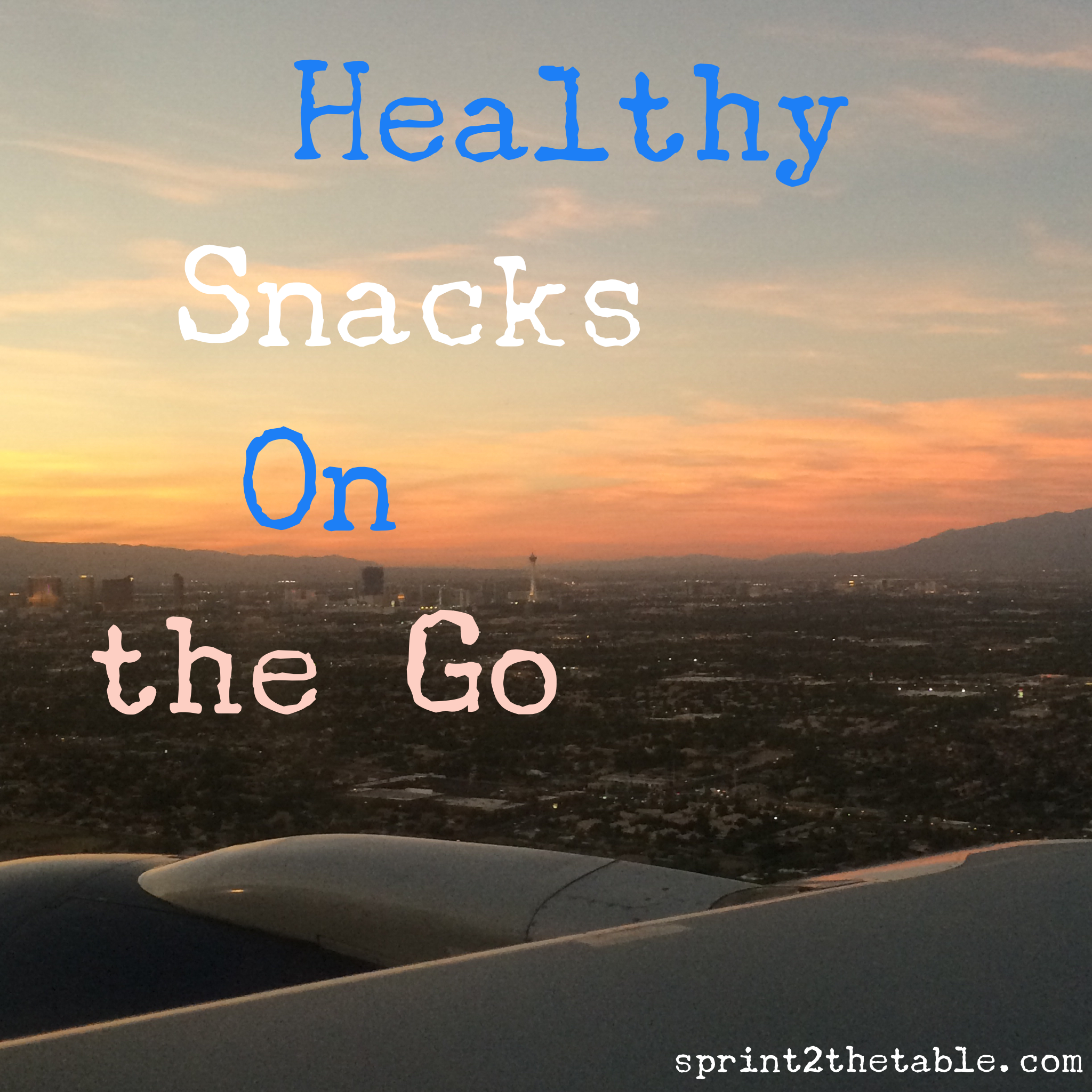 Hard-Boiled Eggs
The incredible, edible egg is still one of the best ways to get a dose of good protein.  Hard boil a dozen early in the week and pre-peel them.  Throw one in a small container for a quick dose of protein.  Slice one and place it on some whole-wheat bread with hummus for an easy sandwich that will curb your appetite even longer.
Everyone knows that pumpkin seeds are good for you.  Even though we have just ended pumpkin-everything season, those seeds are still a great idea for a snack.  However, consider doing something just a little different.  Toast the seeds in the oven, tossing them in different spices for variety.  You know they are done when they turn golden and start to peel.  Click here for full recipe with 3 of my favorite flavor combos.
Coconut Flakes
Coconut flakes are low in sugar and have tons of good-for-you stuff in them as long as you choose organic and unsweetened versions.  For a sweet snack that is loaded with fiber, protein, antibacterial properties and more, grab some coconut flakes for that road trip.  Not only are they good for you, but they also have a great shelf life (if you can keep them around that long).
Apples are the ultimate portable snack, but even they can get boring after a while.  Before leaving home, core an apple and slice it in half.  Pack up your "icing" (click here for my recipe) in a small container, along with toppings like dried fruit, almond butter, or seeds for a delicious snack with added protein.  It's a mini-meal that will satisfy your sweet tooth and crunchy food cravings!
Almond Butter Boats
Almond butter is a great energy snack, but it is sometimes difficult to maneuver the jar while driving down the road. Instead, spread some almond butter on celery or apples. Add a few raisins or almonds and you have a little boat full of yumminess. You could use peanut, cashew or walnut butter rather than almond butter if you want a variety of flavors.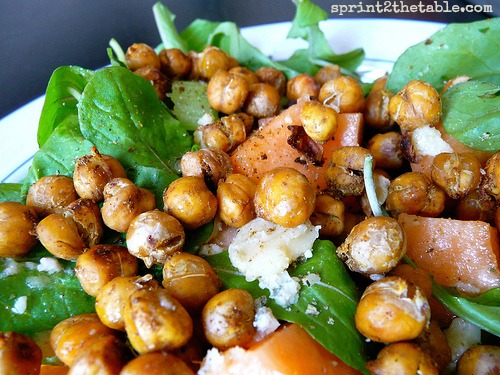 Texture is sometimes a make-or-break deal for me when it is time to snack.  Instead of reaching for the potato chips, try crunching on roasted chickpeas instead.  They can be either savory or sweet, depending on the type of crunchy snack you prefer.  They're easy to make too – just rinse the chickpeas, and toss them in a bowl with your spices.  Bake them on a lined baking sheet and bake for about 30 minutes, tossing half way through.  They are as good warm as they are at room temperature!  Click here for my go-to Indian-spiced recipe.
Grape and Cheese Sticks
Slice sharp cheddar cheese into small squares.  Slide cheese on toothpicks, alternating with grapes. One ounce of sharp cheddar has eight grams of protein and the sharpness of the cheese combined with the sweetness of the grapes is  perfectly sweet n' savory.  You could also use apples or other fruits you have on hand.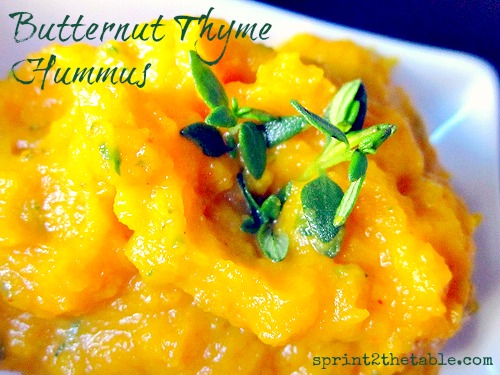 Hummus Dippers
If you're like me, you have a boatload of travel mugs sitting around the house.  Did you know they were not just for coffee anymore?  Add about two tablespoons of hummus in the bottom, drop a handful of raw vegetable sticks like carrots, bell peppers or zucchini so they are standing up in the hummus like little trees.  Put the top back on and drop them into the cup holder for a quick, easy snack on the go.  Need new hummus ideas?  Try Cilantro Hummus Salsa, Chipotle Corn Hummus, or bean-free Butternut Thyme.
Almond Butter Toast Sticks
Those travel mugs can be handy for more than just hummus.  Place two tablespoons of nut butter in the bottom of the container.  Toast two slices of whole-grain bread and slice them into ½-inch strips.  Drop the toast sticks into the butter vertically.  If you're a cinnamon addict like me, add a generous sprinkle.
There is nothing worse than sitting in an airport, hungry and cranky, only to realize there is absolutely nothing healthy in the vicinity to eat.  By planning ahead, you can enjoy a homemade, healthy snack while you sit at the gate.  Oats in a jar!  Just place some rolled oats in an almost-empty nut butter jar and add mix-ins like protein powder, cinnamon, or pie spice.  I like this Peanut-Coffee version.  For more protein, you can even use TVP like I did here.
If you don't add too much liquid (keep it thick vs. soupy), you can make it through security.  If you're nervous, just place the oats in a plastic bag with a dash of cinnamon.  Once through security, go to a coffee shop and order a cup of coffee or hot water, and extra cup, and grab a spoon.  Use the empty cup to combine the oats and some of the liquid.  In less than a minute, you will have a delicious breakfast!
If you're always on the go like I am, these snack ideas will keep you from hitting the chip aisle in the convenience store, running through the drive-thru at a fast food restaurant, or spending $12 on a stale rubber sandwich at the airport.  You'll feel better and maybe even make everyone around you envious as you enjoy those tasty treats you brought along.
If you like these nutrition tips, visit Unique Fitness Concepts, today.  They have a great variety of nutrition tips and facts on their blog and an excellent selection of workout equipment to help you reach your fitness goals.
***
I'm packing a marvelous frozen protein shake and homemade granola today for a road trip with my boss. 
What's your favorite travel snack?
Do you crave things based on texture?  I love a crunchy snack.