My office is a bar.
A snack bar.  The brewery is next door.
Eating healthy on the job doesn't have to be hard… or boring! I keep my office stocked with a few things that can accent any meal I bring (or buy, in an emergency).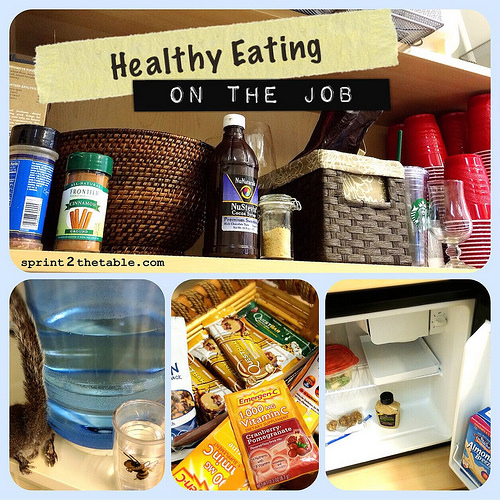 Flavor Shelf – red pepper flakes, cinnamon, NuNaturals cocoa syrup, nutritional yeast, coffee, and solo cups.  (The cups are my boss' – I keep my Georgia Tech Tervis on hand.)
Water – I drink at least a gallon a day
Snack Basket – stuffed with Quest bars (got the boss hooked), roasted chickpeas, jerky, and EmergenC
Fridge – tupperware meals from home, mustard, more of the Oatmeal Cookie Protein Balls, and almond milk*
Other things I keep around: nut butter, hot sauce, rice cakes, and an "emergency" frozen meal.
*The coffee is a great pick-me-up treat when combined with the chocolate syrup, cinnamon, and almond milk!
---
This WIAW is my version of fast food.  I meal prepped on Sunday.  Since I couldn't stand very long on my blackened ankle, I knocked it out quick and easy. #twss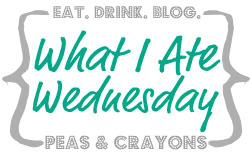 Read on for my eats, and then check out Jenn's blog for everyone else's delicious creations!
---
Breakfast:
My morning cocktail was followed by a local peach dessert breakfast.  I soaked TVP oats with cobbler-eqsue spices and topped with with a perfectly ripe local peach.  I mourned a bit when it ended.
You could do the same thing with regular oatmeal – soaked or warm!  I've done it as chia pudding before too.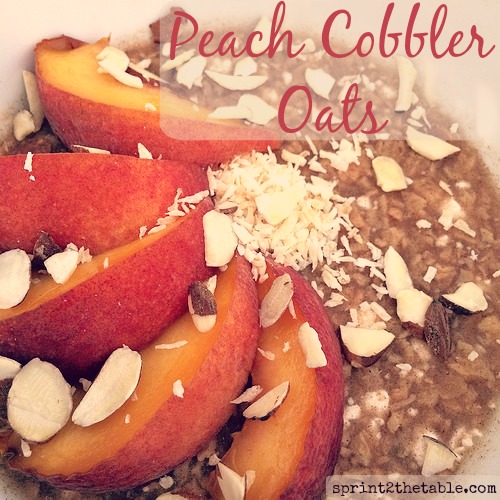 Peach Cobbler TVP Oats
1/4 C TVP (or oats)
2 T cottage cheese
1/4 C unsweetened vanilla almond milk
1 T gelatin (optional)
1/2 tsp cinnamon
1/2 tsp ginger
1/2 tsp butter extract
3-4 drops vanilla stevia
1/2 large peach, sliced
My toppings: dried coconut and almond slices
Mix together first 8 ingredients.  Let sit for 15 mins, then stir again and adjust milk and spices as necessary.  Top with peaches, nuts, shredded coconut, and anything else you're craving.  If you're in the mood for a hot breakfast, microwave it for ~25 secs.
Note: If you don't have butter extract, you may add vanilla or almond extract.
Mid-Morning Snack:
Salmon from Sizzlefish, baked in a mix of Roots mango-sriracha hummus.  I mixed in extra sriracha and a little rice vinegar to think it out.  I baked it with lemon slices for 15 mins at 400.
Eaten over a salad of mixed greens, mushroom, and red onion with Tessamae's raspberry vinaigrette.
Lunch:
I topped turbot with tomatillo salsa and ate it with a corn tortilla and a side of BBQ Cauliflower Bites, butternut squash, and hatch chili peppers.
Mid-Afternoon Snack:
This is a bowl of meat.  Sautéed ground turkey with Mexican spices, fire-roasted tomatoes, and bell peppers.  (Read: This was the point in my meal prep that I got tired of standing.)
Dinner:
I use the term "dinner" loosely.  This was my post-workout meal – a Cherry-Ginger Protein Smoothie Bowl.  Cherries and ginger are both great for recovery and inflammation!  I added kale and topped it with cereal, chocolate sauce, and another cherry.  I have a tough time eating sold food after a workout, so smoothies are almost always round 1 of my refuel.
Dessert:
I gave in.  I bought Skinny Cow ice cream sandwiches.  It's trashy, I know.  I had a coupon.  My ankle hurt.  What can I say?  I was weak.
They are actually pretty tasty… and the fact that I ate it with a Zucchini Bread Batter Bowl cancels out the chemical shit-storm, right?  Plus a scoop of chocolate Nuttzo, chocolate syrup,, and sprinkles.  So there.  #sorryimnotsorry
***
Thank you for all the supportive comments and well-wishes for my new design and the lovely ankle sprain.  I'm healing… and embracing "bro week" (all upper body) at the gym.
What healthy items do you stock up on at work?  
Do have a hard time eating solids after a workout?