I love Vegas in sickness and in health.
Just didn't think we'd have to prove it so soon.
Today's strange but good is a quickie because we've both been hit by the plague.  I don't know if it's the flu or the worst cold ever, but we are miserable.
Yesterday my eye swelled up and started oozing a lovely substance.  I'll spare you that picture and instead share the scene on the nightstand:
As you might imagine, I'm craving comfort food.  My go-to are usually breakfast meals.  Like French Toast.  On a competition diet we definitely couldn't have last week's eggnog version, but we worked it out.
French Toast is really all about the cinnamon-y battered bread for me.  To healthify the old standard, I used Ezekial bread, egg whites, and stevia.  No syrup, but a protein powder sauce worked just fine.  It sound strange, but it's good!  Vegas cleaned her plate, so it must not have been too bad.
It may be my highly adapted taste buds, but I actually prefer protein sauce to syrup these days.  Go ahead, tell me I've lost it.
---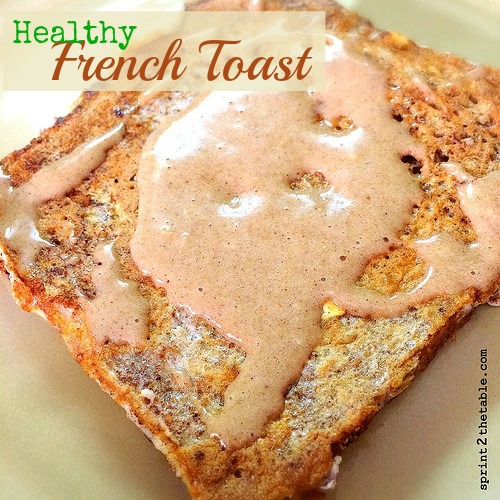 Healthy French Toast
1 slice Ezekial bread
1/4 C egg whites
1/2 tsp cinnamon
1/2 tsp vanilla
5-6 drops liquid stevia (or other sweetener)
Coconut oil spray (or PAM) to grease pan
1/3 scoop vanilla protein powder
In a medium bowl, whisk together egg whites, cinnamon, vanilla, and stevia.
Soak bread in egg mixture, flipping to fully coat.
Place on a hot, greased pan to cook (~4 mis each side).  It will poof up and be golden in color when done.
Meanwhile, mix together protein powder with just enough liquid to make a sauce.
Plate toast and top with sauce.  Eat.
Note: This is a small meal – if you're not eating 8 times a day (or suffering from the plague), you may want to double it.
---
How have you enjoyed making co-workers, friends, or family stare with strange but good creations this week? The link up rules can be found here or by clicking on "Strange But Good" in the menu bar above. In short, I want to see what concoctions have earned you weird looks from co-workers, family and friends! Post your Strange But Good creations, grab the logo below for your blog, and link up here.
Remember to use #strangebutgood in any Tweets and Instagrams of your creations. 🙂



***
Thank you so much for all the comments and well-wishes on Wednesday's post.  I was blow away… you guys rock!
What's your favorite healthified breakfast?
Have you had the plague yet this winter?